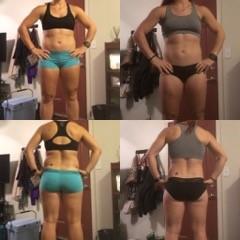 Goal
I joined WAG to develop a healthier relationship with food, be happier with my esthetic appearance, and to improve my performance as a CrossFit lover and as a runner.
Testimonial
I have definitely enjoyed my time with WAG thus far. I have always said, "If I can just get my eating in check, I could be a much better person and athlete." I've done multiple things to try and get it together but WAG has been the most successful program I've done. The weekly check-ins, for me, are the biggest factor that help me be consistent and continue to stay motivated. I know someone is waiting to hear from me and wants to know how I did over the last 7 days; accountability is KEY. My coach, Ashley Smith, is constantly encouraging me during my check-ins, EVEN if my weeks were rough or less than great. It is nice knowing that someone truly cares about how you're doing and feeling every week. Also, the weekly pictures are the best reminder that things are working. There have been weeks where I look in the mirror and feel like I failed miserably, but when I go back and compare to my initial pictures, the differences only motivate me more. The Facebook group has become such an integral part of my success because everyone is nice, encouraging, and going through many of the same struggles so we have each other to talk to and get advice. I didn't think I would like weighing every single day but I also think it has been beneficial. You learn quickly that your weight WILL fluctuate and that is OK. I struggled with that my whole life and now, I finally understand that it's the downward trend that matters, not the daily weight. Overall, I've been doing WAG for a total of 13 weeks now and I have no intentions of quitting any time soon. I love it!
Get Your Coach Today!