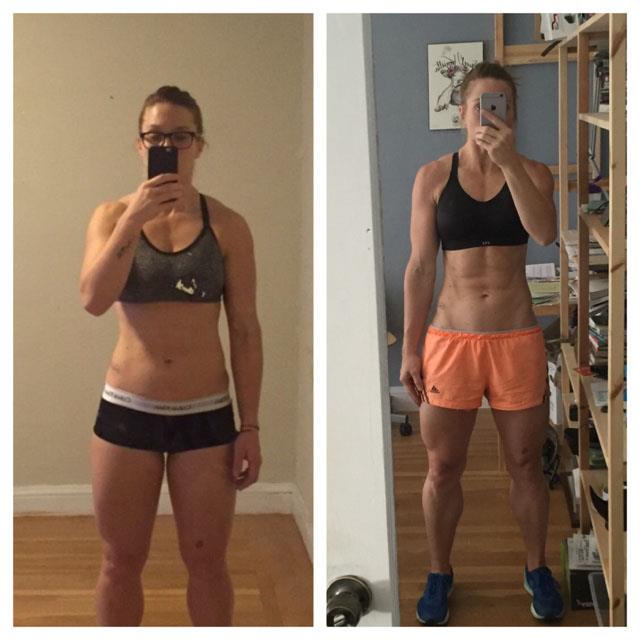 Goal
To achieve better body composition, build lean muscle and definition.
Testimonial
I began WAG with some fairly clear, entirely aesthetic, goals in mind. I wanted my body to reflect all of the hard work that I committed to in the gym. Let's get real, I wanted abs. Who wouldn't?
I had followed macro plans before, and had teetered in and out of them, never committing 100%. I'd hit some visual goals and then get lazy about it. A friend of mine was working with WAG and was enjoying so much success and celebrating huge changes. I decided to give it everything I had and see what I might be capable of (still maintaining some pretty low expectations).
Nope. Wrong. Working Against Gravity, and Mel Barnshaw in particular, not only changed my entire physical appearance, but more profoundly, they changed my life. I logged and counted and sacrificed and then sacrificed some more. Inevitably, it all became habit—second nature. Two weeks in and I was hooked. I saw some fairly drastic initial results and was so motivated and hungry for more. When I would progress into a plateau we would reassess and test new macros. When I wasn't recovering well, or battling some insomnia, or traveling extensively for work, I had Mel. She was my guide, my muse, my confidant, my teacher, and most of all my friend. She encouraged me. She pushed me. She was an ever present positivity in my life.
What she taught me went so far beyond my kitchen. We focused on mindfulness, on gratitude, on purpose and perspective. When those abs of mine finally "came in," wouldn't you know that the damn things were crooked! I laughed uncontrollably because in that moment, standing naked and vulnerable in front of my mirror, I realized that I had been given so much more than these piddly, zipper shaped abs. How silly. I just stood there and stared back at myself I recognized that this gift went so much deeper.
I was a better person because of her and because of WAG. I was more genuine, more appreciative, more driven, and more confident. She gave me the tools to conquer and quiet my doubts. I learned to meditate and be mindful in the present. I committed to reading 5 books a month. I practiced solid and enforced sleep habits. I started a gratitude journal, and began refocusing my perspective.
You may want the abs, and you will undoubtedly get them through hard work and commitment; but, in the end, this 26 week journey showed me so much more. What this team is building here is nothing short of awe inspiring! They've truly impacted my life in ways that I will carry with me forever.
Every day is a new opportunity to be great. Be great.
Get Your Coach Today!