Calories
246
Fat
10 g
Carbs
10 g
Protein
29 g
Serves
6
650g Zucchini
550g Lean Ground Turkey
63g Egg Whites
190g Sweet Onion
Low Fat Ricotta Cheese
100% Shredded Parmesan Cheese
Crushed Tomatoes
Minced Garlic
2 Tbsp Basil
Salt and Pepper to Taste
Share:
Tags: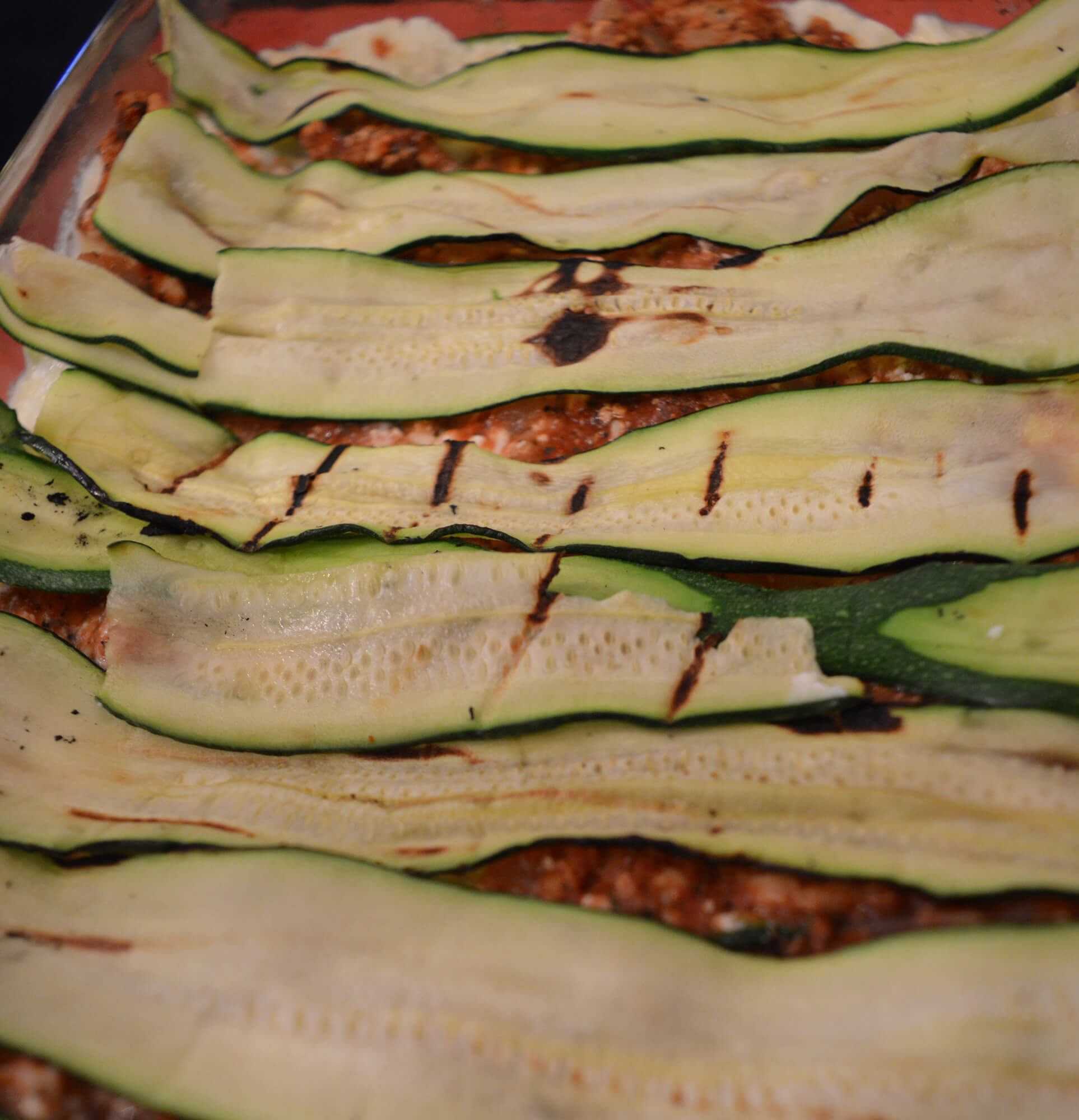 No need to pass on the pasta tonight. By replacing high carb noodles with thinly sliced zucchini, you can still enjoy that hearty meal while keeping your goals in mind. Makes 6 servings. 3 Fibre Notes Grilling the noodles first is very important to the consistency of the noodles once cooked as it removes all unwanted moisture and ensures a noodle-like texture Cheese can be substituted for other types e.g. Goat
Instructions
In a saucepan, cook turkey fully and season with salt. Drain to remove excess liquids once cooked.
In the same pan, add garlic and onions and cook for about two minutes, until the onions are transparent.
Return the turkey to the pan and add tomatoes, basil, salt and pepper.
Cover and simmer on low for 30 mins for the sauce to thicken.
Slice the zucchini into 1/8 inch think noodles (Using a mandoline made this much easier!)
Add salt to the noodles and set aside. This will draw out excess moisture. Blot with a paper towel after 10 minutes.
Meanwhile, mix ricotta cheese, parmesan cheese and egg whites. Set aside
After the moisture has been removed from the noodles, grill each noodle for about 2 minutes per side, slightly browning them
Pre-heat oven to 375
In a casserole dish, spread about 1/3 of the turkey sauce evenly on the bottom and layer the zucchini to cover. Spread the ricotta mixture over the noodles and repeat the process until all ingredients are used up.
Top with shredded cheddar cheese
Cover with aluminum foil and bake for 30 mins
Remove the foil and bake for another 20 mins
Slice into 6 sections and serve!
Recent Posts: