Calories
171
Fat
3 g
Carbs
25 g
Protein
11 g
Serves
6 (serving size = 100 g)
200 g green lentils, rinsed
400 g + 50 g Trader Joe's Miso Ginger Broth*
100 g center-cut bacon
100 g white onion, diced
1 clove of garlic, minced
96 g fresh English peas or frozen peas, if fresh peas are out of season
14 g capers
10 g sherry vinegar
5 g Dijon mustard
Chopped parsley, for garnish
Share:
Tags: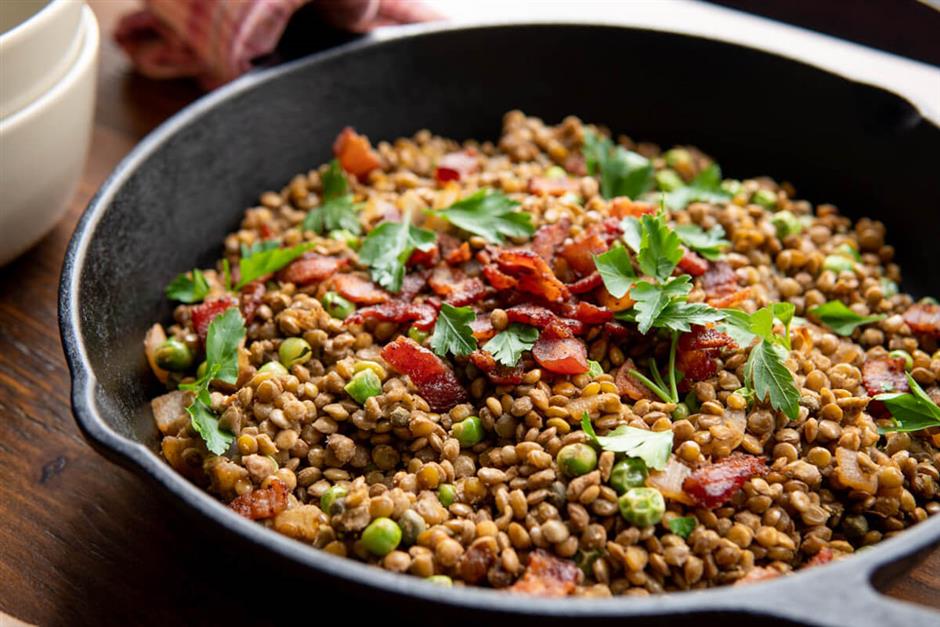 Sweet peas, crispy bacon, tangy mustard, and fiber-packed lentils all come together in this deeply satisfying salad that's perfect for both meal prep and entertaining a crowd.
Instructions
Rinse and drain the lentils. In a small saucepan over high heat, combine the lentils with 400 g of miso ginger broth. Bring the lentils to a boil and then reduce to simmer until the liquid is absorbed and the lentils are fully cooked, about 25–30 minutes.
Meanwhile, dice the bacon and crisp it in a frying pan over medium heat. When the bacon is crispy, remove it from the pan with a slotted spoon and let it drain on a paper towel. Add the diced onion to the hot bacon grease and cook the onion until it begins to turn translucent about 5 minutes. Add the minced garlic and cook for a few more minutes.
Add the peas to the pan and toss. Let the mixture cook for a few more minutes, until the peas are warmed through, then add the remaining 50 g of stock to the pan and let it bubble. Scrape up any good bits that are stuck to the bottom of the pan and let the liquid evaporate.
By this point, the lentils should be done, so add them to the frying pan along with the capers. Whisk the sherry vinegar and Dijon mustard together in a small bowl and then add it to the lentils. Stir everything to combine, adjust seasoning, and top with the crispy bacon and parsley before serving.
If you can't find a miso ginger broth, you can use any vegetable or chicken broth you have on hand.
This guide is jam-packed with everything you need to know about nutrition.
From tracking macros to meal ideas.
Recent Posts: