Calories
340
Fat
12 g
Carbs
32 g
Protein
26 g
Serves
1
100 g liquid egg whites
50 g (1 small, free-range) whole egg
60 g mushrooms
60 g green bell pepper
1 English muffin
30 g cream cheese spread
Olive oil or cooking spray (a 1-second spritz, about .5 - 1 gram of oil)
Chili powder and/or favorite dried herbs
Salt and pepper to taste
Share:
Tags: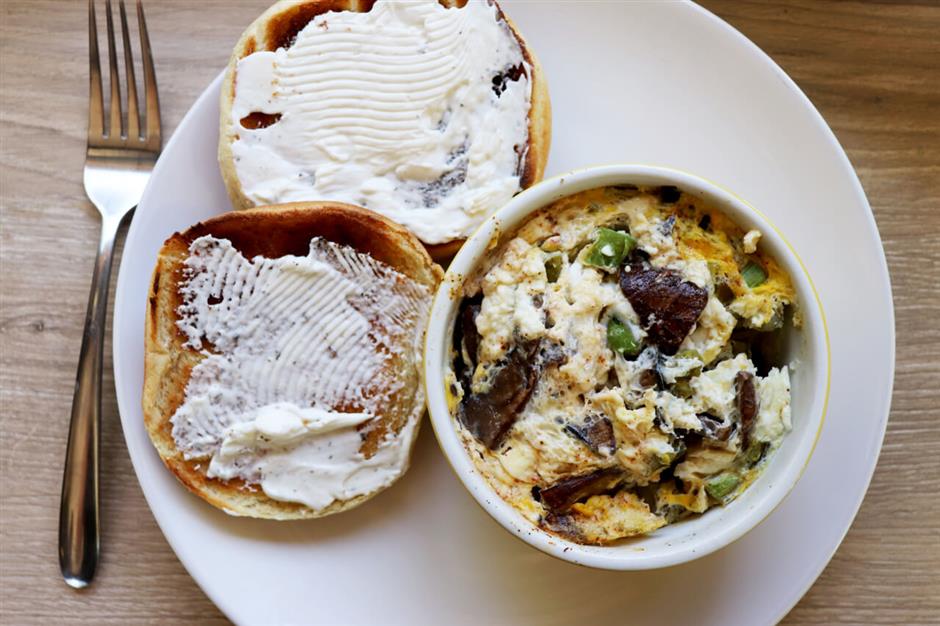 Everyone loves a nice, hot breakfast in the morning, and this one is great year-round! With the help of pre-prepared vegetables, you just throw these ingredients in a microwave-safe dish and it's ready to enjoy in only a few short minutes!
Instructions
Using a tiny spray of cooking oil or olive oil, spritz a small, microwave-safe dish. Something small like a soufflé or dessert dish.
Add the mushrooms, green bell peppers, salt, pepper and herbs and spices to the dish.
In a separate bowl and using a fork, whisk the egg whites with the whole egg.
Pour into the frittata dish and fill with a little room on top. The frittata will expand.
Microwave the frittata for 5-8 minutes depending on your microwave's heat. Use a knife to check if it's cooked through. Keep adding another 20 or so seconds until frittata is cooked.
Meanwhile, toast your English muffin and spread cream cheese.
Using a pot holder, remove your frittata from the microwave and place on a cool plate. Put your English muffin on the side and enjoy! Be careful, it's very hot!
For a little extra cheesy goodness, sprinkle your favorite cheese on top before cooking. It is SO delicious.
Recent Posts: