Calories
428
Fat
12 g
Carbs
49 g
Protein
31 g
Serves
4
440 g 93% lean ground turkey
2 tsp apple cider vinegar
2 tbsp chili powder
1 tbsp paprika
2 tsp dried oregano
1 tsp salt
1/2 tsp ground coriander
1/2 tsp ground cumin
1/2 tsp cayenne
1/2 tsp pepper
1/2 tsp cinnamon
Pinch of ground clove
15 g garlic (3–4 cloves), minced or pressed
70 g shallot, finely chopped or sliced
60 g white wine
140 g rainbow chard (one bunch)
Optional red pepper flakes for garnish
Nonstick cooking spray
Share:
Tags: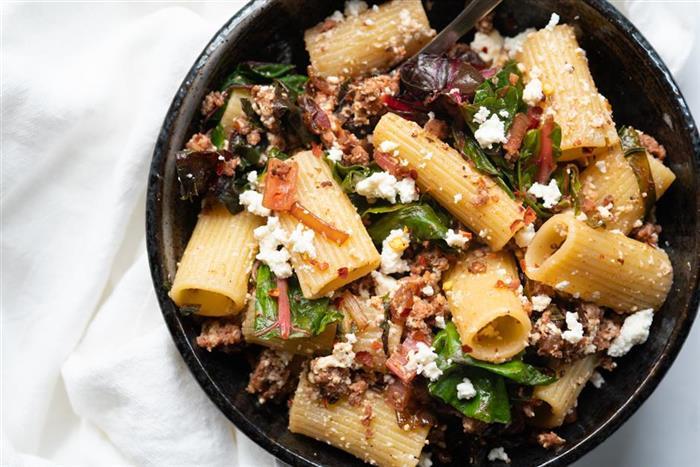 Macro-friendly pasta dishes can be hard to come by, but our turkey chorizo, chard, and ricotta cheese pasta rivals any Italian restaurant (while remaining customizable to meet your macro needs).
Instructions
While you're preparing the turkey and chard, bring a pot of water to a boil and prepare your pasta according to package directions.
Meanwhile, in a bowl, combine the ground turkey with the apple cider vinegar and all the spices. Use your hands to mix everything together, then spray a large frying pan with nonstick spray and cook the turkey over medium-high heat until it browns and is no longer pink about 8–10 minutes.
While the turkey is cooking, tear the leaves away from the chard stems. Keeping the stems and leaves separate, slice the stems into 1/2-inch pieces and roughly chop the leaves.
When the turkey is cooked, remove it from the pan and set aside. Don't clean the pan, but give the frying pan another spritz of cooking spray if it looks dry. Add your garlic and shallot and cook for 3–4 minutes, taking care to monitor the heat. If the garlic begins to burn, turn the heat down.
When the garlic and shallots are fragrant and begin to soften, add the wine. Give the mixture a stir and scrape up any brown bits from the bottom of the pan, then add the chard stems. Cook until almost all the liquid evaporates and add the chard leaves. Keep cooking until all the leaves are wilted, about 3–5 minutes more. Add the turkey back to the pan and stir everything to combine.
Drain the pasta when it is done cooking and weigh it out according to your macros. Add a portion of the turkey and chard mixture along with a dollop of ricotta cheese. Toss everything together and serve with a sprinkle of red pepper flakes.
Due to the fact that the small amount of wine evaporates entirely in this recipe, the impact on macros is negligible and was not included in the final calculation.
Wondering what your macros might be? Wondering how to track macros in the first place? Check out our Macro Calculation Cheat Sheet & 18 Tips and Tricks for macro counting!
Recent Posts: