Calories
305
Fat
13 g
Carbs
40 g
Protein
7 g
Serves
5 (serving size = 185 g)
720 g sweet potatoes, cut into 1" chunks
35 g olive oil
13 g garlic (3-4 cloves)
190 g pitted cherries (210 g with pits)
57 g (1 small) shallot, very thinly sliced
1 tbs apple cider vinegar
100 g arugula
28 g feta cheese
28 g salted & shelled pistachios, chopped
Salt & Pepper
7 grams olive oil (dressing)
3 g dijon mustard (dressing)
The juice of ½ an orange, or 2 tbs orange juice (dressing)
Share:
Tags: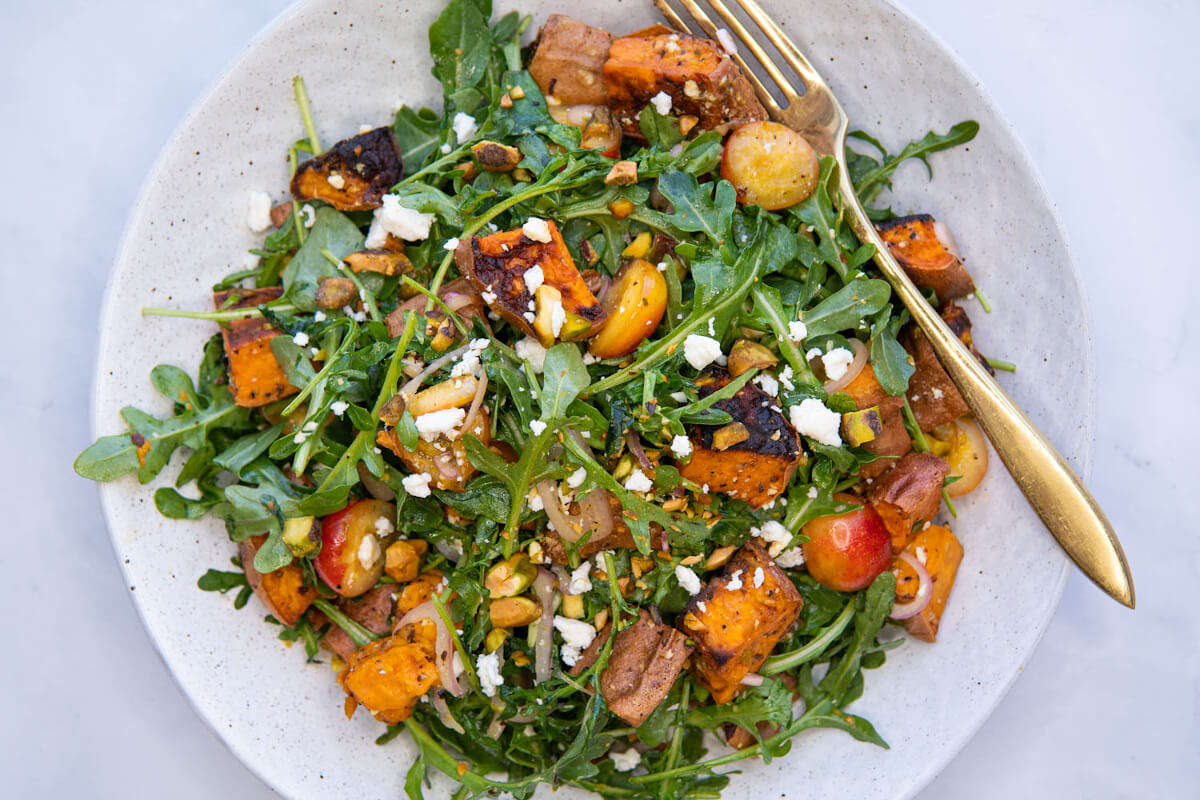 For all the meal prep and one bowl meal lovers out there, this recipe is for you. Made with a dazzling combination of garlic roasted sweet potatoes, fresh summer cherries, and salty pistachios, this is the sort of recipe you'll be happy to eat all week long. Simply pair it with your favorite lean protein and let it fuel you through an afternoon of Zoom meetings.
Instructions
Preheat oven to 425 degrees.
Wash and cut the sweet potatoes (no need to peel) and arrange them on a baking sheet.
Using any kind of small blender (like a Nutribullet), food processor, or hand blender, add the 35 g of olive oil along with the garlic and blitz until combined.* Pour the garlic oil all over the sweet potatoes but DO NOT RINSE the container you used to make the garlic oil. Add a generous amount of salt and pepper to the sweet potatoes and toss until they're evenly coated. Roast for 45 minutes, flipping once, or until they're browned on the outside and soft on the inside.
Meanwhile, prepare the rest of the salad. Weigh and pit the cherries and add them to a medium sized bowl along with the thinly sliced shallots. Sprinkle in a bit of salt and add the apple cider vinegar. Stir to combine and let the mixture marinate.
Next, make the dressing. Add an additional 7 grams of olive oil to the unrinsed container with leftover garlic oil along with the mustard and orange juice. Blitz the mixture one more time. Set the dressing aside.
When the potatoes are finished cooking, add them to a large bowl along with the marinated cherries & shallots, arugula, chopped pistachios, and feta. Pour the dressing over the top and toss to combine. Add salt & pepper to taste and serve.
If you don't have a blender or food processor of any kind, either omit the garlic and skip this step, or think ahead and let the garlic marinate in the oil overnight. Simply chopping the garlic and adding it to the sweet potatoes when roasting is likely to burn the garlic, but marinating the garlic in oil will give you the desired garlic-y taste.
Recent Posts: