Calories
263
Fat
7 g
Carbs
8 g
Protein
42 g
Serves
4 (serving size = 300 g)
450 g grass-fed beef sirloin, cut into small chunks or strips
50 g onion, diced
80 g spinach leaves
70 g fat-free feta (this recipe has a moderate fat content, but if you prefer higher fat then you can use full-fat feta)
400 g fat-free plain Greek yogurt
1 whole egg
Share:
Tags: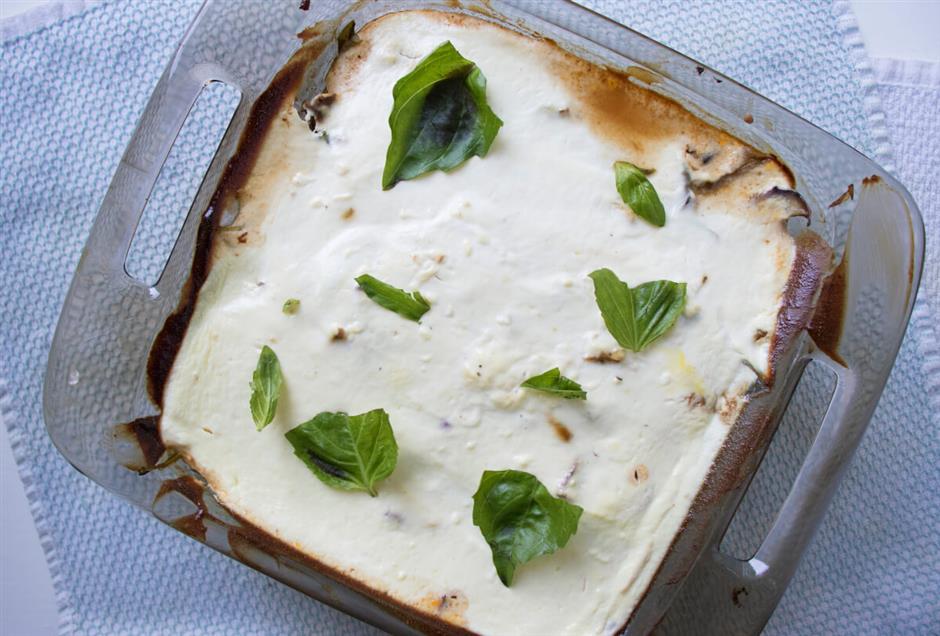 Traditionally, spanakopita is an egg-based pie encased in a savory pastry. Kind of like quiche or frittata, but what gives spanakopita its name is its delicious spinach and feta filling.
My version has a few creative twists—it's filled with delicious, grass-fed lean sirloin, fat-free feta, and a yogurt pie crust to sub for the high-fat, high-carb pastry crust that usually accompanies it. A totally wacky take on the traditional version, but still invented in its honor!
Instructions
Heat a large fry pan on medium. When hot, add garlic, onion and sirloin steak.
Cook for 2–3 minutes (you don't want to overcook because you're putting it in the oven later).
Transfer the contents of the frypan to a colander to drain excess liquid. Leave it for a while to make sure it all drains.
Meanwhile, preheat your oven to 350 F and prepare an oven-safe dish or baking tray, round or square, 9x9. Smaller or larger will work, but you may need to adjust cook time by a few minutes because the layers are thinner. You can also cook this dish in small, individual ramekins.
In a large bowl, whisk your egg with a fork. Then add the yogurt and stir, combine well and set aside.
Once ready, evenly empty the beef mix into the oven dish. Add the feta and spinach and stir to evenly distribute.
Now, pour the yogurt mix over the top evenly, covering the entire surface. Smooth out with the back of a spoon and then place in the oven for 15–20 minutes.
Once done, remove from the oven and let cool for a minimum of 5 minutes. Note that when you serve this dish straight from the oven, it might crumble a bit when you cut and serve.
A pro tip is to bake this dish 6–24 hours in advance and refrigerate. Cut the servings when cold, place on a baking tray or straight onto the plates and then heat for 10 minutes at 300 F. This will allow the spanakopita to hold together more firmly and look much prettier.
Recent Posts: