Calories
181
Fat
5 g
Carbs
0 g
Protein
34 g
Serves
4oz Serving Size
13- to 15-pound fresh turkey (giblets removed)
2 tablespoons kosher salt, plus more for seasoning
¼ cup extra-virgin olive oil
1 ½ teaspoon freshly ground pepper
2 onions - quartered
3-4 oranges - quartered
1 bouquet garni - a handful each of fresh thyme springs, rosemary and sage tied into a bundle with kitchen twine.
Share:
Tags: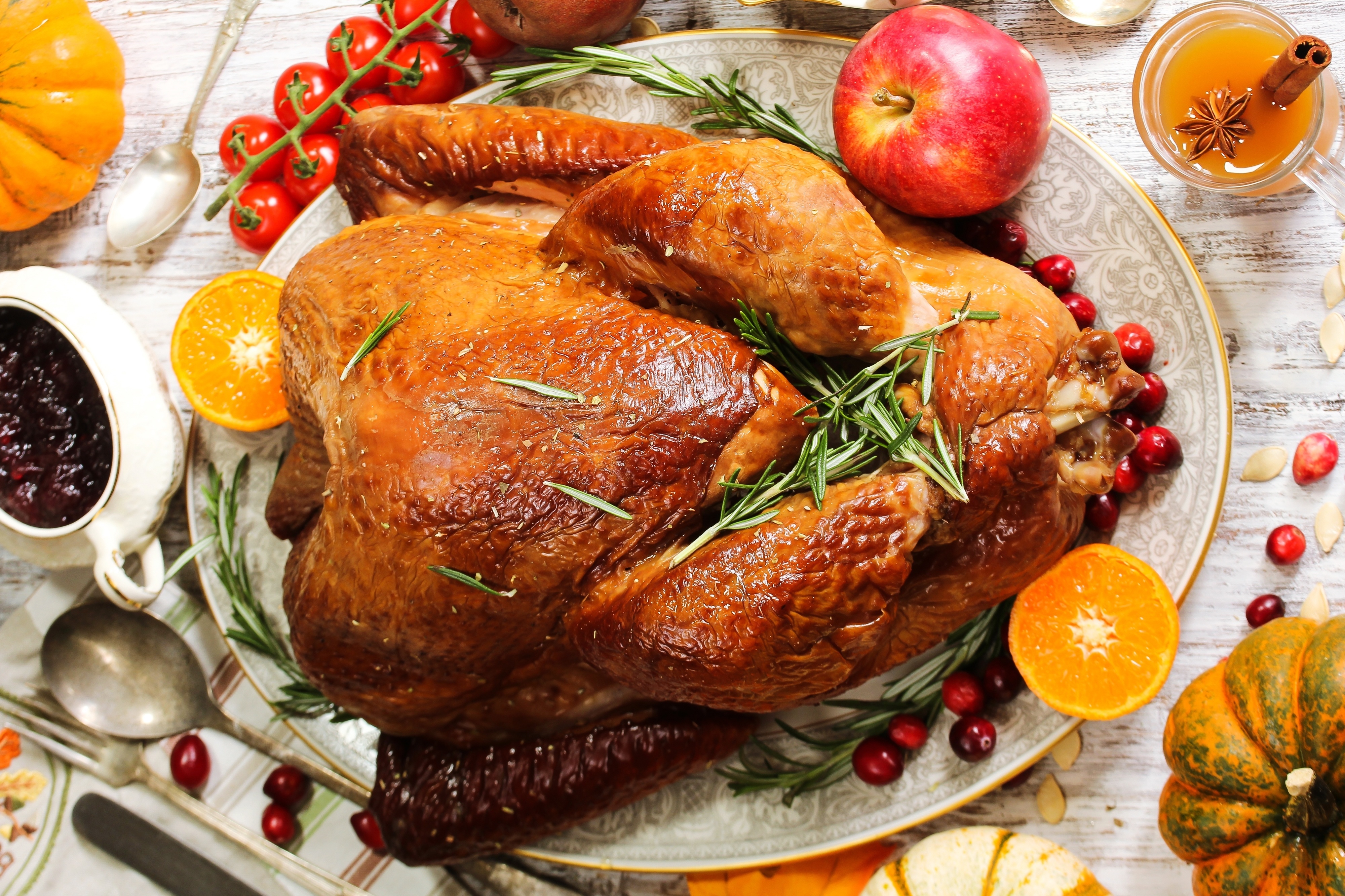 Thanksgiving dinner is easily one of my favorite meals of the year, mostly because my mom usually cooks it! Like most families, our tradition has always been to have turkey. We try to buy local and fresh when possible because you really can taste the difference. It is hard to go wrong when making a "healthy" turkey recipe, I mean, all turkey is healthy! I do like to keep it pretty simple with minimal ingredients and prep because so much work goes into the other dishes, like stuffings and pies! I like the addition of citrus fruits which gives the meat a wonderful aroma and helps keep it moist while cooking. Most people use lemons, but I like the warmth and brightness that oranges bring when mixed with rosemary, thyme, and sage. Plus they look beautiful on the platter. Aside from turkey, this recipe works great with whole chickens and ducks too, they just have a quicker cook time. I tend to make those more often throughout the year:)
**Macros estimated based on a combination of white and dark meat
Instructions
Rinse the turkey inside and out under cold water and pat it thoroughly dry with paper towels. Season the cavity with ½ tablespoon of the salt, then season the outside with the remaining 1 ½ tablespoons of salt. Put the turkey on a plate and refrigerate, uncovered, overnight. Air drying it overnight results in a nice crispy skin!
An hour before roasting, bring the turkey out of the refrigerator to stand at room temperature.
While it is resting, stuff the cavity with the onions, oranges and bouquet garni, and tie the legs closed.
Preheat the oven to 425°. Rub the turkey all over with the olive oil, season with salt and the pepper and transfer to a large roasting pan. Roast for about 1 hour, then reduce the oven temperature to 375° and roast for 2 ½ - 3 hours longer. Since ovens vary, just make sure to temp your bird at the inner thigh to 165°. If the breast begins to brown too quickly you can cover that with foil.
Transfer the turkey to a carving board and let rest for at least 45 minutes before carving and serving.
Garnish your serving platter with fresh orange wedges and rosemary or thyme springs.
Recent Posts: