Calories
385
Fat
9 g
Carbs
55 g
Protein
21 g
Serves
2 (serving size = 243 g)
200 g tortillas (5 rounds), like Trader Joe's Corn & Wheat Tortillas de mi Abuela or La Tortilla Factory's Handmade Style Tortillas
340 g (1 container) salsa verde or Trader Joe's roasted tomatillo salsa (found in the refrigerated foods section)
20 g part-skim Cotija cheese (or feta cheese, if you can't find Cotija)
2 eggs
Olive oil spray
Optional cilantro, for garnish
Share:
Tags: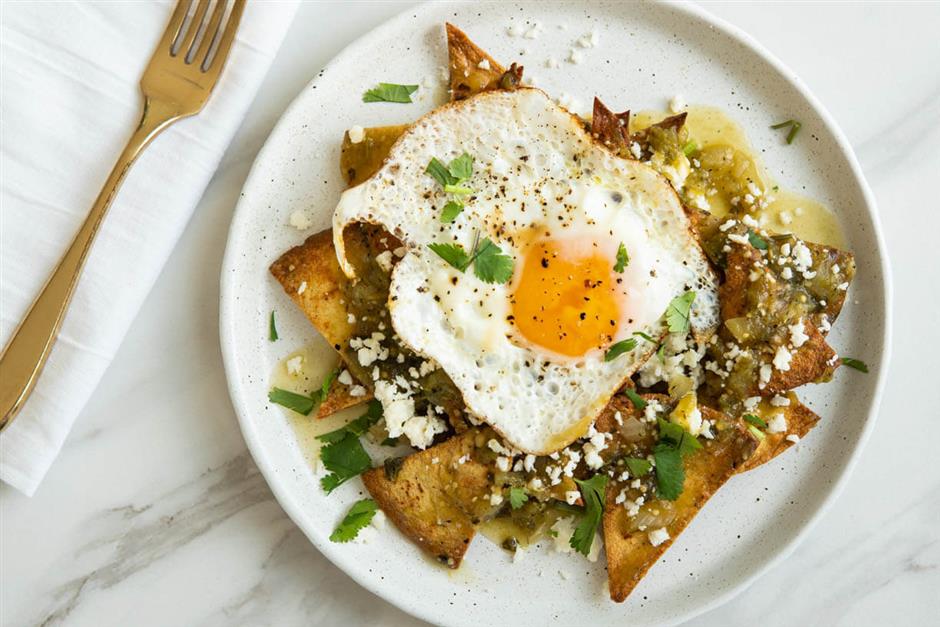 Chilaquiles are traditionally served for breakfast in Mexico and consist of crispy tortillas swimming in salsa and sprinkled with cheese. How can you go wrong, right?
In order to ensure that the tortilla chips don't become a soggy mess, it's better to bake your own rather than use store-bought tortilla chips, which tend to break down more quickly. For the best results, look for thick, homestyle tortillas that are either 100% corn or a corn and flour blend, like Trader Joe's Corn & Wheat Tortillas de mi Abuela or La Tortilla Factory's Handmade Style Tortillas.
Instructions
Preheat oven to 400 F.
Spray the tortillas with a light misting of olive oil spray, then stack them one on top of the other. Cut the tortillas into 8 triangles, like a pizza, then arrange the pieces on a baking sheet. Don't worry if they overlap a little; they will shrink as they cook. Sprinkle the tortillas with a little salt and bake them in the oven for 10 minutes, turning once, until they're crisp. Keep an eye on them as they reach the 10-minute mark—baked tortilla chips can quickly go from golden to burned!
While the chips are baking, dump the salsa into a large skillet and bring it to a bubble. Let the salsa simmer and thicken while the chips cook.
During the last few minutes of baking the chips, fry up two eggs.
When the chips are crisp, remove them from the oven and add them to the simmering salsa. Give them a toss and let them sit for a minute or two, then sprinkle the cheese over the top. Divide the mixture onto two plates, top each with an egg, and garnish with cilantro before serving.
The macros and serving size for this recipe were calculated using Trader Joe's corn & wheat tortillas and Trader Joe's roasted tomatillo salsa. Each serving was calculated with 59 grams of baked tortilla chips, 128 grams of cooked salsa, 10 grams of Cotija cheese and one egg.
Given the variation in tortillas and salsa, your serving size will likely be different. Take care to weigh the chips and salsa after they've been cooked in order to make sure your serving sizes are accurate.
This guide is jam-packed with everything you need to know about nutrition.
From tracking macros to meal ideas.
Recent Posts: