Calories
269
Fat
5 g
Carbs
40 g
Protein
16 g
Serves
6 (serving size = 175 g)
212 g (1 cup) dry green lentils
2 1/4 cups water
1/2 tsp dried oregano
1/4 tsp dried thyme
1 tsp salt
1 garlic clove, peeled
100 g shelled edamame (found in the frozen foods aisle)
1 15 oz can of chickpeas, drained
100 g (1 small) red bell pepper, seeded and diced
50 g carrot, shredded
35 g green onion, thinly sliced
30 g tahini
6 g miso paste, any color
10 g honey or maple syrup
1 tsp apple cider vinegar
2 tsp water
Salt and pepper to taste
Share:
Tags: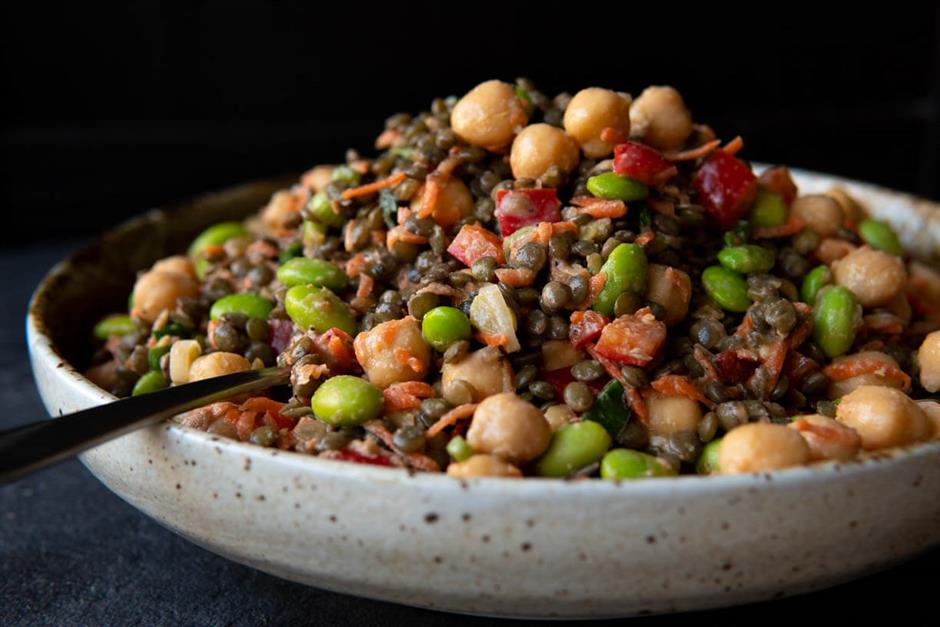 Lentils, edamame and chickpeas frequently top the protein sources list for those following a plant-based diet, so why not combine them all together with common pantry ingredients to create an epic power salad? With 16 grams of protein and 16 grams of fiber, each generous serving of this power salad will keep you satisfied without weighing you down.
Instructions
For the lentils. First, prepare the lentils. Bring 2 1/4 cups of water to a boil in a medium saucepot. Add the lentils along with the dried oregano, thyme, salt and peeled garlic clove. Let the lentils come to a boil, then reduce the heat to a fast simmer. You should see some lentils bubbling around, but the pot should not be boiling. Let the lentils cook, uncovered, for 20–25 minutes or until they're tender but not mushy.
Prepare the salad. While the lentils are cooking, prepare the rest of the salad. In a large bowl, combine the edamame, drained chickpeas, diced red pepper, shredded carrot and green onion. Set aside.
The dressing. In a small bowl, whisk together the tahini, miso paste, honey or maple syrup, apple cider vinegar and 2 teaspoons of water. Set aside.
Put it all together. When the lentils are finished cooking, take them off the heat and drain them of any leftover liquid, if necessary. Fish out the garlic clove from the pot and use the back of a spoon to mash it into a paste. Add the mashed garlic to the tahini dressing and stir until it's incorporated. Add the dressing and the lentils to the edamame and chickpea mixture and toss everything until well combined. Taste and add more salt and pepper as needed. Store the salad in an airtight container in the fridge for up to a week.
You can also use pre-cooked lentils to save time. For reference, 1 cup (212 g) of dry lentils equals ~400 grams of cooked lentils. Simply add the cooked lentils to the edamame and chickpeas along with the dried spices and the rest of the ingredients. Feel free to either mince up the raw garlic clove and put it in the dressing, or omit the garlic altogether if raw garlic isn't your thing.
This guide is jam-packed with everything you need to know about nutrition.
From tracking macros to meal ideas.
Recent Posts: