Calories
51
Fat
3 g
Carbs
5 g
Protein
1 g
Serves
6 (serving size = 100 g)
680 g fresh tomatoes
15 g garlic (4-5 average sized cloves)
14 g (1 tbsp) olive oil
½ tsp sea salt
1 tsp dried pizza seasoning or a pinch of each: marjoram, oregano, thyme and basil
10 g fresh basil, roughly chopped (1 loose cup of leaves)
Black pepper to taste
Share:
Tags: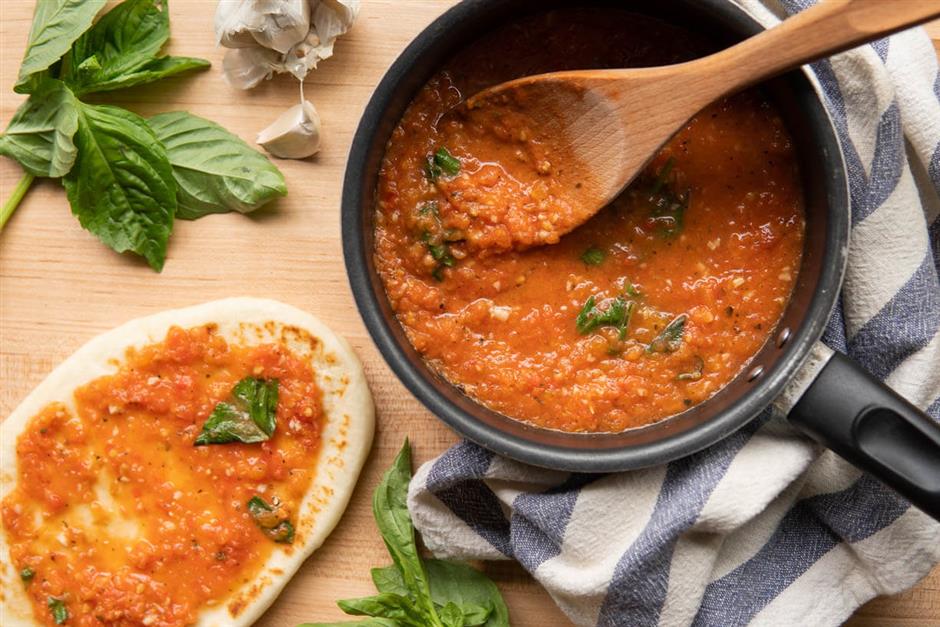 It only takes 20 minutes and five fresh ingredients to have a homemade tomato basil sauce worthy of all your macro friendly pizzas and pasta. Keep in mind that the better the tomatoes, the better the sauce, so go with heirloom or on-the-vine-tomatoes if you can. If you can't find good tomatoes, you can use whole canned tomatoes in a pinch (or in the dead of winter).
Instructions
Roughly chop the tomatoes into large chunks, removing any stems and leaves. Add the tomatoes to a food processor along with the garlic cloves, olive oil, and sea salt. Pulse until most of the tomatoes break down but the mixture still has some texture.
Transfer to a sauce pot, add the pizza seasoning and simmer over medium heat for at least 20 minutes.* Taste and adjust seasonings, stir in the chopped basil and serve.
The longer you simmer the sauce, the deeper the flavor, so don't be afraid to let it gently bubble all afternoon.
This guide is jam-packed with everything you need to know about nutrition, from tracking macros to meal ideas!
Recent Posts: