Calories
381
Fat
13 g
Carbs
20 g
Protein
46 g
Serves
2 (serving size = 350 g)
56g (¼ c) plain hummus
2 tbs fresh rosemary, chopped
1 tbs fresh sage, chopped
2x large chicken breasts, weighing 1.25lb total
341 g (1 pint container) cherry tomatoes
265 g broccolini*
10 g olive oil
Fresh basil leaves, for garnish
Share:
Tags: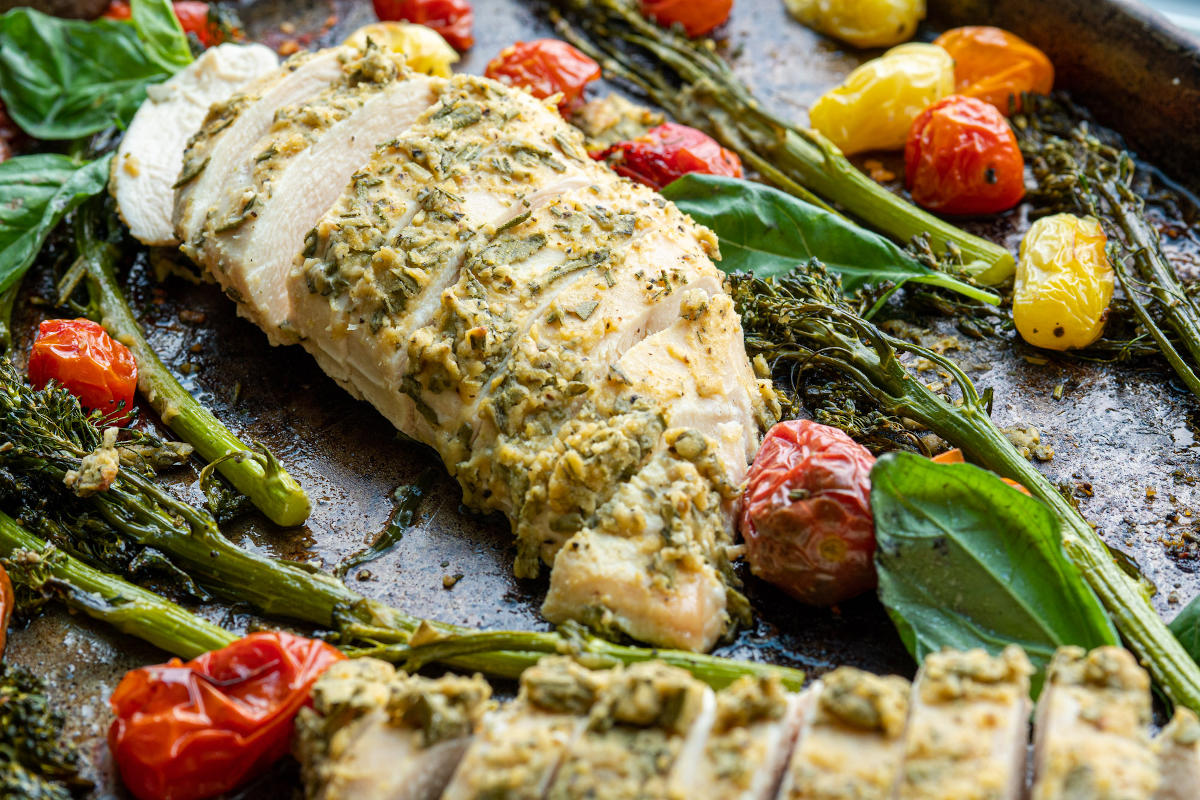 Who wants more dishes? Not us. That's why we created this one-pan hummus-crusted chicken and veggies. Simply arrange your veggies on a baking sheet, slather chicken breasts in herby hummus, and bake the whole thing until it's all crisp and roasty.
Note that the cook time on this recipe was timed for two large chicken breasts, each weighing approximately 230g raw. If your chicken breasts are significantly smaller, they will cook faster, so you may want to half your tomatoes and cut your broccolini to account for the faster cooking time.
Instructions
Preheat oven to 450 degrees. Spread cherry tomatoes and broccolini on a roasting pan. Toss with olive oil and salt and pepper. Set aside.
Pat your chicken breasts dry, add salt & pepper and arrange them on the baking sheet. In a small bowl, combine the hummus with the fresh rosemary and sage and slather the hummus on the chicken breast. Bake for 15-20 minutes, or until chicken fully cooked/reaches 165 degrees on a thermometer. Slice and serve.
Broccolini is the longer, more slender cousin of broccoli. If you can't find broccolini, broccoli will certainly work, just make sure you cut it into bite sized chunks so it cooks all the way through.
Recent Posts: