Calories
249
Fat
5 g
Carbs
30 g
Protein
21 g
Serves
8 (serving size = 65 g chicken thigh + 138 g rice)
770 g (8 pieces) boneless, skinless chicken thighs
200 g (1 medium) white or yellow onion, diced
10 g garlic (2–3 cloves), sliced
15 g butter
1/4 tsp salt
270 g long-grain white rice like basmati or jasmine
620 g low-sodium chicken stock
2 tbsp of your favorite poultry seasoning, or a mix of: (1 tsp garlic powder, 2 tsp paprika, 1 tsp dried thyme, 1/4 tsp black pepper, 1 1/2 tsp salt, 1/2 tsp onion powder, Pinch of cayenne)
Share:
Tags: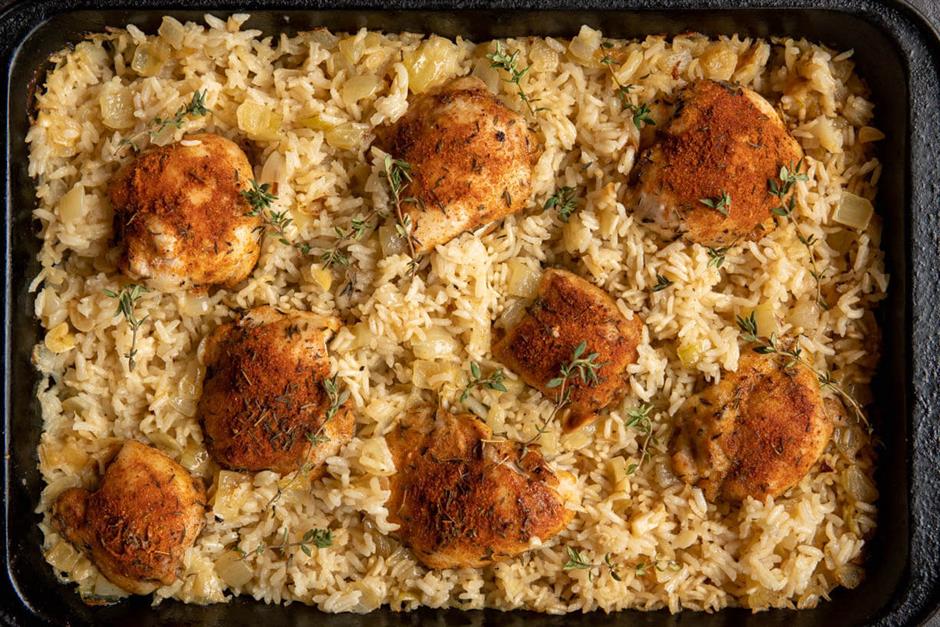 One baking pan and a little time is all you need to get our baked chicken and rice on the table. In order to get big flavor without dirtying up multiple pans, we let the onions and garlic cook in the oven before adding the rice and chicken. The result is buttery, garlicky rice and juicy chicken that will satisfy even the pickiest of eaters.
Instructions
Place a baking dish (about 10" x 15") into a cold oven. Then preheat the oven (along with the pan) to 350 F.
While the pan is heating, dice the onion and slice the garlic cloves. When the oven is up to temp, remove the baking pan. Add the butter, onion, garlic and 1/4 tsp of salt to the hot pan. Stir it all together and place it back in the oven for 15 minutes, or until the onion softens and begins to brown.
Meanwhile, sprinkle your spice mix of choice on both sides of the chicken thighs. Then, bring chicken stock to a simmer on the stove or zap it in the microwave until hot. You don't want fridge-cold stock going into the dish. The rice won't cook up as well.
When the onions are lightly browned, remove the pan from the oven. Add the rice to the hot pan, stir it together with the onions, then shake the pan so the rice settles into an even layer. Arrange the chicken on top of the rice and add the hot chicken stock. Cover the pan with foil and place it back in the oven. Remove the foil after 30 minutes and then cook for another 15–20 minutes, uncovered, or until all the liquid is absorbed and the chicken and rice are both fully cooked.
Let the chicken and rice rest for 5 minutes before fluffing the rice and serving.
Long-grain white rice really works best for this recipe. If you decide to make substitutions, you'll need to adjust cooking times. Brown rice will need to bake for about 45 minutes, covered, before you remove the foil for the last 15 minutes of cooking. And stick to boneless, skinless chicken thighs over chicken breasts. Chicken breasts are prone to drying out, and unless you add them to the dish during the second half of cooking (after you remove the foil from the rice), they are likely to come out dry and tough.
Wondering what your macros might be? Wondering how to track macros in the first place? Check out our Macro Calculation Cheat Sheet & 18 Tracking Tips and Tricks for macro counting!
Recent Posts: