Calories
210
Fat
10 g
Carbs
25 g
Protein
5 g
Serves
10 (serving size = 90 g)
325 g diced apples (3 medium cored and peeled apples)
40 g water
7 g butter
1 tsp cinnamon
12 g brown sugar
1/4 tsp salt
8 g cornstarch + 3 tbsp water
45 g pitted Medjool dates (2 large)
185 g quick oats
25 g almond flour
1/4 tsp nutmeg
1/2 tsp cinnamon
1/2 tsp salt
20 g maple syrup
62 g coconut oil, melted
Cooking spray
227 g 0% Greek yogurt
1 tsp vanilla extract
Optional sweetener of choice (1 tbsp of monk fruit sweetener, 3–4 drops of liquid stevia or 20 g maple syrup or honey. Adjust the macros as necessary.)
Share:
Tags: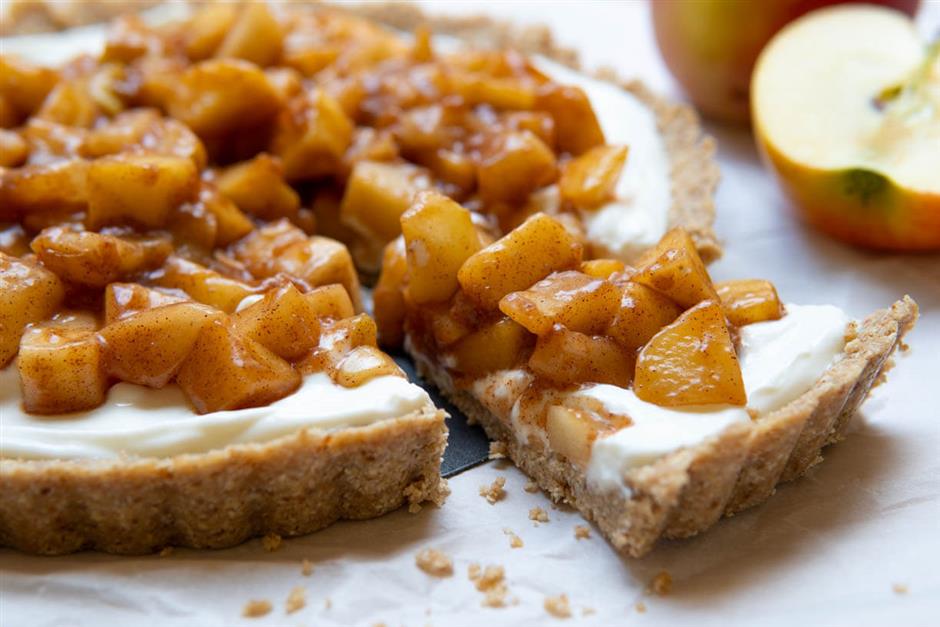 When you're tasked with bringing a fruity dessert to the Thanksgiving table and you want to wow the crowd, try our no-bake apple tart with an oatmeal cookie crust. A cross between apple pie, oatmeal cookies, and cheesecake, this surprisingly macro-friendly dessert comes together in less than an hour and is best served chilled, which means you can make it the day before to help keep those holiday stress levels down.
Instructions
Wash, peel, core and slice the apples into 1/2-inch chunks. Add the apples to a medium saucepot along with the water, cinnamon, butter, brown sugar and salt. Place the saucepot over medium heat, cover, and let the apples bubble for 7–10 minutes, stirring occasionally. The apples should soften but not get mushy.
While the apples are cooking, begin the crust. First, cover the pitted Medjool dates in hot water and let them hydrate for a few minutes while you combine the oats, almond flour, nutmeg, cinnamon and salt in a food processor. Pulse into a chunky meal. Then, remove the dates from the hot water and add them to the oat mixture along with the maple syrup. Blitz until incorporated. While the food processor is running, stream in the melted coconut oil. The mixture should just hold together and feel a bit like wet sand. Set aside the mixture and finish the apple topping.
Whisk the cornstarch together with 3 tablespoons of water until combined. Add the cornstarch slurry to the apples and stir, letting the topping thicken and bubble for a minute or so. Remove the saucepot from the heat, transfer the apples to a shallow container, and place them in the refrigerator to cool.
Lightly spray a 9-inch tart pan, ideally with a removable bottom,* with cooking spray. Dump the oat mixture into the pan and, using your fingers, press the mixture evenly along the base and about halfway up the sides of the pan. For a perfectly even crust, use the bottom of a measuring cup to create a flat surface with crisp edges. Place the crust in the freezer for 10 minutes.
Combine the Greek yogurt and vanilla extract. Add your preferred sweetener to the yogurt, or leave it plain if you like a tangier dessert.
Remove the crust from the freezer and spread the yogurt mixture evenly atop the crust. Then add the apple topping (it's okay if it's still a little warm) and return the entire tart to the fridge until you're ready to serve. Cut into 10 slices and serve chilled.
*If you don't have a tart pan with a removable bottom, you can use a 9-inch pie pan or a 9-inch square baking pan. In addition to spraying the pan with cooking spray, line the pan with parchment so the crust doesn't stick.
This guide is jam-packed with everything you need to know about nutrition.
From tracking macros to meal ideas.
Recent Posts: