Calories
324
Fat
8 g
Carbs
29 g
Protein
34 g
Serves
3
500g ground beef (95% lean meat)
400g tomato sauce
400g tomato, diced
400g mushrooms, sliced
100g onions, finely chopped
20g garlic, minced
1 bay leaf
1 tsp oregano
To taste, salt and pepper
400g zucchini, spiralized
300g beet, spiralized
Share:
Tags: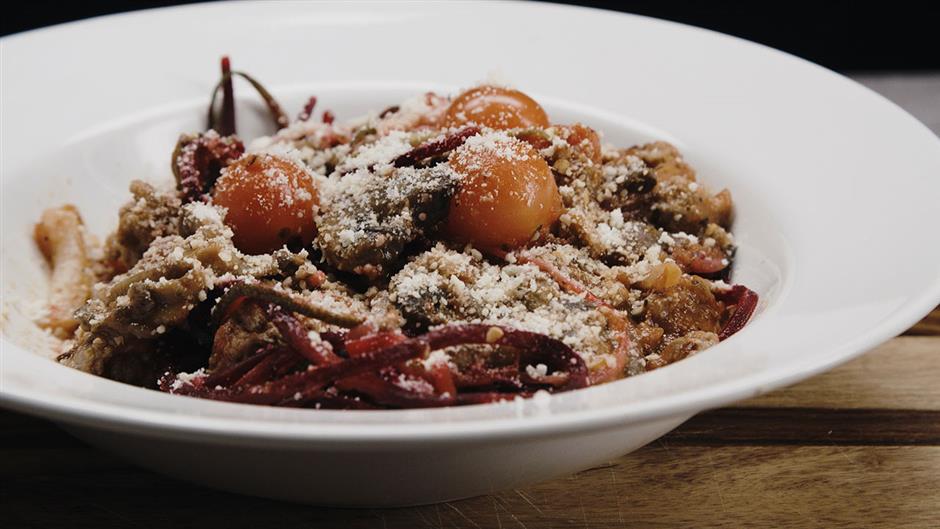 Craving a hearty plate of pasta but not willing to give up your entire day of carbs? Try this lighter, colorful re-vamp of the classic.
Most grocery chains sell pre-spiralized vegetables or you can DIY it and buy your own spiralizer which will likely save you money in the long run. This is a basic template recipe but you can feel free to jazz it up with Parmesan cheese, fresh basil or chili flakes based on your taste buds.
Instructions
In a large, dry pot (no spray needed), brown the beef over high heat until 3/4 cooked. Set aside.
Don't drain the liquid/fat run off from the pot, add in the onions and mushrooms. Cook until golden brown over low/medium heat.
Add in diced tomatoes. Cook until slightly softened.
Add in beef, garlic and herbs. Cover with tomato sauce and allow to simmer for about 10-15 minutes.
Adjust seasoning once finished!
For the vegetable noodles, it's important to cook them slightly over high heat to help release some of the water so you're not left with a runny mess on your plate!
Drain water from pan.
Keep the noodles and sauce separate until you're ready to serve.
Recent Posts: