Calories
304
Fat
12 g
Carbs
4 g
Protein
45 g
Serves
4 (serving size 1/4 of recipe)
2 lbs boneless skinless chicken thighs
1 tbsp avocado oil (or olive oil in a pinch)
1 large onion, chopped
2 tbsp garlic, chopped
2 tbsp butter
6 oz of tomato paste
tsp of sea salt
1 tsp garam masala
1 tsp cumin
1 tsp smoked paprika
1/4 tsp red pepper flakes (optional for spice)
1/4 tsp cayenne (optional for spice)
1/4 tsp turmeric (optional—it stains clothes)
Share:
Tags: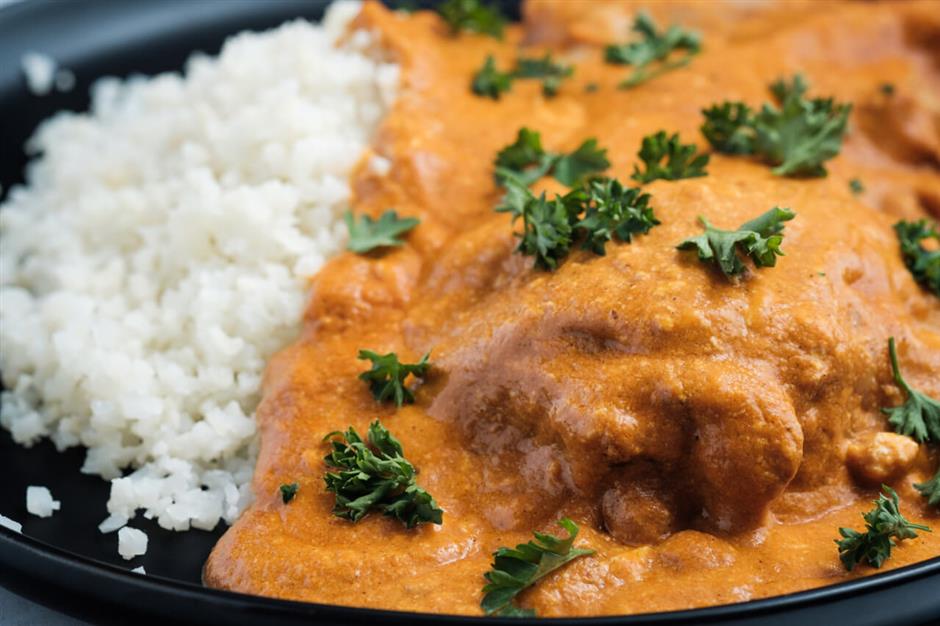 Indian food is full of flavor and often very low carb as long as you skip the rice or naan bread. This Indian Butter Chicken recipe combines crispy caramelized chicken thighs with a rich and intense sauce and looks just as amazing as it tastes. Pair it with cauliflower rice or your favorite low-carb pita.
Instructions
Heat avocado oil over medium-high heat.
Sear chicken thighs until each has a nice golden brown caramelization on each side. You don't have to cook them through all the way right now, but you want this good sear for added flavor.
Remove chicken from pan and put aside.
Add chopped onion, chopped garlic and 2 tablespoons of butter to the pan.
Stir until onions and garlic are slightly browned/caramelized.
Remove pan from heat and allow to cool.
Pour contents of the pan into a blender (make sure contents are cooled).
Add all ingredients to the blender with onion/garlic/butter contents.
Blend until smooth and consistent with a bright orange color.
Add the following to a crockpot or stovetop stockpot: Seared chicken thighs (optional: you can chop them into bite-size pieces after browning if desired, or keep them whole for easier portioning), that delicious and sexy sauce from blender, 1/2 cup heavy cream, 1/2 cup full-fat Greek yogurt (whole-milk yogurt).
Allow everything to simmer together for 1–2 hours, allowing the chicken to fully cook through and allow the spices to hang out and get to know each other a bit, maybe talk about their feelings or play charades. Serve over cauliflower rice. Garnish with parsley.
Note: Steps 1-7 are to prepare the chicken. Steps 8-11 is to prepare the sauce.
Variations to this recipe:
Chicken breast instead of chicken thighs (more protein, lower fat)

Replace butter with ghee (milk protein allergies)

Replace cream and yogurt with coconut milk (milk protein allergy)

Replace ALL dairy products with coconut milk and use tofu in place of chicken (VEGAN)

Replace heavy cream and full-fat yogurt with 0% fat yogurt (nonfat)

Replace cauliflower rice with actual rice (carbs)
This guide is jam-packed with everything you need to know about nutrition.
From tracking macros to meal ideas.
Recent Posts: