Calories
304
Fat
8 g
Carbs
27 g
Protein
31 g
Serves
4 (serving size = 526 g)
200 g yellow onion, 1/2-inch dice
100 g carrot, 1/2-inch dice
100 g celery, 1/4-inch slices
20 g butter
560 g boneless, skinless chicken breasts
1 tbsp fresh thyme leaves (or 1 tsp dried thyme)
1 tbsp fresh oregano leaves (or 1 tsp dried oregano)
1 bay leaf
Pinch of dried, ground ginger
1 qt chicken stock
2 cups water
100 g egg noodles
Salt and pepper
Share:
Tags: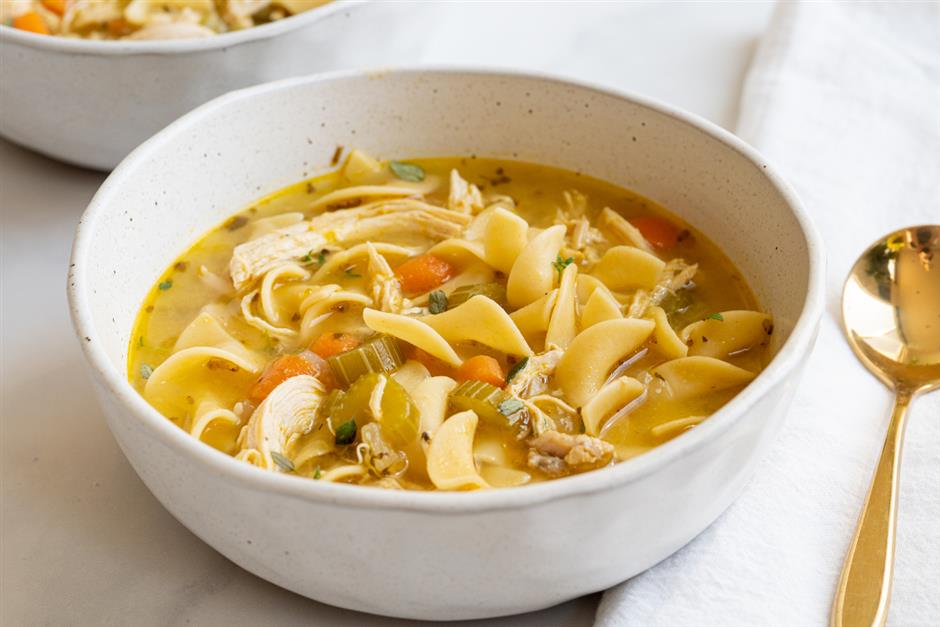 There's nothing better than keeping cozy with a piping hot bowl of homemade chicken noodle soup on a cold night, especially when your trusty Instant Pot does almost all the work!
Instructions
Set your Instant Pot to the saute setting and add the butter. When the butter is melted, add the onion, carrot, celery, and a teaspoon of salt. Let the veggies cook until softened, about 3–5 minutes.
Add thyme, oregano, a pinch of ginger, chicken stock, and water to the Instant Pot. Nestle the chicken breasts into the liquid, and fasten and properly seal the lid.
Set your Instant Pot to Soup, high pressure, for 7 minutes. When the 7 minutes is up, let the Instant Pot do a natural release for 10 minutes (or rather, don't touch the Instant Pot for another 10 minutes).
Carefully quick-release the remaining pressure (keep your face away from the steam, it will burn) and remove the lid.
Remove the chicken pieces and shred them with two forks. Set aside.
Add the egg noodles to the soup, set your Instant Pot to saute, and let the noodles boil for another 6–8 minutes, or until cooked through. Return the shredded chicken to the pot, and add salt and pepper to taste.
Serve immediately or portion into containers for later.
If you have frozen chicken breasts, you don't have to thaw them ahead of time but you will have to cook them on the Soup setting for longer. For smaller chicken breasts, 10 minutes on Soup should be good. For large chicken breasts, cook on the Soup setting for 12 minutes.
Recent Posts: