Calories
227
Fat
11 g
Carbs
5 g
Protein
27 g
Serves
5 (serving size = 145 g)
180 g red onion, diced
7 g olive oil
1/2 tsp sea salt
680 g (1.5 lbs) 93% lean ground turkey
6–8 hearty sprigs of thyme
A hearty sprig of fresh sage
120 g (1/2 cup) chicken stock
55 g frozen cranberries*
1 tsp monk fruit sweetener, white sugar (or 3–4 drops of liquid stevia)
1/2 tsp flour
1 tbsp of water
Salt & pepper to taste
Share:
Tags: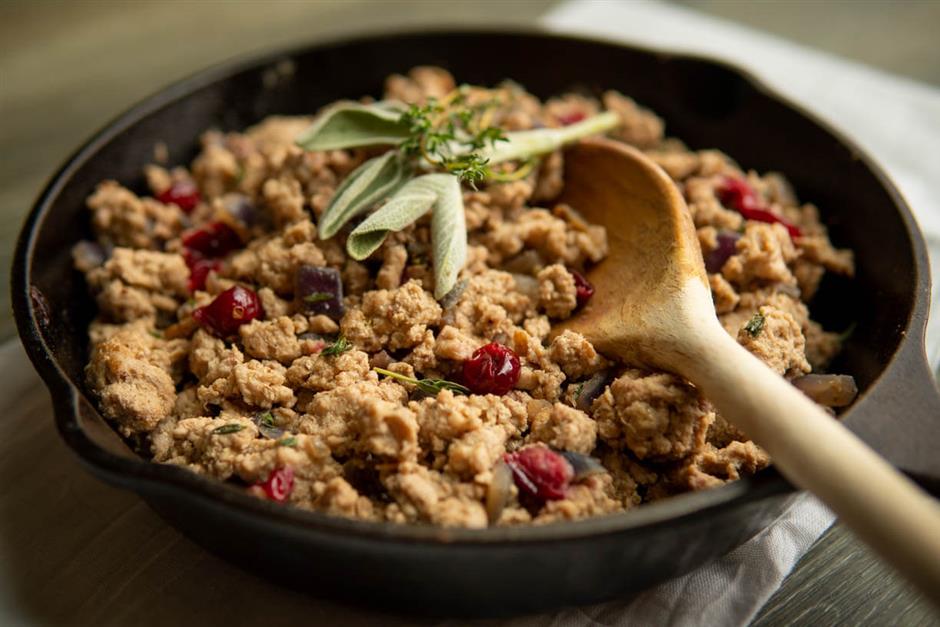 Ground turkey may be great for meal prep, but it's not exactly big on flavor. But with a little bit of tart cranberries and lots of thyme and sage, you can transform boring ol' ground turkey into a flavor-packed protein that will invoke holiday cheer any time of year.
Instructions
Heat the olive oil in a large frying pan over medium-low heat. Add the diced onion along with the 1/2 teaspoon of sea salt. Sweat the onions until they are soft and begin to caramelize, stirring frequently about 10 minutes. Meanwhile, remove the fresh thyme leaves from their stems. You can leave the sage sprig intact.
When the onions are soft and lightly browned, turn the heat up to medium and add the ground turkey, using a spatula to break up the big bits. Add the thyme leaves and the sprig of sage and let the meat brown for 2–3 minutes, stirring occasionally. Add the chicken stock, cover the frying pan with a lid, turn the heat down to low, and let the turkey bubble until fully cooked about 5 more minutes.
Using a slotted spoon or a mesh strainer, remove the cooked turkey from the frying pan and put it in a separate bowl. Leave the drippings in the frying pan—you'll need it for a quick cranberry gravy. Fish the sage sprig out of the turkey and throw it away. Cover the bowl with foil and set aside.
Keep the frying pan with the turkey drippings on low heat. Make a quick gravy by adding the frozen cranberries, along with your sweetener of choice. Let the cranberries begin to warm and burst. Then, combine the 1/2 tsp of flour with 1 tbsp of water. Pour the slurry into the cranberry mixture, and whisk to dissolve the slurry. Let the liquid softly bubble and thicken for 5 minutes. Pour the gravy over the ground turkey mixture and adjust the salt and pepper to taste.
Unsweetened cranberries are pucker-your-lips tart. If they're too sour for your taste, substitute a diced apple for the cranberries. Just don't forget to adjust the macros!
This guide is jam-packed with everything you need to know about nutrition.
From tracking macros to meal ideas.
Recent Posts: