Calories
377
Fat
9 g
Carbs
57 g
Protein
17 g
Serves
6 (serving size = 286 g)
155 g red onion, diced
100 g green beans, chopped into 1-inch chunks
100 g carrots, diced into 1/2-inch chunks
150 g cauliflower, cut into 1/2-inch chunks
1 clove of garlic, minced
100 g corn kernels (fresh is best, but canned or frozen works too)
1/4 cup carrot tops, finely chopped
1/4 cup parsley, finely chopped
7 g (1/2 tbsp) olive oil
7 g (1/2 tbsp) butter
416 g farro, rinsed
1 quart vegetable or chicken stock + 1/2 cup water
100 g grated Parmesan cheese (the older the better!)*
1/2 lemon, juiced
Share:
Tags: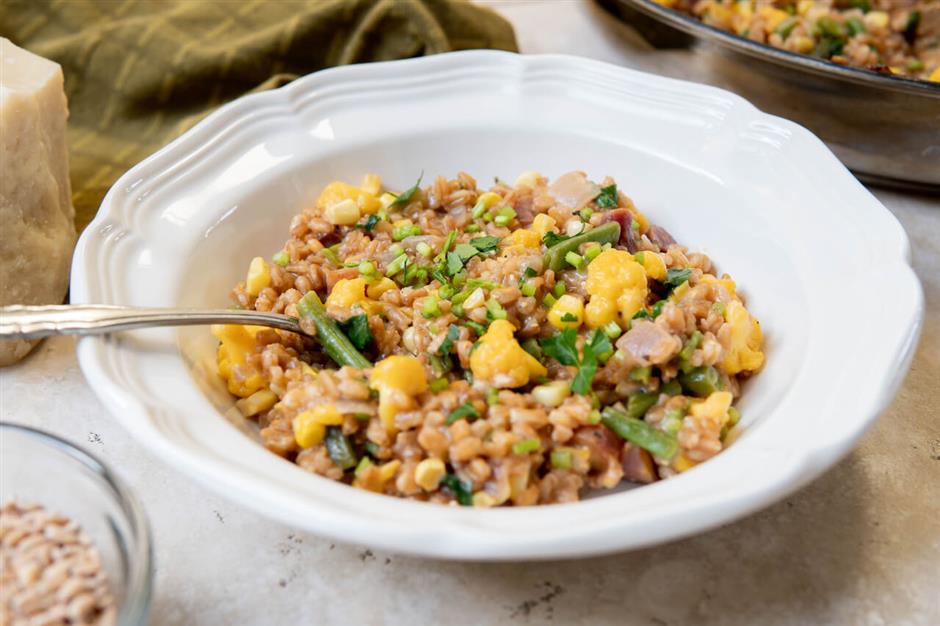 This creamy, cheesy farro risotto is perfect for those of you who like to experiment in the kitchen. Hearty farro gives this dish a satisfying chew that holds up nutty Parmesan while the veggies bulk up the dish and provide lots of fiber.
Note that this recipe makes a generous batch of risotto, so you'll want to use the largest frying pan you have (no less than 12 inches) or a good-sized saucepot (at least 4 quarts).
Instructions
In a fine-meshed colander, rinse the farro in order to remove any dust or excess starch. Transfer the farro to a pot along with the stock and water and place it over high heat. Bring it to a boil, then cover and reduce the heat to low and let the farro simmer for 20 minutes (set a timer!) until it is chewy but not entirely cooked. There should be extra liquid in the pot.
Meanwhile, saute the vegetables in order of the longest cooking time to the shortest. Over medium heat, add the butter and oil to a large nonstick pan or saucepot and add your onions. Let them soften with a pinch of salt while you prepare the carrots.
Add the carrots and let them cook while you chop the cauliflower. Add the cauliflower to the pan while you cut the green beans, then add the green beans along with the corn and minced garlic.
When the farro has simmered for 20 minutes, gently transfer the farro and the remaining liquid into the pan with the vegetables. Cook the farro for 15 minutes more, over medium-low heat, stirring every few minutes, until the farro has released some of its starch and becomes slightly creamy. If the pan looks dry, add a bit more stock and keep stirring.
Add the Parmesan cheese, chopped parsley, and carrot tops, and juice from 1/2 a lemon to the pan and stir to combine. Adjust the salt and pepper to taste.
*It's worth splurging for an aged Parmesan cheese for this recipe since it will deliver the biggest hit of flavor.
This guide is jam-packed with everything you need to know about nutrition.
From tracking macros to meal ideas.
Recent Posts: