Calories
281
Fat
5 g
Carbs
17 g
Protein
42 g
Serves
2
125 g of thin-cut veal, venison or chicken breast
20 g breadcrumbs
200 g of canned, peeled whole tomatoes in juice
140 g eggplant, thinly sliced
30 g grated cheese blend (parmesan and cheddar or a cheddar blend works well)
40 g nonfat feta cheese (you can use full fat if you prefer)
1 tsp garlic powder or fresh chopped garlic
Fresh basil to taste (dried basil works in a pinch)
Share:
Tags: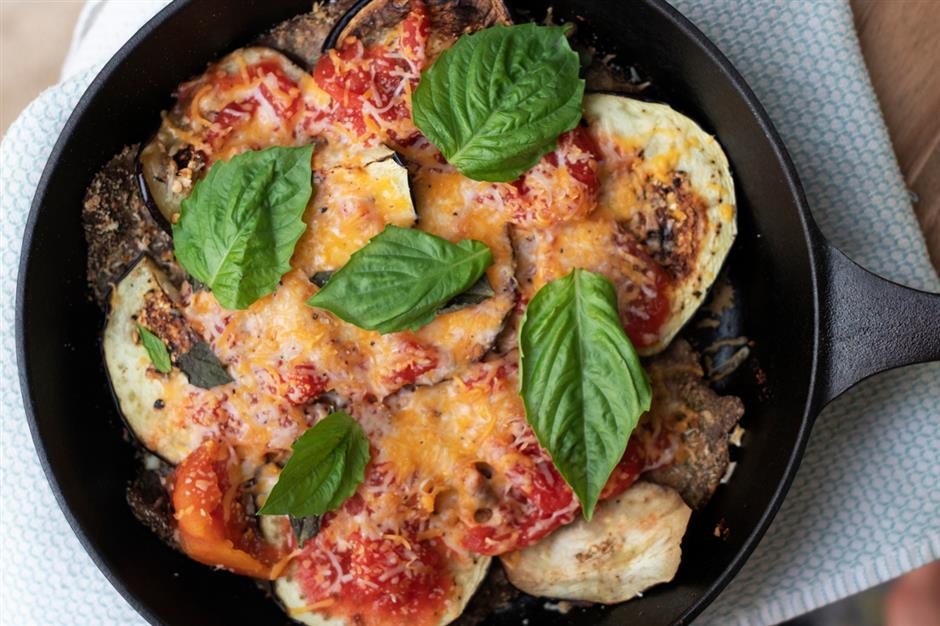 Meat, tomato, eggplant, garlic, cheese. I know, so far so Italian.
Parmigiana is the ultimate mix between the hearty, warm comfort of classic Italian food and a low-carb, low-fat meal. Who knew that was even possible? (Hint: If you had a WAG coach you'd know 😉.)
Instructions
In a medium bowl or container, toss the meat and crumbs around in the bowl until there is a slight coating of crumbs on either side. The natural moisture from the meat should make them stick but if you desire extra crumbiness you can add more breadcrumbs and use a little oil or egg yolk to help it stick. Set aside.
Heat a cast iron skillet on medium heat and add the eggplant slices. Cook for about 45 seconds to 1 minute on each side and transfer to a plate on the side.
In the same skillet, sear your prepared crumbed meat for about 20 seconds on each side. They are thinly sliced and cook quickly. Don't overcook them, because they're going in the oven or under the broiler next! If you don't have a cast iron skillet you can use a regular fry pan and just transfer your meat to a baking dish immediately after searing.
Once seared on both sides, layer the eggplant slices on top of the veal followed by the canned tomatoes. Evenly distribute across the top. Add the garlic and evenly sprinkle the cheeses on top. Salt and pepper to taste.
Place under the broiler for about 1 minute to heat up the toppings and melt the cheese.
Remove from heat, add fresh basil leaves and serve with a side salad or steamed vegetables.
Cooking healthy but still not seeing results? Join our Flexible Dieting Crash Course to gain a solid understanding of the basics of nutrition and how to use that knowledge to finally reach your goals.
And if you decide to join WAG's nutrition program at any time during or after the course, we'll apply the price you pay for this course to the cost of your membership! Learn more and sign up here.
Recent Posts: