Calories
233
Fat
5 g
Carbs
40 g
Protein
7 g
Serves
5 (serving size = 143 g)
150 g red onion, diced
5 g (1 tsp) olive oil
50 g dried apricots, chopped into 1/2-inch pieces
35 g slivered almonds
Pinch of cinnamon
1/4 tsp salt
180 g (1 cup) couscous
354 g vegetable stock OR 12 g Better Than Bouillon vegetable base dissolved in 354 g water
1/2 tsp orange zest + the juice of 1/2 an orange
10 g mint leaves (1/4 cup packed), roughly chopped
15 g scallions (2 stalks), thinly sliced
15 g cilantro, stems and all, roughly chopped
Share:
Tags: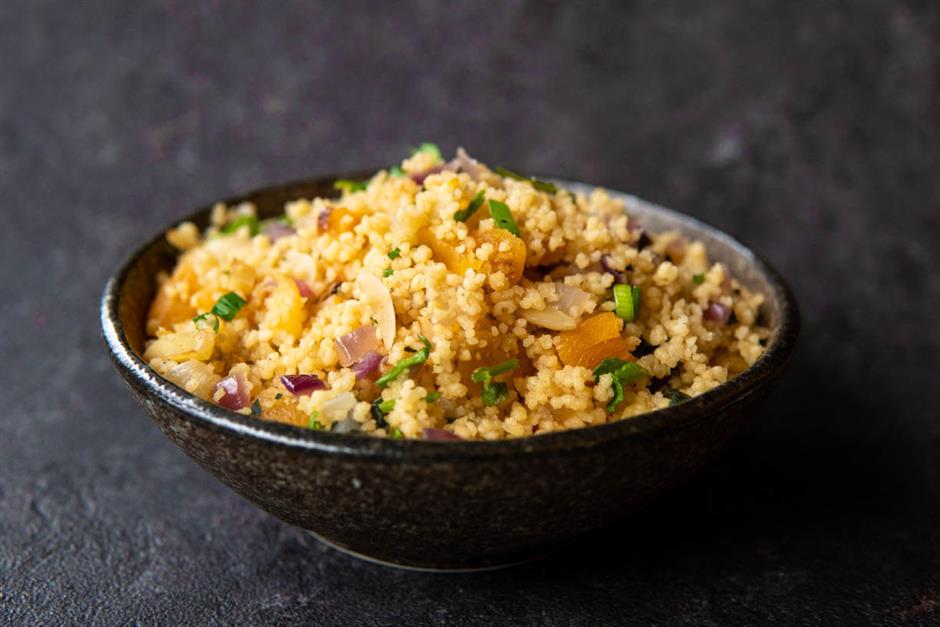 What exactly is couscous, you ask? Couscous is a tiny pasta made from wheat that typically cooks up in about 5 minutes. Though its origins are found in the Middle East, couscous is commonly stocked in standard grocery stores (look for it next to the rice and quinoa). Couscous lends itself to almost any flavors imaginable, so we've paired it with plump dried apricots, fresh mint and crunchy almonds for a one-pot side that pairs well with any protein.
Instructions
Heat the olive oil in a medium sauce pot over medium heat. When the oil is shimmering, add the diced red onion, dried apricots, slivered almonds, pinch of cinnamon and salt. Let the mixture cook, stirring occasionally, until the onions soften and the almonds begin to brown. Then, add the couscous to the pot along with the vegetable stock. Bring the mixture to a boil, cover the pot and take it off the heat. Let the couscous sit for 5–10 minutes.
Meanwhile, zest the orange and roughly chop the scallions and herbs. When the couscous is ready, use a fork to fluff it up. Add the orange zest, chopped herbs, scallions and the juice of 1/2 an orange. Fluff the couscous one more time and add additional salt and pepper to suit your tastes. (If your stock is already salted, you may not need any extra seasoning.)
Serve warm or cold.
This guide is jam-packed with everything you need to know about nutrition.
From tracking macros to meal ideas.
Recent Posts: