Calories
120
Fat
4 g
Carbs
3 g
Protein
18 g
Serves
8 (serving size = 85 g)
680 g ground chicken breast (or turkey breast, if you prefer)
150 g (1 apple) Granny Smith apple, finely chopped or diced into 1/4-inch pieces
1 clove garlic, minced or pressed
5 g dried rosemary
30 g light mayonnaise
15 g mustard, any kind
2 tsp salt
Cooking spray
Share:
Tags: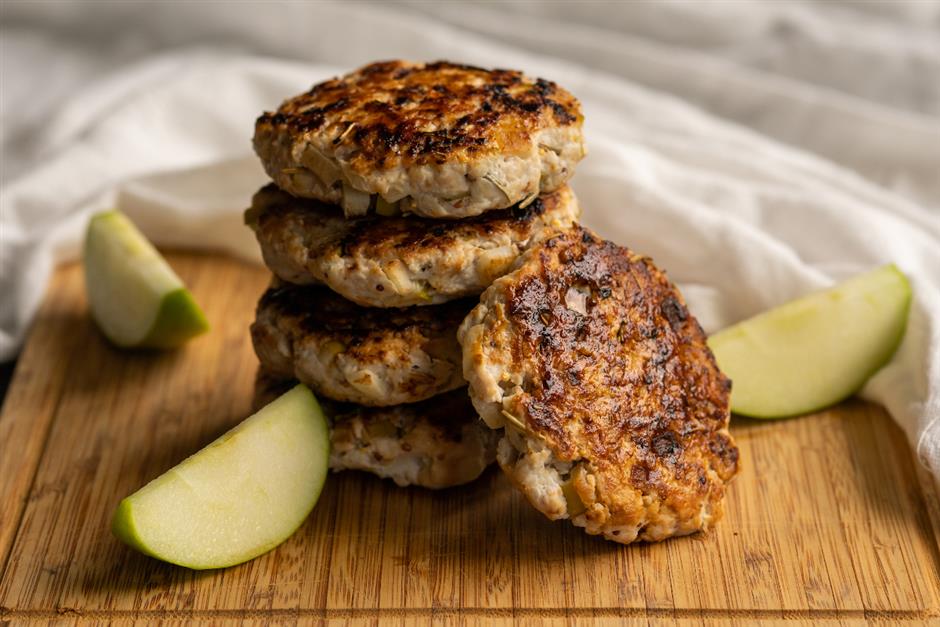 Made with lean ground chicken breast, crisp Granny Smith apples, and lots of flavorful rosemary, these chicken apple burgers are simple to prepare and perfect for meal prep.
Note that in order for the burgers to stay together, the apple needs to be chopped finely. Make sure that your apple chunks are no bigger than a 1/4-inch thick (or about the same width as a ground chicken squiggle).
Instructions
Combine all the ingredients in a bowl and use your hands to work the mixture together. Weigh the entire mixture and divide it into eight equal portions, then form the burgers into patties 3/4-inch thick.
Heat a large frying pan over medium-high heat. When the pan is hot, give it a spritz of cooking spray. Add the burgers, in batches if necessary, and cook for 5 minutes per side or until the burgers are cooked through.
Serve on buns, plain or with our Creamy Avocado Slaw!
To keep your apple from browning, fill a small bowl with water and a squeeze of lemon juice or a capful of apple cider or white vinegar. Drain the liquid before you use the apples!
Wondering what your macros might be? Wondering how to track macros in the first place? Check out our Macro Calculation Cheat Sheet & 18 Tips and Tricks for macro counting!
Recent Posts: