Calories
377
Fat
13 g
Carbs
46 g
Protein
19 g
Serves
4 (serving size = 340 g)
30 g shallot, sliced
10 g (2 cloves) garlic, peeled and smashed
300 g baby carrots
145 g 2% milk
Pinch of salt
Pinch of pepper
Pinch of cayenne
Pinch of dried thyme
30 g Parmesan cheese
1 Laughing Cow Light Swiss wedge
Squeeze of lemon
700 g (2 bags) of Trader Joe's cauliflower gnocchi
272 g (4 links) Trader Joe's chicken apple sausages, sliced
Microgreens, for garnish (optional)
Share:
Tags: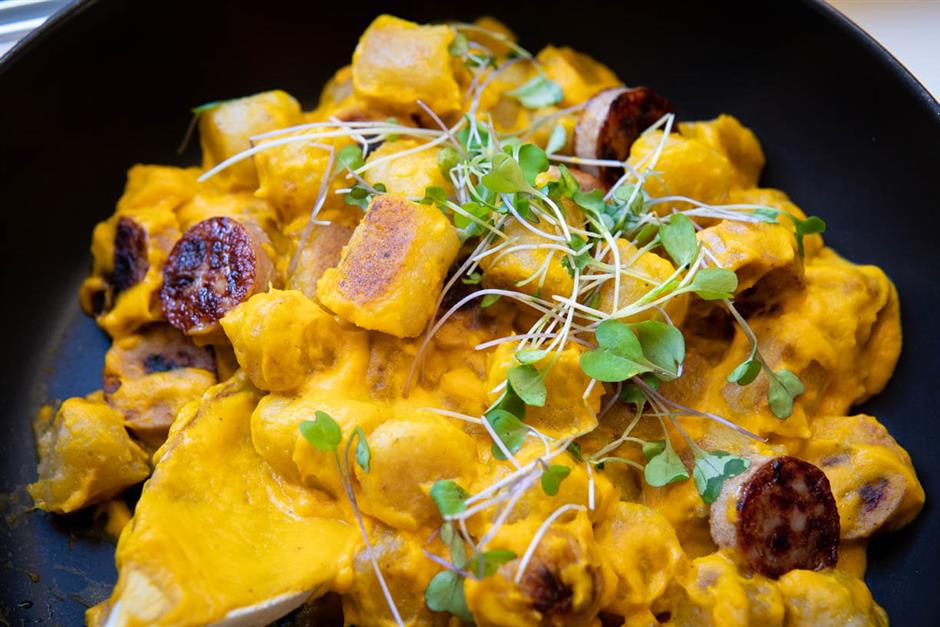 This recipe may be packed full of sneaky veggies, but we promise that this gnocchi dish is just as creamy and decadent as the pasta at your favorite Italian restaurant. If you're (sadly) not near a Trader Joe's, sub the gnocchi for your favorite macro-friendly pasta and TJ sausages for Aidells Chicken Apple Sausage. Just don't forget to adjust the macros!
Instructions
Combine the shallots, garlic, baby carrots, milk, salt, pepper, cayenne and thyme in a frying pan. Place the pan over medium-low heat, cover and cook for 25 minutes or until carrots are soft. (Check the pan occasionally to make sure the milk isn't burning. If the milk is boiling like crazy, turn the heat down until it simmers.)
Meanwhile, place a clean frying pan over medium-high heat and spray it with nonstick spray. Add the sausage and let it brown on both sides, then remove the sausage from the pan. Add the cauliflower gnocchi and cook according to package directions. Return the sausage to the pan and let the gnocchi brown in the residual fat from the sausage. When the gnocchi is done cooking, turn off the heat.
When the carrots are soft, add the contents from the pan to a blender along with the Parmesan and Laughing Cow cheese, then blend until smooth and creamy. Depending on the strength of your blender, you may need to add a few tablespoons of water or stock to get the blades spinning. Finish the sauce with a squeeze of lemon and adjust seasonings to your taste.
To serve, stir the sauce into the gnocchi and sausage. Garnish with microgreens.
To up the protein content without adding additional fat, brown some ground turkey breast along with the sausage (and adjust the macros).
This guide is jam-packed with everything you need to know about nutrition.
From tracking macros to meal ideas.
Recent Posts: