Calories
136
Fat
4 g
Carbs
20 g
Protein
5 g
Serves
9
Serving Size
33 g
90 g brown rice crispy cereal
90 g mini marshmallows
30 g cashew butter
28 g Brummel & Brown buttery spread
41 g vanilla casein protein powder
1 tbsp (19 g) maple syrup
1/2 tsp vanilla
Pinch of salt
1 tsp rainbow sprinkles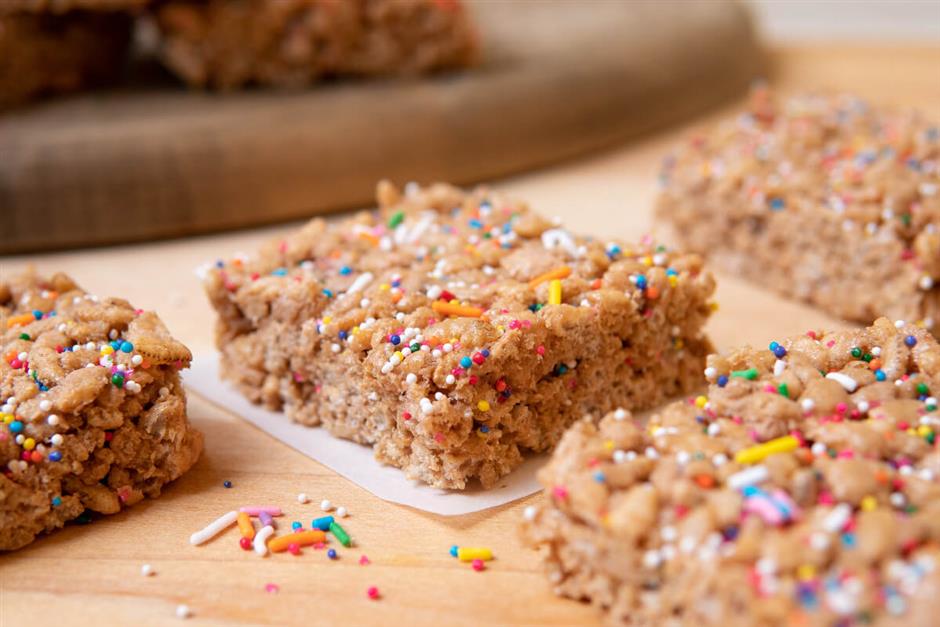 Those crispy, chewy, gooey marshmallow treats you loved as a kid are back! Though these birthday cake-inspired rice crispy treats are still squarely in the "dessert" category, we cleaned them up (and added a little protein kick) to keep them more macro-friendly than the original.
Instructions
Spray a 9x9 pan with a generous amount of cooking spray. Set aside.
In a bowl, toss the crispy rice cereal, protein powder and pinch of salt. Set aside.
Place the mini marshmallows, cashew butter and Brummel & Brown in a large saucepot. Melt the mixture over medium-low heat, until the marshmallows have fully melted. Add the maple syrup and vanilla and stir until combined.
Add the cereal mixture to the pot and gently stir everything together until the protein powder dissolves and the cereal is evenly coated and sticks to itself. Transfer the mixture to the square pan and, working quickly, use your fingers to press the mixture into an even layer. Immediately top with sprinkles.
Let the mixture cool for a few minutes before cutting. Store the squares in an airtight container.
*Do not use whey protein, as the mixture won't stick together as well.

This guide is jam-packed with everything you need to know about nutrition.
From tracking macros to meal ideas.
---
You Might Also Like