Calories
37
Fat
1 g
Carbs
6 g
Protein
1 g
Serves
6 (serving size = 48 g)
1 lb grape tomatoes, whole
4 garlic cloves, smashed
8 g olive oil
Sea salt
Fresh cracked pepper
Share:
Tags: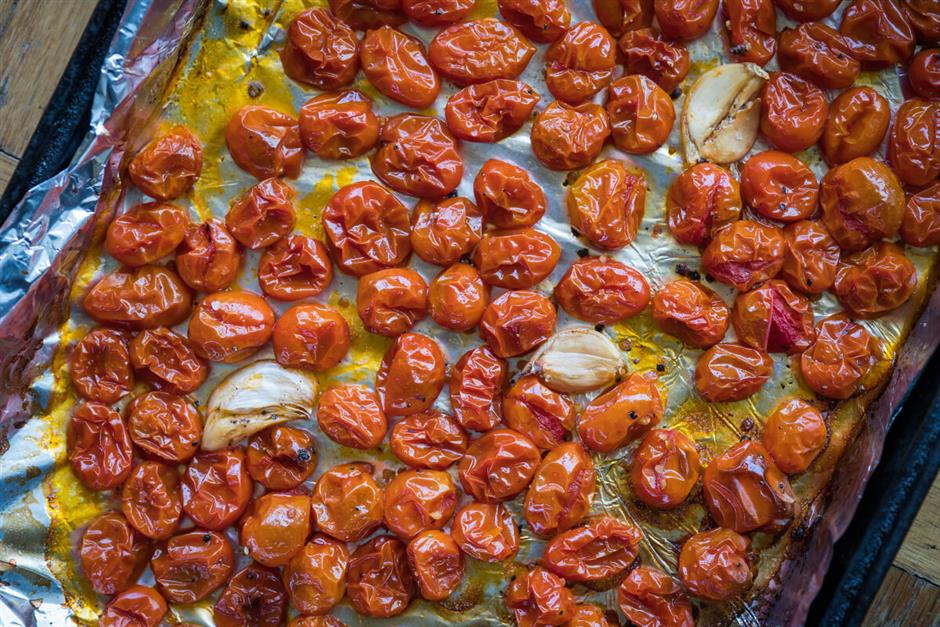 When tomatoes are in season, you're going to want to keep these sweet, slow-roasted tomatoes on hand. Slow roasting gives them an unbelievable sweetness that will give you that restaurant-quality depth of flavor to brighten up your day-to-day dishes.
Instructions
Preheat oven to 375 F. If desired, line a cookie sheet or baking pan with foil for easier cleanup.
Using the heel of your hand or (carefully) using the flat of a large knife, crush the garlic cloves and remove the peel. Toss the smashed cloves with the tomatoes, olive oil, salt, and pepper.
Transfer the tomatoes to your baking pan and roast in the oven until tomatoes are lightly browned and shriveled. Depending on your oven and pan, you may need to give the tomatoes a shake now and again to keep them from burning. The tomatoes are done when the liquid at the bottom of the pan begins to thicken and caramelize, about 45 minutes.
Salt and pepper according to your personal tastes. Before putting the tomatoes in the oven, give the spoon (or your fingers if that's your style) a quick lick to make sure the seasoning is the way you like it!
This guide is jam-packed with everything you need to know about nutrition.
From tracking macros to meal ideas.
Recent Posts: