Calories
115
Fat
3 g
Carbs
18 g
Protein
4 g
Serves
7 (serving size = 125 g)
1 package of precooked polenta (the macros for this recipe were calculated using a 680 g tube of prepared polenta)
165 g grape or cherry tomatoes, halved
4 cloves of garlic, minced or pressed with a garlic press
20 g red onion, diced
60 g part-skim mozzarella cheese, cubed or shredded
1 tbsp olive oil
1/2 tsp fresh ground pepper
1/2 tsp – 1 tsp sea salt
Fresh basil leaves, to garnish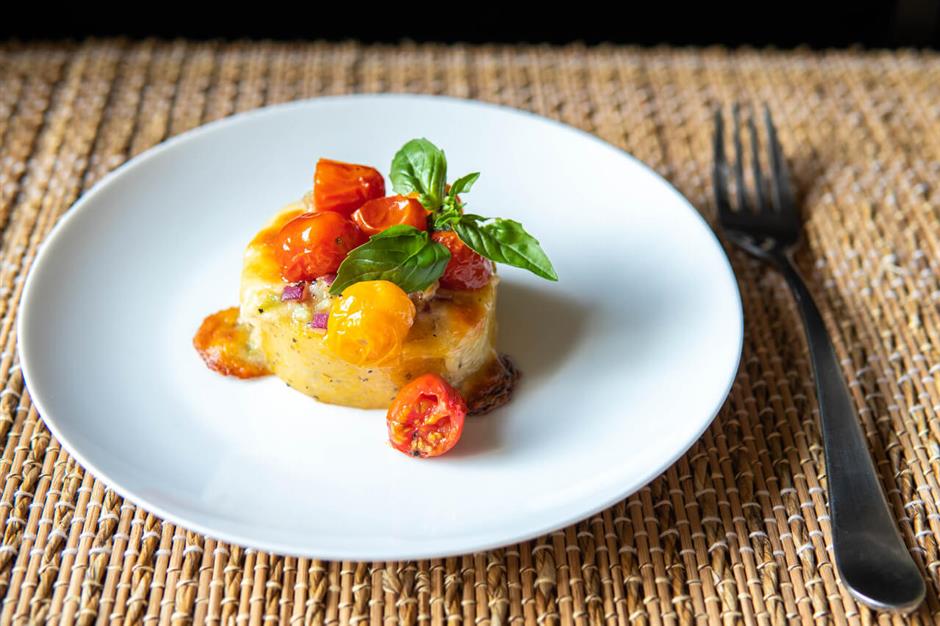 Lots of garlic, sweet tomatoes, gooey mozzarella and fresh basil atop creamy polenta creates this easy, filling side dish.
Instructions
Preheat oven to 400 F.
In a small bowl, combine the tomatoes, minced garlic, red onion, mozzarella, olive oil, salt and pepper. Toss to combine and set aside.
Slice the prepared polenta into seven rounds and arrange on a nonstick or foil-lined baking pan. Top each round with the tomato and cheese mixture, and bake in the oven until the cheese is bubbly and tomatoes begin to shrivel (about 15 minutes).
Remove from the oven and top with fresh basil before serving.
This guide is jam-packed with everything you need to know about nutrition.
From tracking macros to meal ideas.
---
You Might Also Like