Calories
310
Fat
14 g
Carbs
25 g
Protein
21 g
Serves
1 (serving size = 1 plate)
2 slices of bacon, chopped
80 g Roma tomato, chopped
50 g fat-free feta cheese (you can use full fat if you want)
50 g bone broth
170 g butternut squash noodles (buy from the grocery store!)
20 g (handful) of spinach
Share:
Tags: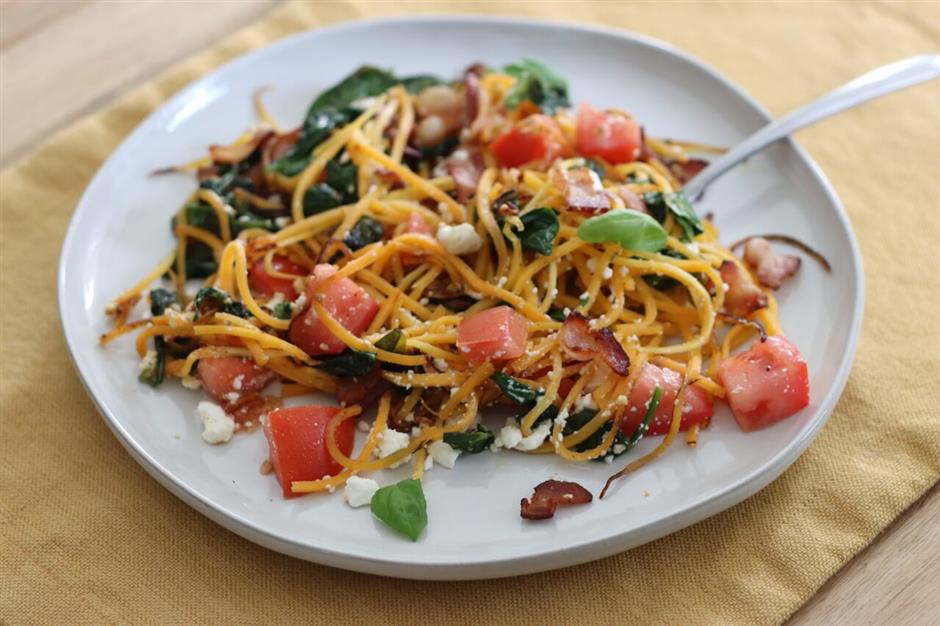 Want a big bowl of spaghetti without having to eat 80 grams of carbs or feel the effects of a ton of gluten? Want a meal that is full of nutrients? Want a delicious flavor explosion of cheese and bacon and have it be GOOD for you? Here's your dish.
Instructions
Heat a skillet to high and cook bacon bits. Then remove bacon from the pan and transfer to a paper towel to drain. Put the skillet back on the heat.
Add butternut squash noodles and bone broth. Stir occasionally until the bone broth is evaporated and soaked up by the butternut squash.
Add the bacon back in and the remaining ingredients, stir for 1–2 minutes to warm it all through and then transfer to a plate and serve!
This guide is jam-packed with everything you need to know about nutrition, from tracking macros to meal ideas.
Recent Posts: