Calories
200
Fat
8 g
Carbs
30 g
Protein
2 g
Serves
6
500 g apples, cored and sliced into 1/4-inch slices (about 3 large apples)
100 g fresh cranberries
1/4 cup water
1 tsp cinnamon
1/2 tsp salt
57 g butter (1/4 cup), cubed
24 g (2 tbsp) white sugar
24 g (2 tbsp) dark brown sugar
2 tsp Truvia Natural Sweetener*
25 g rolled oats
40 g all-purpose flour
(1/2 tsp ground allspice
Share:
Tags: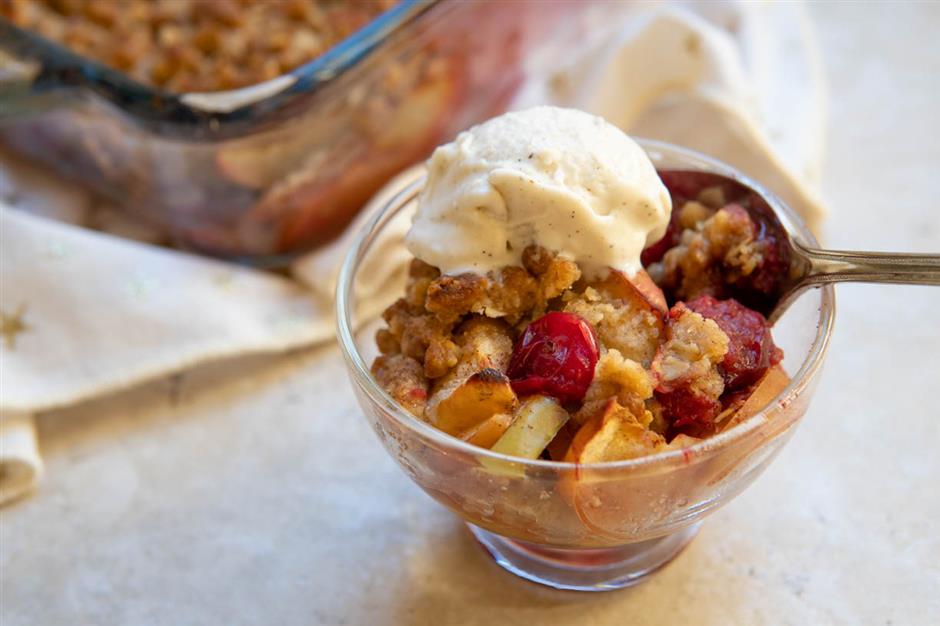 When your holiday guests tuck into this bubbling batch of apple-cranberry crisp, they'll never know that it's lower in sugar and fat than most traditional fruit crisps. Choose a variety of apples for a more complex flavor profile—Pink Lady, Honey Crisp, Granny Smith, and Golden Delicious are all great options.
To manage portions ahead of time, evenly divide the filling and crumble into muffin tins for 6 individual servings.
Instructions
Preheat oven to 350 F.
In a shallow 9-inch baking dish, toss the sliced apples with the cranberries, water, cinnamon, and salt until the fruit is evenly coated. Arrange the fruit so it's in an even layer and set aside.
In a medium-sized bowl, combine the butter, white sugar, brown sugar, Truvia, rolled oats, flour and allspice. Using your fingers, combine all the ingredients together until everything is incorporated and you have coarse clumps.
Sprinkle the topping over the filling and bake uncovered until the filling is bubbling and the topping is brown, about 45–55 minutes.
Serve at room temperature or warm with your favorite macro-friendly ice cream.
You can also use stevia in the raw or a stevia baking blend, but you'll have to adjust the amount of stevia to your taste. Do not, however, swap out the brown and white sugar entirely, or your crisp won't quite crisp!
Recent Posts: