Calories
205
Fat
5 g
Carbs
29 g
Protein
11 g
Serves
9
30 g (2 tbsp) extra-virgin olive oil
100 g onion, chopped
400 g celery, chopped
272 g chicken or turkey sausage, casing removed and crumbled
1 1/4 tsp poultry seasoning
1/2 tsp ground pepper
1/4 tsp salt
1 lb stale whole-grain bread, cubed*
200 g / 1 large Granny Smith apple, peeled and chopped
1 cup low-sodium chicken broth
Share:
Tags: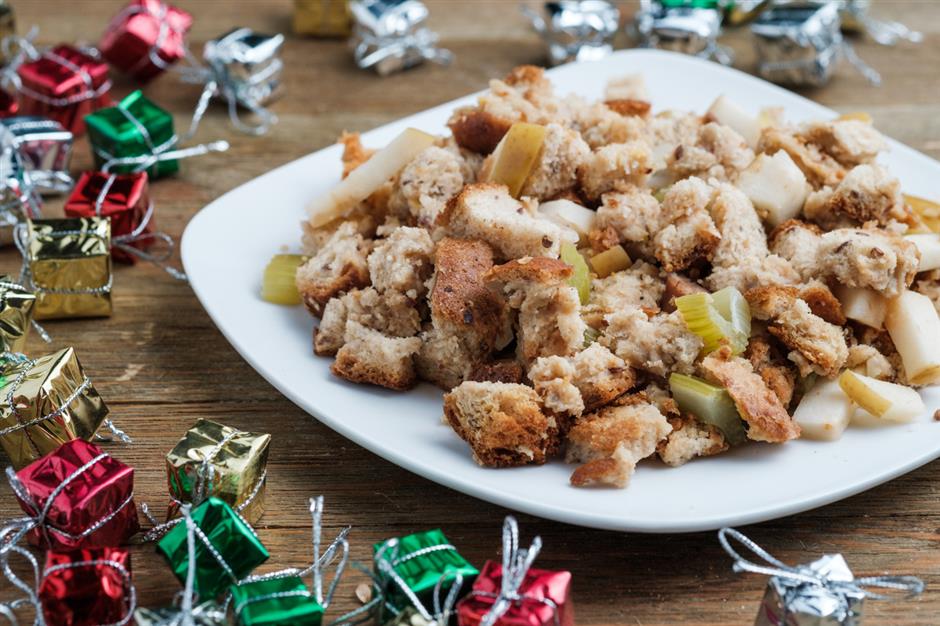 It's time to get creative and use your apples for a winter dish that doesn't involve pie! Sweeten up your usual stuffing recipe by adding apples and sausage to the mixture for an added dose of protein.
Instructions
Heat oil in a large pan over medium heat. Add celery and onion and stir until softened (about 8–10 minutes).
Add sausage, poultry seasoning, pepper and salt to the pan. Stir until sausage is cooked just through and you can't see any raw sausage (roughly 7–8 minutes).
Transfer to a large slow cooker, set to high. Add remaining ingredients: bread, apple, and broth. Stir, cover and cook for 2 hours.
Side notes:
For this recipe, I used Bilinski's Chicken, Spinach and Fennel Sausage.
Other brands that work great: Trader Joe's Chicken Breakfast Sausage, Bilinski Organic Chicken Sausage, Papa Cantella's Italian Turkey Sausage. Using ground turkey or chicken will work as well!
*This recipe is a great opportunity to use some old bread! But if you use fresh bread, then lightly toast by baking at 275 F for 25–30 minutes, then let it cool before cutting and cubing.
Find this and other great recipes in our Holiday Guide!
Recent Posts: