Calories
521
Fat
13 g
Carbs
77 g
Protein
24 g
Serves
1 (serving size = 490 g)
80 g + 40 g strawberries, sliced
120 g 2% Greek yogurt
150 g unsweetened vanilla cashew milk*
1 tsp vanilla extract
20 g (1 tbsp) maple syrup
4 drops of liquid stevia
Pinch of sea salt
75 g old-fashioned rolled oats (do not use instant or quick oats)
2 tsp (6 g) chia seeds
Share:
Tags: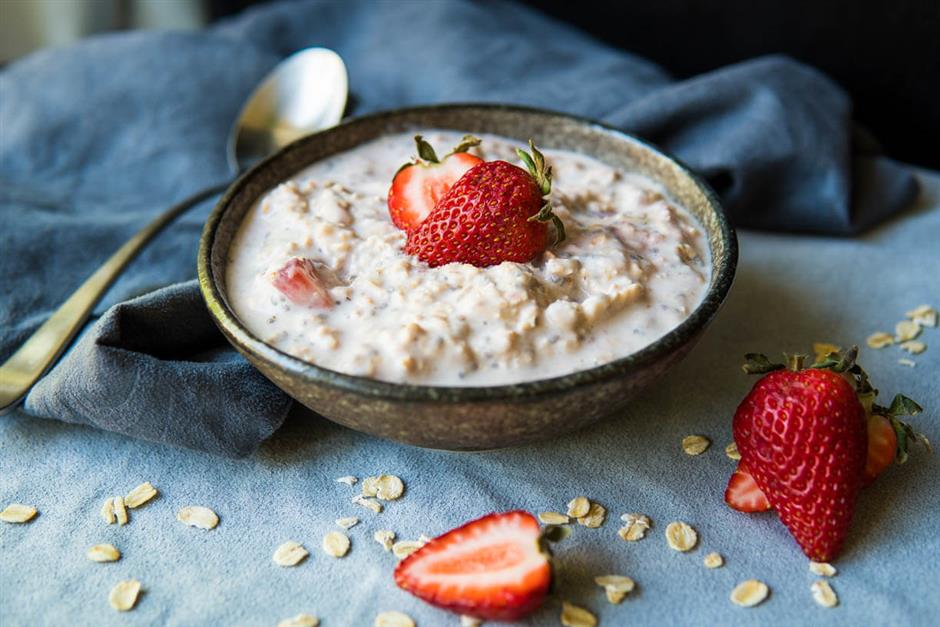 Overnight oats are perfect for on-the-go, pre-portioned breakfast or brunch, and this recipe for Strawberry Vanilla Overnight Oats is spoon-lickin' good. Chia seeds add texture, a dose of omega-3s and lots of fiber, while fresh strawberries add tang and bulk, so you can eat the whole 490 g bowl without sacrificing your macros. 
This recipe should fit perfectly in a 16 oz mason jar, so feel free to scale it up for easy meal prep.
Instructions
In a blender or Nutribullet, combine 80 g of sliced strawberries with the Greek yogurt, cashew milk, vanilla extract, maple syrup, liquid stevia and a pinch of sea salt. Blend until smooth.
Combine the rolled oats and chia seeds in a 16 oz Tupperware or mason jar. Pour the yogurt mixture over the oats, add the remaining 40 g of sliced strawberries and stir to combine. Let the oats sit overnight and enjoy.
For even more protein, sub nut milk for dairy milk or add a scoop of protein powder. Just be sure to adjust the macros!
This guide is jam-packed with everything you need to know about nutrition.
From tracking macros to meal ideas.
Recent Posts: