Calories
207
Fat
11 g
Carbs
21 g
Protein
6 g
Fiber
3 g
Serves
18
Serving Size
37 g
325g rolled oats (3 cups)
130g chopped pecans (may sub any nuts you like)
45g pepitas
40g brown sugar
32g Podium Maple Butter Pancake whey protein (can sub any vanilla whey)
¾ tsp pumpkin pie spice
¼ tsp sea salt
105g maple syrup
86g pumpkin puree
56g coconut oil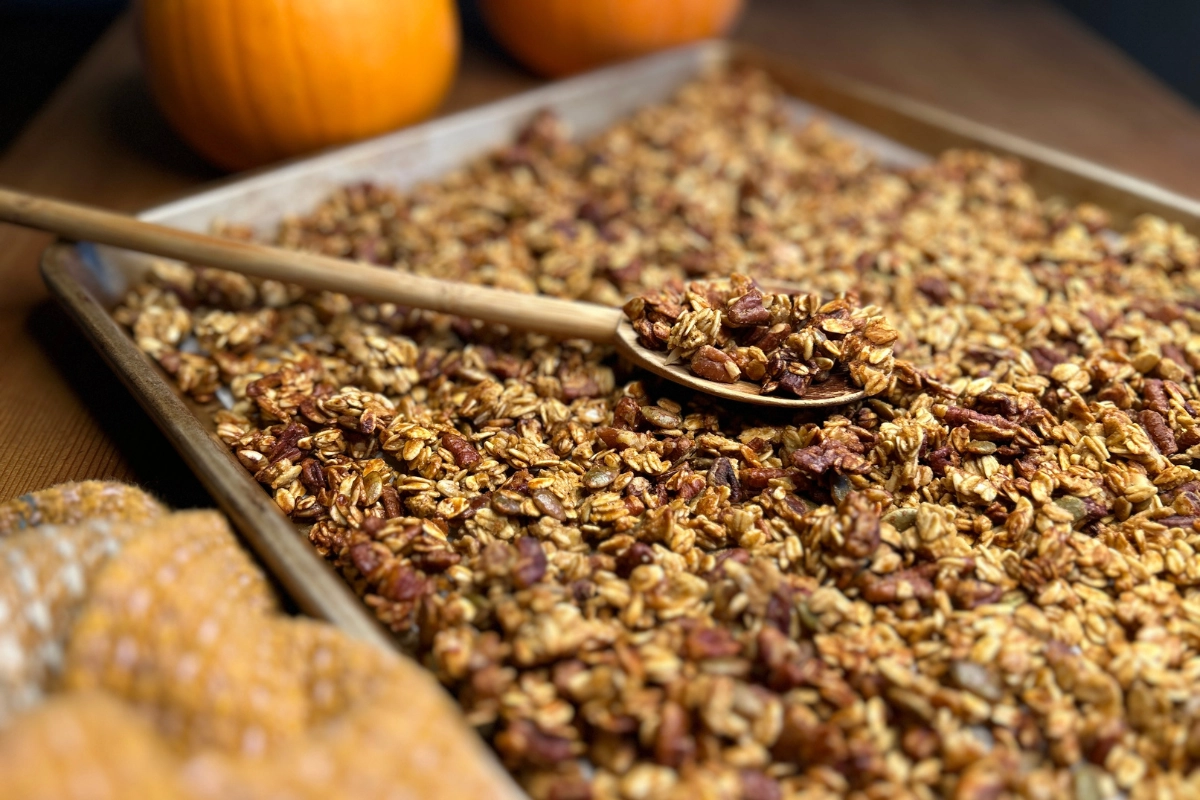 I make granola often since it is much more cost effective than buying it, so it only seemed fitting to create some kind of pumpkin version for Fall. I also wanted to incorporate my new Podium Maple Butter Pancake protein powder, so away I went playing with my base recipe to bring in the flavors of the season!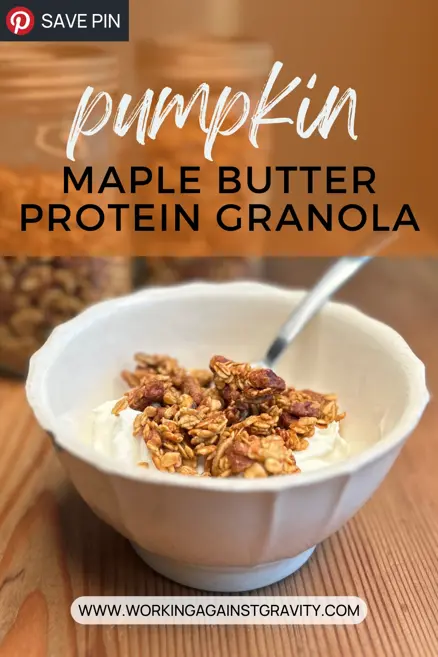 I'm really happy with how it turned out. It's got healthy fats, a decent dose of fiber, more protein than traditional granola, and it's got all the warm spices and flavors of Fall!
I add this to my Ellenos plain greek yogurt and eat it for breakfast, or for an afternoon snack. It's also good sprinkled on top of the Trader Joe's Gluten Free Pumpkin Pancakes. I might have stockpiled a few boxes of that mix for later :) 
Instructions
Add all the dry ingredients (from oats to whey) to a large mixing bowl and combine.
Add all the wet ingredients (from maple syrup to coconut oil) to a small saucepan and heat on low until melted together.
Add the ingredients from the saucepan to the dry ingredients in the mixing bowl and stir quickly with a wooden spoon until everything is combined and you see no dry spots.
Pour in a single layer onto a parchment lined baking sheet. You can use two baking sheets if that helps prevent crowding. The granola won't get crispy if the layer is too think.
Bake at 325 degrees for 30 minutes, rotating the sheet pan halfway through to help get an even cook. It should be golden brown.
Remove from oven and let cool for at least 10 minutes. It should harden a bit.
Store in mason jars or another airtight container for 2 weeks!
---
You Might Also Like