Calories
62
Fat
2 g
Carbs
10 g
Protein
1 g
Serves
57g
200 g baby rainbow carrots, washed, trimmed, and cut in half lengthwise (no need to peel)
4.5 g or 1 tsp olive oil
1 tbsp fresh thyme leaves, removed from stems
1-2 tsp coarse sea salt*
1-2 tsp fresh cracked black pepper
Share:
Tags: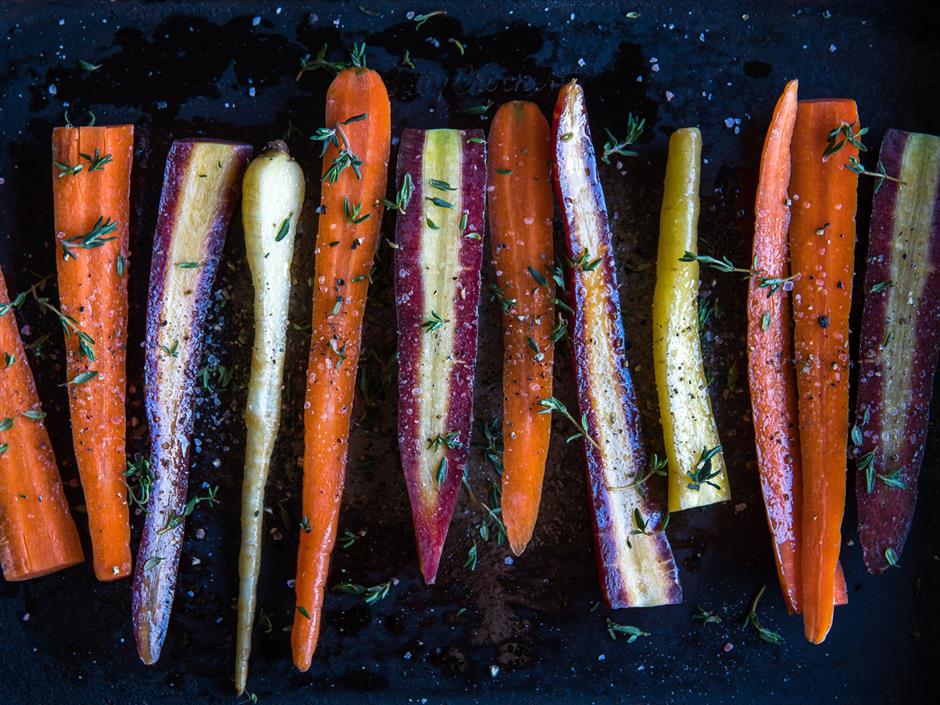 These roasted carrots are perfect as a side, tossed in salads or eaten straight off the pan. The key to their soft sweetness is to make sure the roasting pan isn't too crowded. Even though the carrots shrink during cooking, as you can see by the photos, a crowded pan will steam veggies instead of roast them, which means they won't get brown and caramelized.
If you're making this recipe in bulk, split it into more than one pan so the carrots can rest in a single layer without touching each other. Dip these carrots in our Creamy Maple Mustard sauce for a delicious snack.
Instructions
Preheat oven to 400 degrees.
In a bowl, toss carrots with olive oil, thyme, salt and pepper.
Arrange carrots on cookie sheet in a single layer, making sure the carrots don't touch each other.
Roast for 25 minutes or until carrots are soft and the bottoms are golden brown.
Salt & Pepper notes: Different varieties of salt have different levels of saltiness. In general, I recommend using sea salt and pepper grinders. Over time, you'll learn how many turns of a grinder will fit your salt & pepper tastes. Note that sea salt is less salty than traditional iodized table salt, so if you're using table salt in this recipe, err on the side of caution and salt lightly.
Recent Posts: