Calories
408
Fat
4 g
Carbs
34 g
Protein
59 g
Serves
4
1 Package of NuPasta Fettuccini - http://www.nupasta.com/
6.5 ounces of boneless, skinless chicken breast
63 grams of egg whites
85 grams of broccoli slaw
30g of white onion
20g of cilantro (finely chopped)
Optional: peanuts (Did not use, and does not apply to the macro calculation)
Share:
Tags: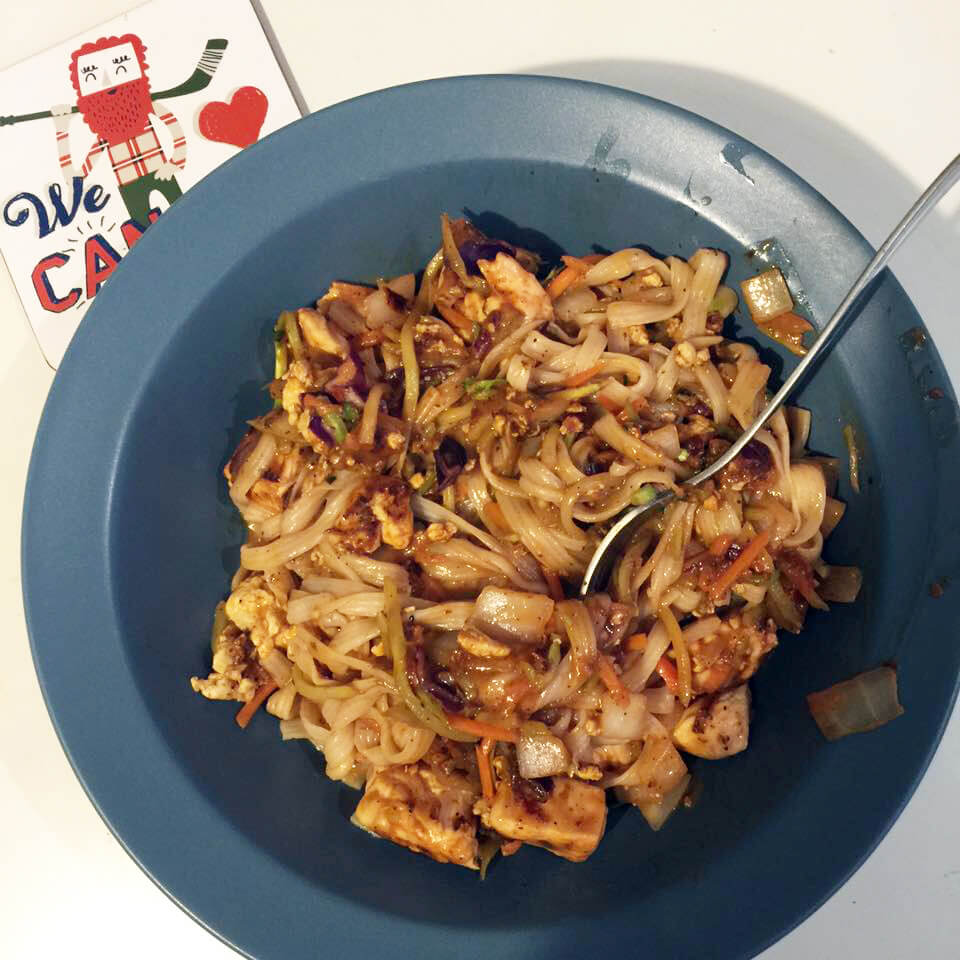 Anyone that knows me, knows I'm not much for cooking. I fall into the category of people that "make food"– as in, I bake a chicken breast, boil potatoes, microwave vegetables.
While this is what works for me, every now and then I get the urge to be a little creative with my food, and recently decided to take a stab at making "macro-friendly" Pad Thai. I wasn't sure how it was going to turn out, but I was so pleased with my inventiveness, I just had to share it for the blog.
I used this recipe as the basis for my meal, but made some substitutions along the way, which made it a bit more agreeable to my numbers.
The final recipe came out to 4f/34c/59p for the entire bowl. The recipe says "serves 4", but I ate the entire thing!
Instructions
Season chicken with salt and pepper to taste. Cook chicken in a large wok or pan over medium heat, stirring until cooked through, transfer chicken to a bowel and set aside.
Whisk together all sauce ingredients and set aside
Pour egg whites into preheated pan (where you cooked the chicken) and allow to fry for about a minute, then break it up with a spoon and add the onion and broccoli slaw.
Add chicken and sauce.
Cook NuPasta per instructions (drain and rinse) and add into pan. Toss to coat the noodles in the sauce.
Stir in cilantro and garnish with peanuts if desired.
Recent Posts: