Calories
338
Fat
10 g
Carbs
31 g
Protein
31 g
Serves
2
8 oz 93% lean ground beef
200 g tomato products - canned, sauce
200 g tomatoes
125 g mushrooms
65 g onion
150 g green bell pepper
1 tsp garlic, raw
0.25 tsp salt and pepper
1 tsp crushed red chili pepper flakes
112 g beans - pinto, canned
6 g Mexican seasoning
Share:
Tags: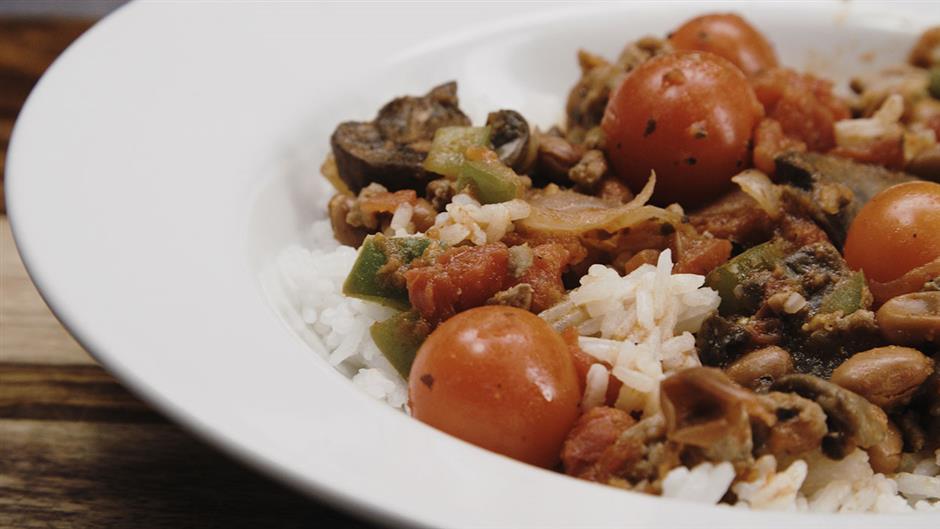 In this week's episode of the WAG cooking show, Molly Vollmer, CrossFit Games athlete, and Dani Sheriff, from Team WAG, create two much-loved dishes out of one base. A food prep two-for-one, if you will.
Here is the recipe for our Mexican Hot Pot. For the Bolognese with Zucchini and Beetroot Noodles variation, click here.
To get this recipe logged in your MyFitnessPal app, steal it from our WAG MyFitnessPal account or search "Spaghetti Bolognese with Zucchini and Beetroot Noodles".
Instructions
Pre-heat a non stick pot on high. Add onion and garlic and stir until aromatic.
Add beef, making sure you break up any clumps. Add taco seasoning, salt and pepper and stir until the beef starts to brown.
Add in tomato sauce. If you like it extra saucy, add a can of no-salt stewed tomatoes. Don't forget to add this to your macros if you track your food.
Turn down to a low heat to let the meat stew. Stir occasionally.
Meanwhile, if you want to serve this dish with rice, start boiling your rice. Totally optional. Make sure you add the macros for the rice to the recipe.
Serve your hot pot straight away, or allow it to simmer for longer to create a thicker consistency. Making this dish in advance and storing it in food containers allows it to thicken naturally, resulting in a richer flavor. Another reason why this is a great bulk meal prep recipe. It just gets better with time.
Recent Posts: