Calories
485
Fat
33 g
Carbs
5 g
Protein
42 g
Serves
1
340 g extra firm tofu (only extra firm will work here)
14 g sesame oil
1 tbsp soy sauce or tamari
Flaky salt
Share:
Tags: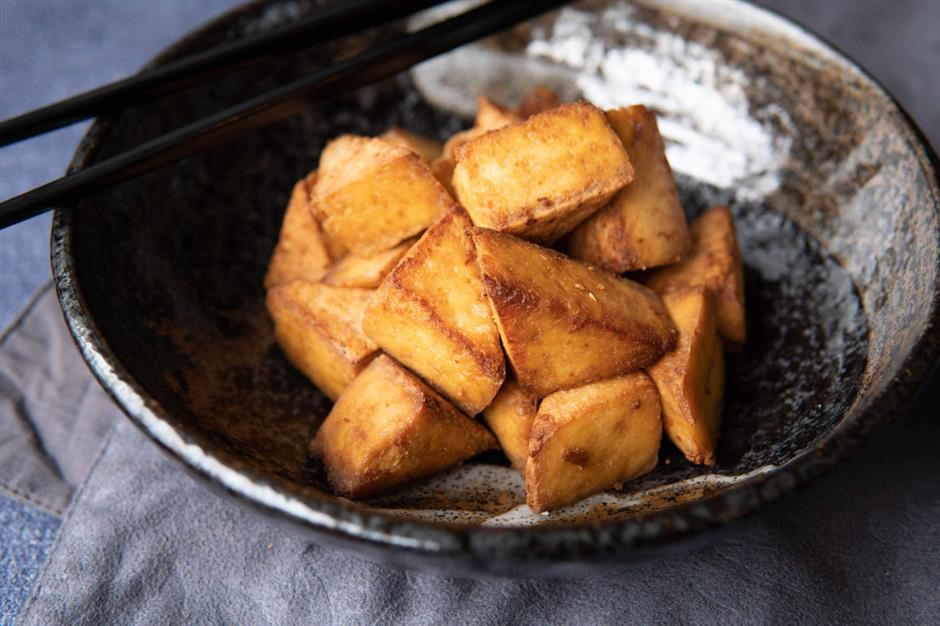 Whether you follow a vegan diet or not, tofu can be tricky business. But with negligible carbs and a punch of protein, learning to cook tofu well can be a big help when you're counting macros.
This recipe produces tofu that's crisp and golden on the outside but pillowy (and not mushy!) on the inside. The key is to press the tofu to remove excess liquid and then give it some color on the stove before finishing it in the oven. It will hold up well with any of your favorite keto or vegan sauces.
Instructions
Preheat your oven to 375 F. Then, press the tofu by draining the tofu and cutting the block in half, so your thick piece of tofu becomes two thin slabs. Wrap each slab in a few paper towels or a clean kitchen towel and place them on a cookie sheet. Weigh down the slabs with anything you have around the kitchen—a cast-iron pan with a few cans or a gallon jug of water (or even a light kettlebell!) works great. Let the tofu press for at least 20 minutes.
When you're ready to cook the tofu, unwrap it from the towels and cut it into bite-sized cubes or triangles. Toss it with the soy sauce and sesame oil.
Heat a wok, cast-iron pan or frying pan over medium-high heat. Spray the pan with cooking spray (don't skip this step otherwise the tofu will stick) and add the tofu to the pan. Let it sear for about 5 minutes, flipping once or twice, until it begins to brown.
Transfer the tofu to a parchment-lined baking sheet and bake in the oven for 15 minutes, until sizzling and golden. Remove from the oven and sprinkle with a pinch of flaky salt.
If you're making this ahead of time for meal prep, keep any sauces separate from the tofu. Reheat the tofu in the oven or over the stove before serving.
This guide is jam-packed with everything you need to know about nutrition, from tracking macros to meal ideas!

Recent Posts: