Calories
538
Fat
18 g
Carbs
44 g
Protein
50 g
Fiber
2 g
Serves
6
1.5 #/ 26oz boneless skinless chicken breasts
20g lemon juice (2TBS)
2 cloves garlic
12g olive oil
2 tsp cumin
1 tsp sea salt
1 tsp dried oregano
1 tsp paprika
1 tsp turmeric powder
3g Coconut or olive oil spray
270g white basmati rice (1.5 cups)
24g butter
12oz chicken broth (2.5 cups)
226g plain greek yogurt
26g mayonnaise
14ml Apple Cider Vinegar
10g lemon juice
½ tsp sugar
Salt & pepper to taste
Parsley (optional)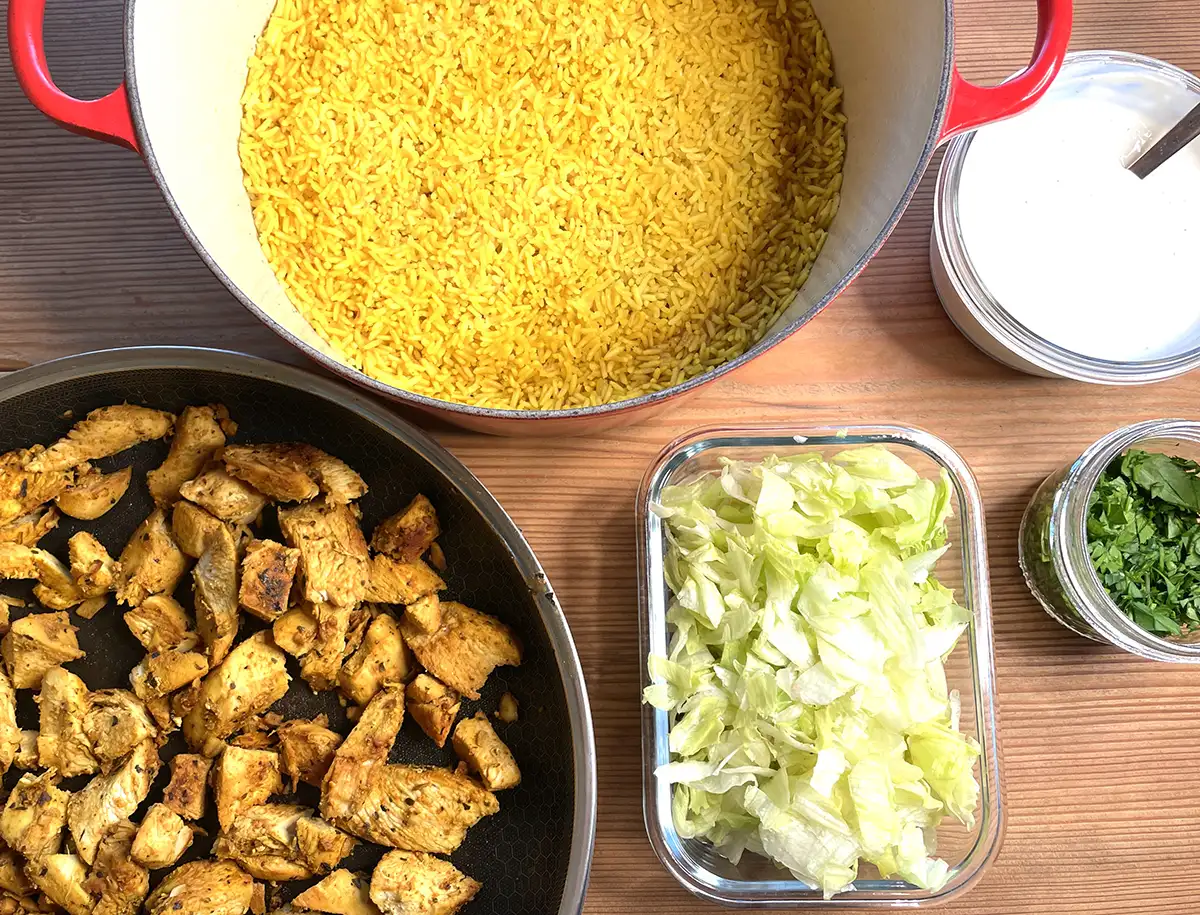 I don't know about you but I LOVE visiting food carts!  One of my favorite food cart meals is a local halal chicken and I started thinking how easy this would be to meal prep at home.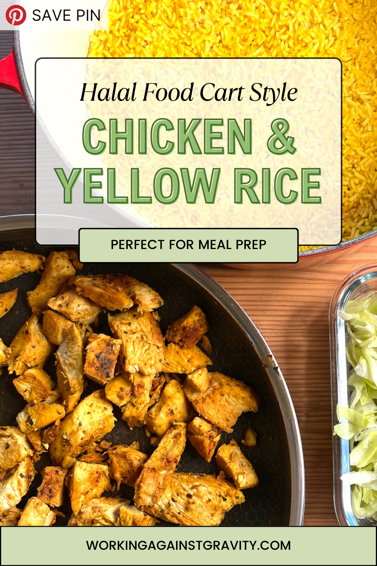 All the components are made and kept separate which is great for reheating and building bowls on the fly.
This halal chicken is diced and spiced with turmeric and cumin, served with a broth infused yellow rice and topped with iceberg lettuce and a tangy white sauce that ties it all together. Traditionally it can be served with tomatoes, red onions, naan and harissa so feel free to add your favorites and make it your own!
Enjoy this food cart inspired meal at home where it is easy to make and track into your macros!
Serving size: 135g chicken, 127g rice, 46g white sauce, 30g iceberg lettuce
Instructions
Combine lemon juice, garlic, olive oil, 1 tsp cumin, sea salt, oregano, paprika, and 1 tsp turmeric powder and add to a ziplock with chicken breasts. Coat the chicken and refrigerate 1-4 hours. Do not marinate longer or it will make the chicken mushy.
Spray a nonstick skillet at least 12" wide with the oil and heat over medium high. When a few drops of water sizzle when thrown it, it is hot enough.
Add the chicken and let it cook undisturbed for 5 minutes or until browned. Flip and cook the other side about as long.
Reduce the heat to low and let cook about 10 more minutes. It may not be fully cooked through yet and that is ok.
Transfer to a cutting board and roughly chop into ½" to 1 " pieces. Then return to the pan until cooked through or 165 degrees (about 8 minutes). The chicken will be white all the way through when it is done.
For the rice, melt butter over medium heat in a dutch oven.
Add remaining turmeric and cumin, stir for about 1 minute until fragrant.
Add rice and stir to coat. Cook for about 4 minutes to toast it.
Add chicken broth, salt and pepper to taste.
Increase heat and bring to a boil. Once boiling reduce heat to low, cover and let cook 15 minutes undisturbed (do not stir it).
Remove from heat and let it rest another 15 minutes in the covered pot.
For the white sauce, combine Greek yogurt, mayo, apple cider vinegar, lemon juice, sugar, salt & pepper. Refrigerate until use. You can add a few tablespoons of fresh chopped parsley for extra flavor!
To meal prep/store: To meal prep/store: take the chicken, rice, sauce, and any toppings like chopped iceberg lettuce, and put into separate containers in the fridge. Then build your bowl when you are ready! Keeps well in the fridge for 4 days.
To freeze: place chicken and rice into a container marked with the date and serving sizes by weight. Microwave to reheat, then add the sauce and any toppings.
To serve right away: add the rice to a bowl, top with the chicken, then lettuce, then white sauce. Stir it all up! Then add fresh parsley, tomatoes, red onion, nann or anything else you desire.
---
You Might Also Like