Calories
392
Fat
12 g
Carbs
43 g
Protein
28 g
Serves
3 (serving size = 516 g)
1 package cauliflower gnocchi, like Trader Joe's brand
454 g (1 lb) raw and thawed shrimp, shell & tail removed
¼ c lime juice, or the juice of two limes
30 g butter
4 cloves garlic, crushed
190 g bell pepper (one large bell pepper), sliced inch ¼ inch strips
2 bay leaves
1 tsp dried oregano
¼ tsp dried thyme
1-2 tsp crushed red pepper or cayenne, depending on your spice preference
30 g capers, drained
150 g cherry tomatoes, halved
1 x 28oz can whole peeled tomatoes
1 Tbsp fish sauce*
Parsley
Cooking spray
Salt & pepper as needed
Share:
Tags: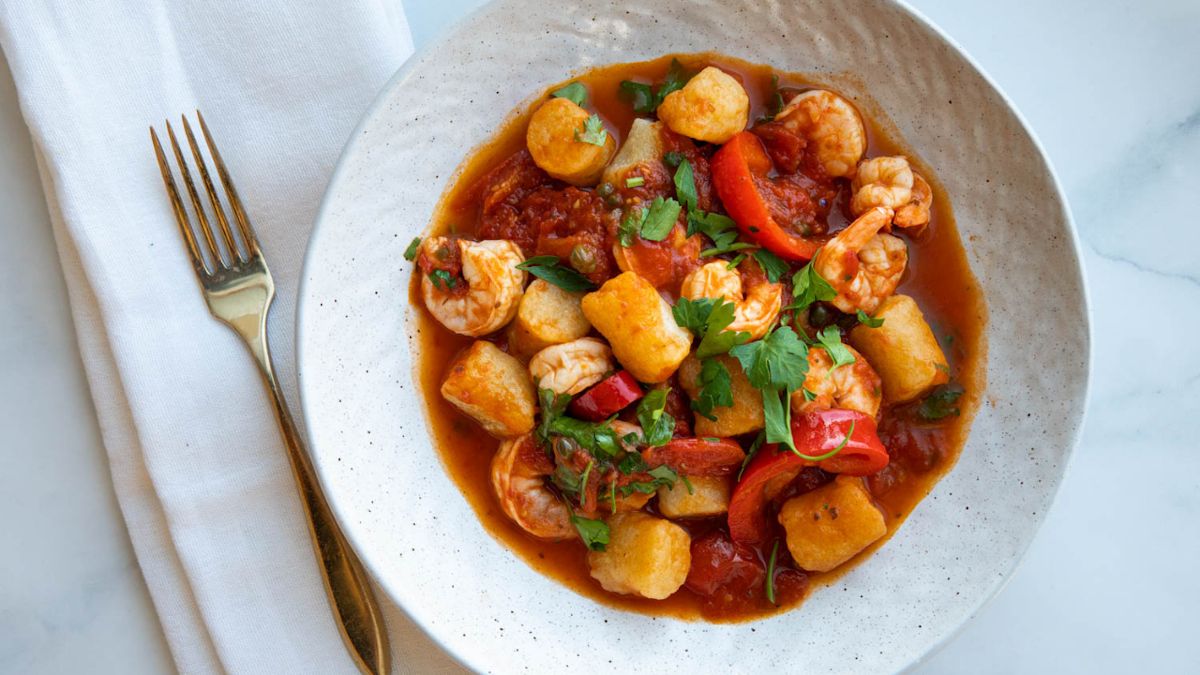 Red sauce lovers, unite! Made with juicy tomatoes, sweet red peppers, and salty capers, this one-pan meal is like a trip to Italy in a bowl.
We love this dish with cauliflower gnocchi, but if you can't find it in your area, sub it out for potato gnocchi or your favorite pasta.
Instructions
Preheat your oven to 425 degrees. Line a baking sheet with parchment or silpat and arrange the frozen gnocchi on the pan, trying to break up any stuck together bits. Spray the gnocchi with cooking spray, toss, and roast for 20-25 minutes, or until the gnocchi is lightly browned.
Meanwhile, add the shrimp to a bowl along with the lime juice. Stir to coat and let marinate, for 15-20 minutes.
While the shrimp is marinating and the gnocchi is roasting, prepare your sauce. Crush your garlic and remove the peel, then add it to a hot skillet over medium heat along with the butter. Let the garlic sizzle for a minute, then add the bell pepper slices. Saute the mixture for 2-3 minutes, until the peppers begin to soften. Add the bay leaves, dried oregano, dried thyme, cayenne or crushed red pepper flakes, halved cherry tomatoes, and drained capers. Let the mixture cook for another 2-3 minutes to release the aromatics in the spices, then add the can of whole tomatoes and fish sauce. Stir to combine and let the mixture simmer over low heat for 10 minutes.
Just before the gnocchi comes out of the oven, add the shrimp and lime juice to the sauce. Let the shrimp cook until pink and just curled, about 3-4 minutes depending on the size of your shrimp. Taste the sauce and add salt & pepper to taste.
When the gnocchi is ready, portion it out and spoon the sauce and shrimp over the top. Serve immediately.
What is fish sauce, you ask? Made from fermented fish that has aged for months to years, fish sauce is salty, sweet, umami burst of flavor that's a staple in Southeast Asian cuisine. (That pad thai you love, for example, derives much of its signature flavor from fish sauce.) Though it may seem odd to add a splash of fish sauce into this Italian dish, it functions like anchovies, which are used all throughout Europe.
You can find fish sauce in the international/Asian section of your grocery store, and don't be afraid to add a spoonful to your usual soups, stews, chilis, and sauces for an extra boost of flavor.
If you can't find fish sauce, a spoonful of Worcestershire sauce will work as well!
Recent Posts: