Calories
124
Fat
4 g
Carbs
18 g
Protein
4 g
Serves
12
Serving Size
57 g
120g Gluten Free Flour (I used Pamela's, you can sub regular flour if you wish!)
40g cacao powder (cocoa powder works too)
1 ½ tsp baking powder
½ tsp baking soda
¼ tsp salt
60g chocolate chips divided 40g/20g (I used Enjoy Life allergen free dark chocolate chips)
2 eggs
115g plain lowfat Greek yogurt/skyr
80g unsweetened applesauce
60g maple syrup
2 tsp vanilla extract
130g zucchini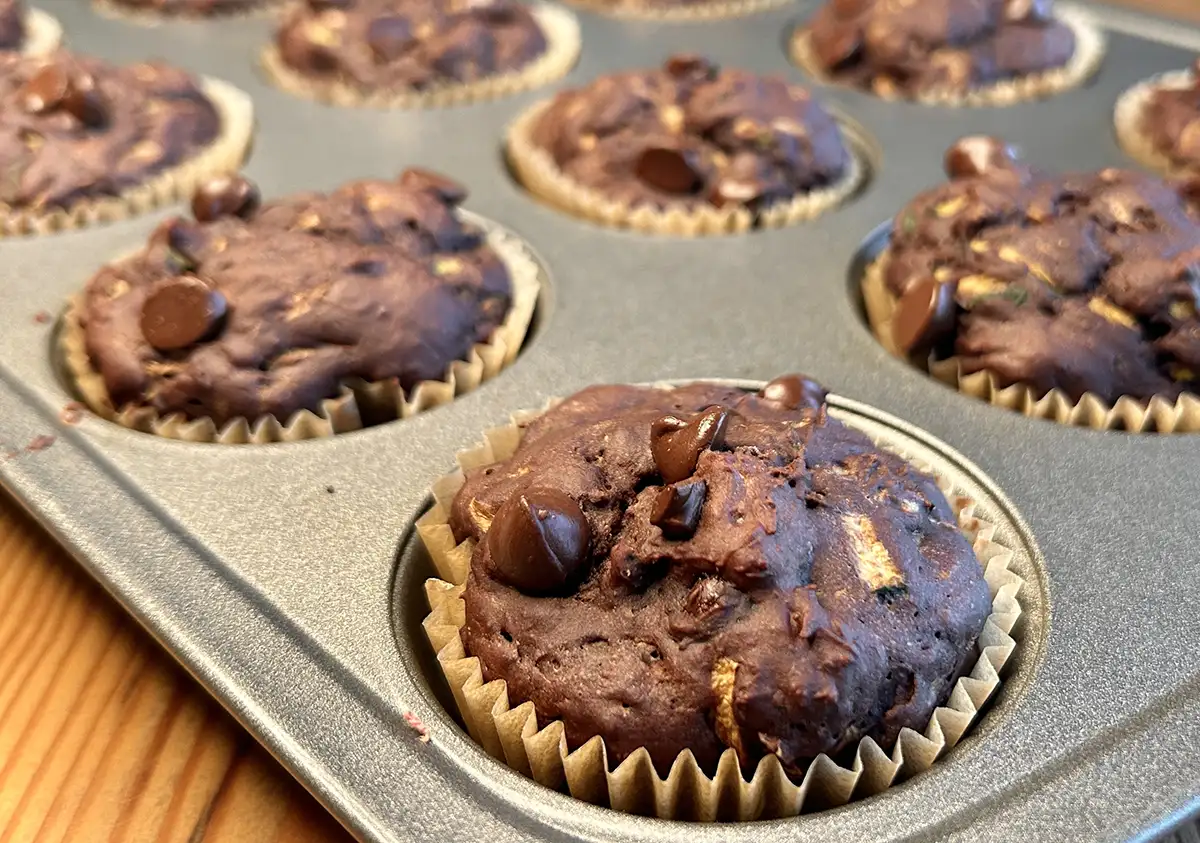 You know when zucchini starts showing up on your front porch unannounced that it's time to get creative in the kitchen and put it to good use!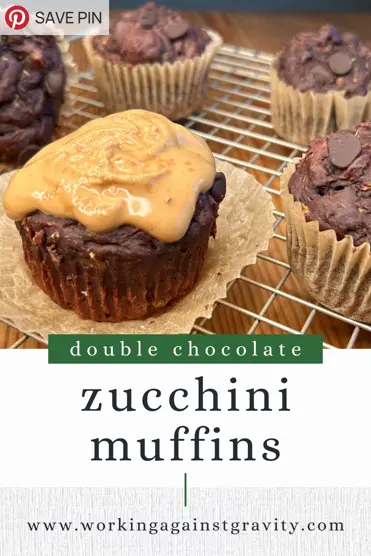 These double chocolate zucchini muffins are gluten free, oil free, refined sugar free, and made with greek yogurt for an extra little dose of protein. These are a healthy and delicious way to get your chocolate fix while sneaking in some veggies at the same time!
I like to store these in my freezer and pop one out about 30 minutes before I want to eat it. Slather some PB2 or nut butter and a pinch of sea salt on top for some extra macros and flavor! (Macros with 8g of peanut butter on top: 6g protein, 20g carb, 8g fat).
Serving size = ~57g raw, ~53g cooked
Instructions
Preheat your oven to 350℉ and line a muffin tin with 12 paper liners.
Grate your zucchini, press firmly between paper towels to remove most the moisture and set aside.
In a large mixing bowl add the dry ingredients: flour, cacao powder, baking powder, baking soda, salt and 40g of the chocolate chips. Mix to combine.
In another large mixing bowl and the eggs and whisk until frothy. Then whisk in the yogurt, applesauce, maple syrup and vanilla extract.
Add the zucchini to the bowl with the wet ingredients and fold in.
Add the bowl of dry ingredients to the bowl of wet ingredients and fold in until you can't see any dry spots. Be careful not to overmix or the muffins will be more flat.
Divide the batter evenly into each muffin liner. I took the final weight of the batter and divided by 12 muffins. This gave me ~57g of batter per muffin liner.
Sprinkle the remaining 20g of chocolate chips on top. This is about 4 chips per muffin.
Bake for 17-19 minutes, or until the tops of the muffins are firm to the touch and a toothpick inserted into the center comes out clean. Allow the muffins to cool in the pan for ~10 minutes before transferring them to a wire rack to cool completely. Store in an airtight container at room temperature for up to 5 days or freeze for up to 3 months.
---
You Might Also Like