Calories
476
Fat
12 g
Carbs
52 g
Protein
40 g
Serves
4
2 boneless skinless chicken breasts (about 16-20oz total)
8oz 1% buttermilk
8oz pickle juice
1 large egg, beaten
½ tsp sea salt
1/2 cup all purpose flour or Gluten Free (we used Pamela's brand)
1/2 tsp garlic powder
1/2 tsp paprika
1/8 tsp cayenne pepper
Olive oil spray
40g Mayonnaise or nonfat Greek yogurt for a lighter option
10g sriracha
Dill pickles
Hamburger Buns (we used Udi's Gluten Free)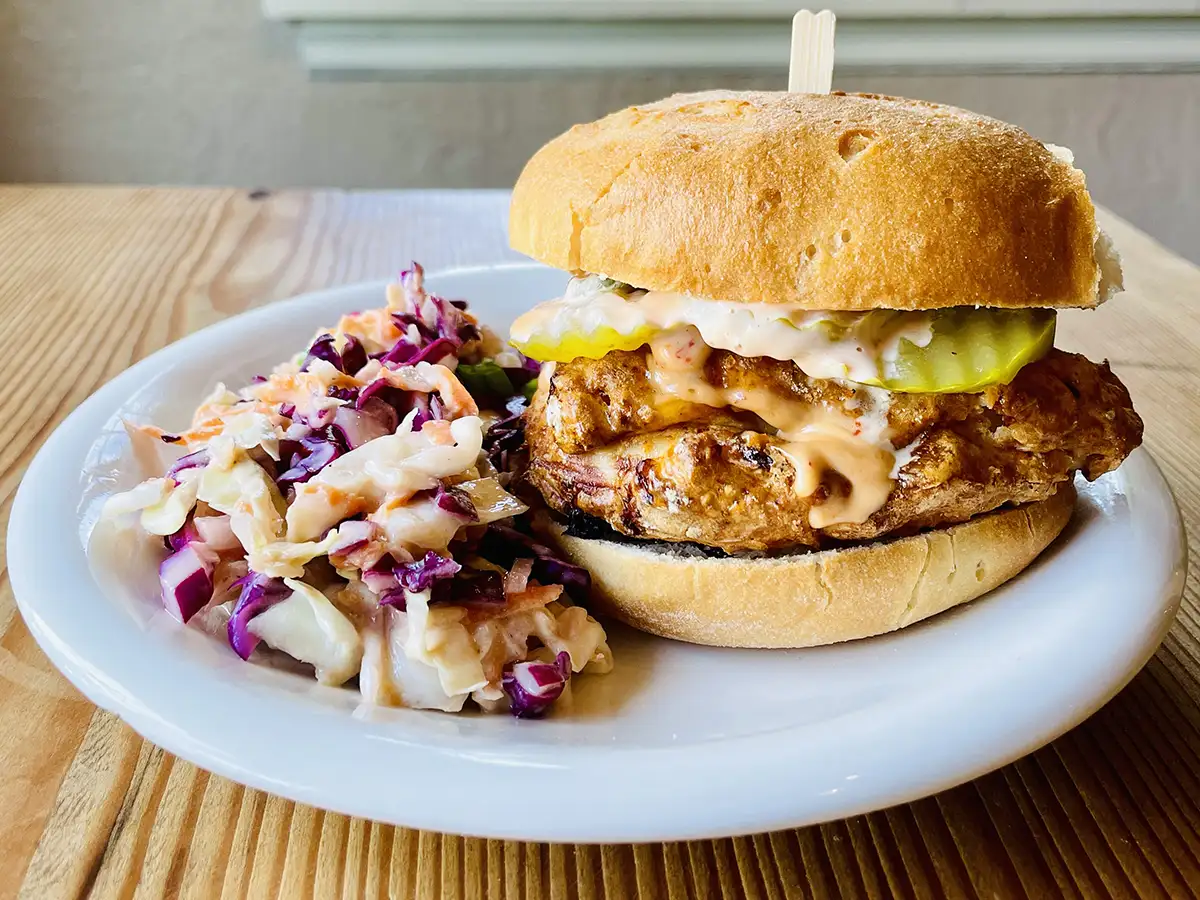 A big part of staying on a macro plan means making meals you enjoy! One of my favorite things to do is find restaurant meals that I love and try to recreate them at home so I can control the macros better and avoid hidden ingredients.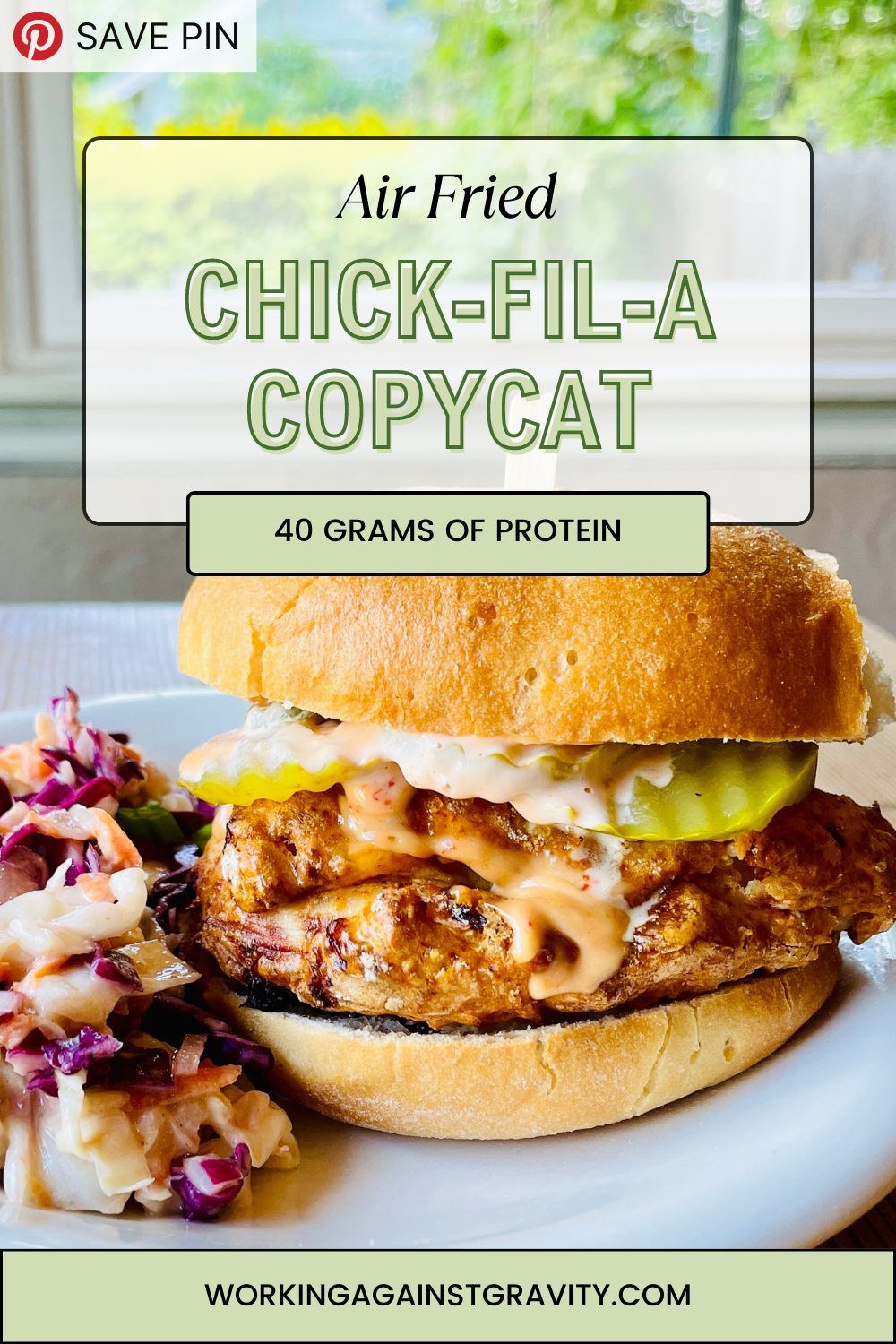 Someone who likes higher fats can swap out the breasts for thighs in this recipe (even more juicy!). The macros will vary depending on the size of your chicken breasts or thighs. Mine were pretty big at about 5.75oz each.
Pickle juice and buttermilk are the perfect marinade for chicken breasts since they are so lean and can dry out easily. The salt in the pickle brine tenderizes the chicken, so it's moist and gives it a light pickle flavor. The way I account for the brine when creating this recipe in MacrosFirst is to weigh the remaining liquid that will be discarded once I pull the chicken out. Then I take that number and divide it by 2 (split between the pickle juice and the buttermilk). From there I just go back and adjust the recipe to reduce the weight of the ingredients so I am only adding in what will be consumed.
Instructions
Pound out the thicker end of the chicken breast to make the thickness even on both ends, about 1/2-inch thick, this will ensure the chicken cooks even, then cut each breast in half to make 4 fairly even pieces.
Whisk buttermilk and pickle juice in a bowl.
Add chicken and toss to coat; cover with plastic wrap and chill at least 6 hours or overnight.
Combine flour of choice, garlic powder, paprika, salt, and cayenne pepper in a shallow bowl.
Whisk egg in a separate bowl.
Line the air fryer basket with an air fryer parchment liner. If you do not have these just make sure to spray enough olive oil into your basket to help prevent the chicken from sticking when you go to turn or remove it. I do not count this oil into the macros since it is not going directly onto the food.
Working with one chicken breast at a time, dip chicken in flour mixture, shaking off excess, then dip it into the egg and back into the flour. I find that using a fork works well here so you do not gum up your fingers too much.
Let your prepared chicken sit on a plate for 10 minutes to help the breading set.
Transfer chicken to the prepared air fryer basket and spray tops with olive oil. (Weigh can before/after spraying to grab the amount used)
Set Air fryer to 380F and cook for 15 to 18 minutes. At the 9 minute mark go in and flip your chicken using a fork to help coating stay on. Spray the top lightly with more olive oil to make sure there are no dry flour spots.
Check for doneness when an internal thermometer reads 165°F. They should be golden brown on the outside.
While the chicken is cooking combine sriracha and mayo/yogurt in a small bowl. Toast your buns if you like.
To assemble sandwiches place the chicken on the bottom bun followed by the pickles, then 12g of the sriracha mixture on the top bun and enjoy. I like serving this with a green salad or cole slaw on the side!
---
You Might Also Like