Calories
29
Fat
1 g
Carbs
5 g
Protein
0 g
Serves
10
180 g frozen blackberries
12 g (1 tbsp) chia seeds
6–10 g fresh ginger, finely grated
4 g (1 tsp) maple syrup*
4 drops of liquid stevia
1/2 tsp cracked black pepper
Squeeze of fresh lemon juice
Share:
Tags: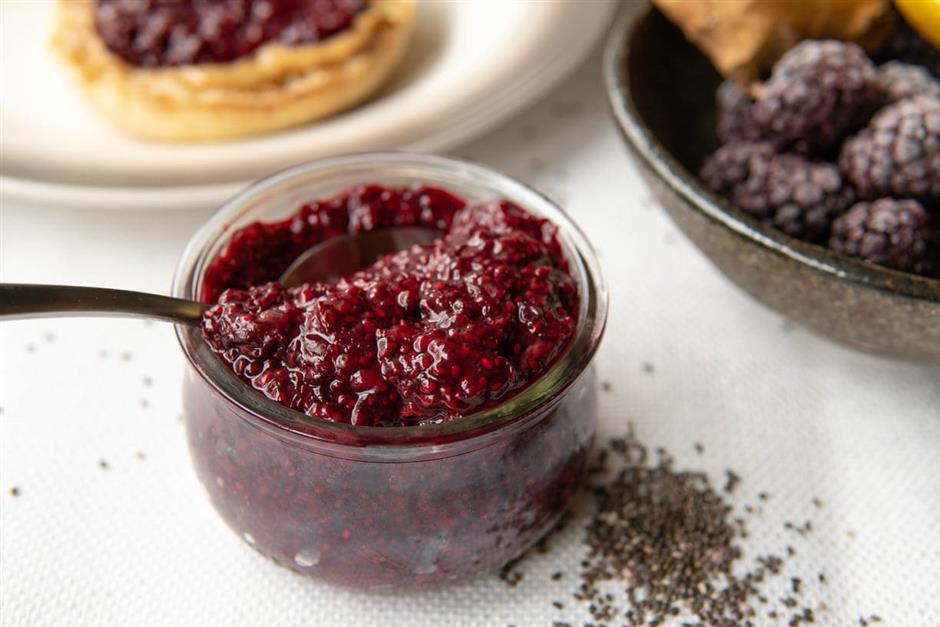 Struggling to hit your fiber? Blackberry ginger chia seed jam to the rescue! Chia seeds and blackberries are both packed with fiber, which means a 20 g (1 tbsp) serving of this tart, gingery jam adds 1.4 g of fiber to your daily count. Spread it on toast, mix it into yogurt or get wild with it and serve it alongside some pork tenderloin.
Note that this recipe calls for 1/2 tsp of fresh cracked black pepper, which may seem odd to put in jam. But trust us—the black pepper adds depth to the jam and highlights the flavor of the blackberries and ginger.
Instructions
Warm the frozen blackberries in a sauce pot over medium heat until they thaw and begin to release their juices. (If blackberries are in season, you can use fresh berries as well.) Add the grated ginger and maple syrup, mash the mixture with a fork so the bigger chunks of berries break up, and let the mixture simmer 3–5 minutes. Stir in the chia seeds, add the liquid stevia and black pepper, and turn off the heat. Let the mixture sit for 5 minutes (it will start to thicken as the chia seeds hydrate and plump). Stir in the lemon juice. Taste and adjust the sweetness and lemon level to your liking.
Store in an airtight container in the fridge.
The amount of sweetener entirely depends on your berries and your preference. While the maple syrup is optional, just a little bit of it softens tart berries and cuts that distinct stevia flavor.
This guide is jam-packed with everything you need to know about nutrition.
From tracking macros to meal ideas.


Recent Posts: