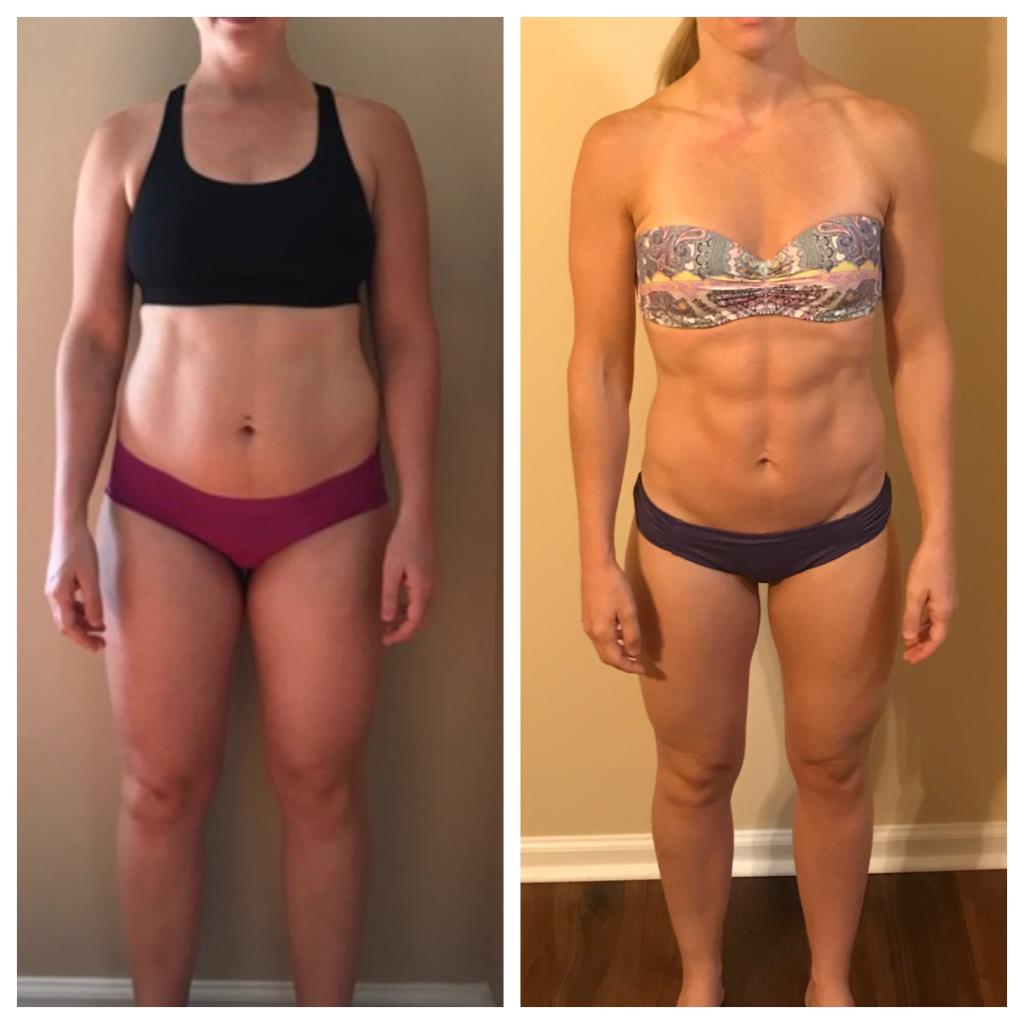 Goal
To shed postpartum lbs, continue breastfeeding, and get back into regular CrossFit training again.
Testimonial
When I first received your e-mail about telling my story my initial reaction was HELL NO I'm not sharing pictures of my 6 week postpartum body! But the more I thought about it the more I realized the importance of sharing.. I have been coaching and competing in CrossFit for about 7 years. I've trained hundreds of people, owned my own gym, and organized nutrition challenges galore. I've tried it all, from Paleo, Whole30 and Zone, to different variations and programs based on tracking macros. But it wasn't until I had my second daughter and began WAG that I realized I have never really taken the time to explore my own relationship with food and fueling my body properly…Although I have seen great results with these other methods in the past, there was always something missing and I always got burned out when trying to continue with something long-term. I had spent a lot of time coaching others but had never received any real nutrition coaching of my own.
The weeks and months after having a baby can be a hormonal roller coaster. Even with the strongest support system surrounding us we can still be left feeling like a shell of our former selves. We as women often put too much pressure on ourselves to "bounce back" postpartum. The truth is you are never going to be the same and your body is never going to be the same. But what I've learned through WAG is that it can be better. Never could I have imagined that I would feel better and be fitter at 33, after 2 babies, than I was 10 years ago. What really sets this program apart is the attention to all of the things that actually effect someone's ability to progress and see true measurable and sustainable results: Mood, Energy, Stress, Hunger, Sleep! When you take the time to gain a healthier perspective on what it really means to take care of yourself as a whole, coupled with giving your body what it actually needs, the result is mind-blowing. What Adee has created with WAG is much more than just a set of numbers being prescribed. It has definitely changed my view on proper nutrition and has had a profound impact on my daily life. Thank you Melanie for your knowledge, encouragement, and support! Grateful to be part of this community.
Get Your Coach Today!