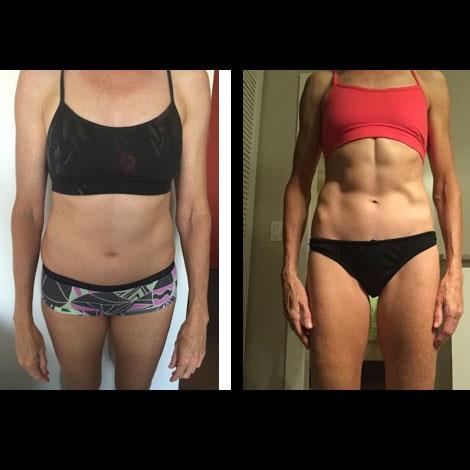 Goal
To shed some fat, break some bad eating and wine drinking habits, and see if a change in diet could increase my energy levels.
Testimonial
I started this program because I knew I had to make some changes to my lifestyle, and realised that I needed to be held accountable to someone to ensure I stuck to my goals. As I live on my own, it had become very easy for me to continue to do what I was doing - snacking way too much, and making a habit of drinking wine every night. While never being what I'd considered 'overweight' or 'needing to lose weight', I was getting uncomfortable with my size, and so decided to sign up.
I was, like many people I assume, nervous to start with - I had never weighed food or kept a track of what I was consuming, had never used a program like MFP, and had never even owned a set of body scales. But with some patience from my awesome coach Hillary, I've managed to stick to my plan, while also enjoying eating out and feeling confident in estimating my amounts.
I am the first to admit that I have been amazed that I have pretty much stuck to the plan provided by Hillary, and have broken those bad habits I had been struggling with. I enjoy a small few glasses of wine each weekend, I have way more energy during the day and during workouts, and have even increased my strength, while not significantly increasing my workouts. For the first time in a long time, I'm happy with what I see in the mirror too, which is an added bonus. Apart from losing what little boobs I already had!
The fact I can also factor in some treats is an added bonus. I love the fact that this program looks at our lives holistically - I admit that many of the homework activities Hillary has set me are uncomfortable to confront. But as a result, I have been made to really think about a range of topics that ultimately, will enrich my life and the relationship I have with not only myself, but my friends and loved ones - one aspect I certainly wasn't expecting.
I figure that if I can do this, anyone can - I truly believe that this is a sustainable plan. Will I have moments where I go over my daily amount and have a few breakouts? I don't doubt it. But I know I have the tools and support I need to get back on track and continue on with what has been a remarkable adventure for me.
Get Your Coach Today!