The Importance of Setting Boundaries (& Not Putting Yourself Last)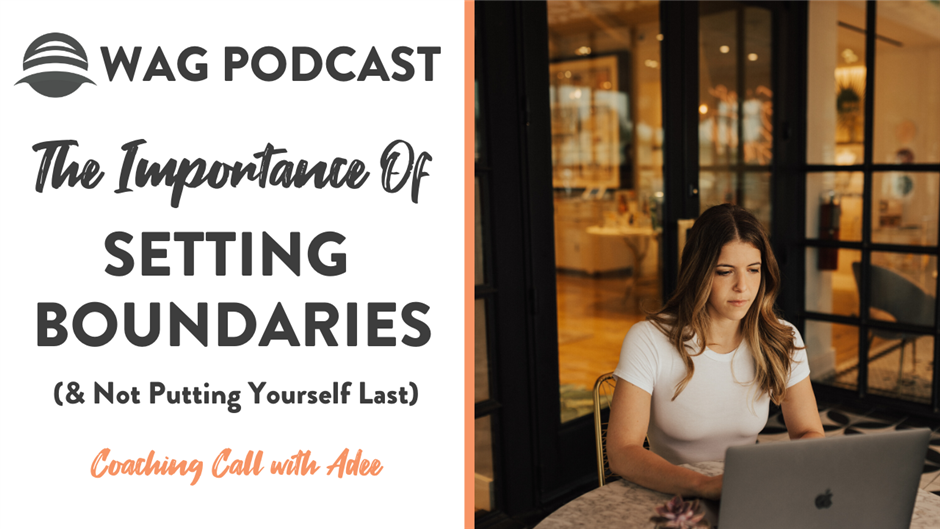 Do you tend to put others' needs before your own? Do you feel resentful when everyone has been taken care of — except you?
If so, you'll relate to the latest episode of the WAG podcast
Meet Josh. He's 29 years old and a soon-to-be first-time dad. Josh applied to be coached live by Adee Cazayoux. This podcast is a recording of their conversation.
Even since COVID emerged, Josh has struggled to be intentional and thoughtful with his nutrition and fitness habits.
And here's something important to note about him: upon taking the Enneagram personality test, Josh discovered he was a "Two", which is called "The Helper".
Josh realized that the description of "The Helper" fits him perfectly: Helpers are selfless, caring humans who put everyone else's needs before their own. The danger, however, is that Helpers' own needs will end up last on the list.
This can lead to resentment, disappointment and burnout. Helpers also struggle to set boundaries to protect their own health and wellbeing.
Adee and Josh talk about the reality that, if we set boundaries properly, chances are high that we'll hurt some feelings. However, the base of our health & wellness "pyramid" must be taking care of ourselves first.
When we feel good about ourselves, it's easier to set healthy boundaries and have difficult conversations.
Did you enjoy this episode? We'd love to hear from you! If you have a question you want us to answer on the podcast, let us know by leaving a voicemail at workingagainstgravity.com/podcast. And don't forget to follow along @workingagainstgravity on Instagram.
Want to be the first to know when new episodes are released?
Also, podcast reviews are pretty darn important to iTunes (and other platforms). The more reviews we receive, the more likely we'll be to get this podcast and message in front of more people (something about iTunes algorithms?).
We'd be extremely grateful if you left a review letting us know your favorite part of this episode! 
Topics: 
01:30 – What is Josh's ultimate goal from the coaching call?

02:58 – Josh's current nutrition status (aiming to be health-conscious, not tracking)

05:17 – What are Josh's goals?

09:25 – Typical day of Josh's eating

18:55 – Being a healthy dad is very motivating for Josh

21:55 – What brings Josh down from his best self?

26:20 – Finding other coping strategies aside from beer and food

26:54 – How the Enneagram personality test helped Josh

33:42 – Staying healthy will make it easier to have tough conversations

35:00 – Does Josh have a weekly time where he thinks about his health & wellness?

38:00 – Why it helps to have a formal method of reflecting on your health habits

41:30 – What will Josh's "personal check-in process" be? He & Adee work on it together
Latest Posts: