Can You Actually Make Money as a Nutrition Coach?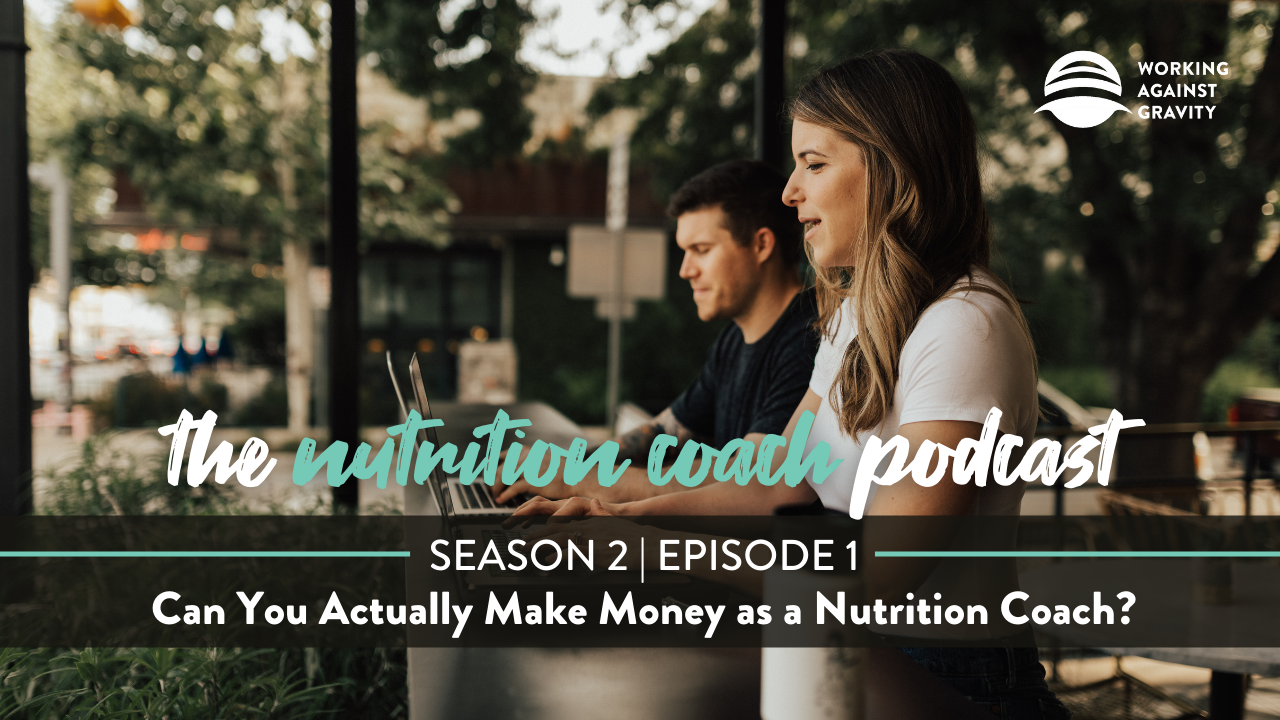 >> Before we dive into this episode, we wanted to let you know we're opening registration for our next Coach Certification course on January 12th, 2022.  If you are someone whose life has been changed through nutrition and you're ready to give back, this program could be for you. To learn more, go to www.workingagainstgravity.com/coach-certification and join our presale list today!
Can you actually make money as a nutrition coach? 
We sent out a survey to over 3,000 aspiring nutrition coaches about what stopped them from taking the leap to begin coaching clients. One of the most frequent questions we heard was: can you actually make money as a nutrition coach?
In today's episode, Adee and Michael will dispel myths about making money as an online nutrition coach. Adee launched Working Against Gravity eight years ago, and now with 35 employees, she can assure you — it is absolutely possible to make this a sustainable career.
Not only do they break down the actual math of how much money a nutrition coach can make per client and per year, but they offer actionable steps you can take today to inch toward your dream career without taking huge risks.
Remember, the WAG Coach Certification offers a low-stakes way to find out whether you can see yourself working with nutrition coaching clients – you'll practice creating programs and working with clients, and you'll get feedback from a coach mentor.
We would love to hear from you! If you have a question you want us to answer on the podcast, let us know by leaving a voicemail at workingagainstgravity.com/podcast. And don't forget to follow along @workingagainstgravity on Instagram and leave us a review wherever you listen to podcasts!
Topics:
03:54 – Online nutrition coaching is a newer, less clear career path
05:00 – Doesn't have to be a huge risk to launch nutrition business
05:11 – Coaching taps into deep human desire to do meaningful work
06:23 – Making money doesn't make you a 'bad person' or change identity
08:21 – Talking about the actual numbers – how WAG does it
09:25 – How much a coach would make with a conservative coaching rate
11:26 – How many clients? How much time does each client take? 
13:48 – 3 ways to take 'tip-toe' toward launching your dream business
15:00 – Tip 1: Start with low stakes (go slow, explore the field)
17:58 – Coach a few people on the side to start (how Adee started before WAG) 
19:04 – Michael's experience leaving job for Brute Strength
20:16 – WAG Coach Cert allows you to practice working with clients
22:05 – Tip 2: Don't focus on solving problems you don't actually have
24:33 – Tip 3: Deliver value (be a good coach) and the money follows
26:42 – Build an iceburg by being ethical and providing a great service
Links:
Latest Posts: