Let's be honest, it's tough sticking with your goals when you're faced with so many options at a restaurant. However, with a little research and modification it can be done!
This list of tips and meals at many popular American restaurants can help you have a macro-friendly meal out. Plus, each of these restaurants has a nutrition guide you can find on their website if you're looking for more options.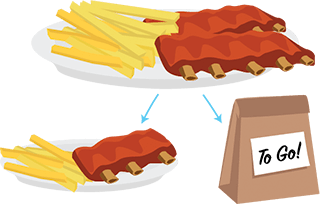 Split the difference
When you order a meal, ask your server roughly how big the portion is. If the meal sounds like too much food, ask for half of the meal to go to prevent overeating.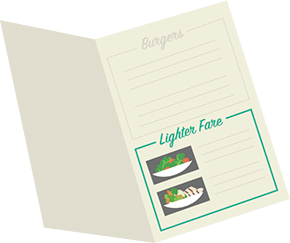 Follow the light.
Most American restaurants have a healthy, low-calorie or light menu. Check out those options first.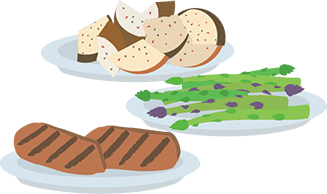 Order a la carte.
Many restaurant entrees are served in large portions, and it's tempting to want to clear your plate. Then before you know it, you've overeaten, so don't feel limited to the entrees on the menu. One of your best options is to order a protein and two sides that specifically fit your nutrition.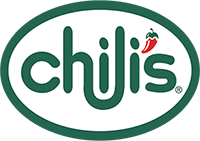 What to order at Chili's Bar & Grill
Smoked Bone-In BBQ Chicken Breast
360 CAL | 43P | 12F | 21C
Fresco Salad (no dressing) + Turkey Patty Add-On
270 CAL | 34P | 13F | 4C
Tip: We recommend bringing your own salad dressing or asking your server for some lemon and a small serving of olive oil. Just a heads up: 1.5 fl oz of olive oil has 27 grams of fat, so don't overdo it.
Mango-Chile Chicken
490 CAL | 34P | 19F | 49C
Black Bean Patty
190 CAL | 17P | 7F | 22C
Steamed Broccoli
40 CAL | 3P | 0F | 8C
Mexican Rice
160 CAL | 3P | 4.5F | 27C
Avacado Slices
80 CAL | 1P | 7F | 4C
FYI: This powerfood is perfect for any meal at lunch. The monounsaturated fats help keep you full all afternoon, so you don't snack your way to dinner.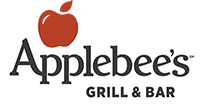 What to order at Applebee's
Plain Grilled Chicken Breast
190 CAL | 38P | 4F | 0C
Pepper-Crusted Sirloin & Whole Grains
370 CAL | 28P | 10F | 43C
FYI: The whole grains in this meal will keep you full for quite a while and the complex carbs provide lots of fiber, which aids in digestion.
House Salad (no dressing)
120 CAL | 6P | 6F | 12C
Garlic Mashed Potatoes (not loaded)
250 CAL | 4P | 1F | 35C
Fire-Grilled Veggies
150 CAL | 2P | 12F | 9C
Garlicky Green Beans
190 CAL | 2P | 15F | 11C
Steamed Broccoli
100 CAL | 3P | 8F | 6C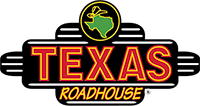 What to order at Texas Roadhouse
6oz or 8oz USDA Top Sirloin
250 CAL | 46P | 6F | 3C
340 CAL | 61P | 8F | 5C
Grilled BBQ Chicken
260 CAL | 46P | 3.5F | 10C
5oz Grilled Salmon
320 CAL | 27P | 24F | < 1C
Tip: Salmon provides some of the best omega-3 fatty acids, which reduce inflammation and lower your blood pressure. Pair with some steamed vegetables and you'll be full for hours.
Fresh Vegetables
190 CAL | 4P | 15F | 12C
Tip: We know what you're thinking: How can vegetables have that much fat? The truth is, most restaurants cook vegetables in oil or butter. We recommend asking for the vegetables plainly steamed, which will make tracking this healthy side so much easier!
Green Beans
100 CAL | 6P | 3F | 13C
Baked Sweet Potato
350 CAL | 6P | 9F | 62C
Sauteed Mushrooms
90 CAL | 3P | 7F | 4C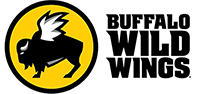 What to order at Buffalo Wild Wings
6 Piece Naked Tenders (no sauce)
280 CAL | 62P | 2F | 1C
Tip: These are just plain grilled chicken tenders. If you want to add some flavor, opt for one of the dry seasonings or ask for a small order of a signature sauce on the side.
Garden Salad (without dressing)
390 CAL | 13P | 4F | 51C
Tip: Order this salad with some protein for a filling meal.
Veggie Boat (with fat-free ranch)
130 CAL | 2P | .5F | 30C
Buffalo Chips
290 CAL | 4P | 14F | 38C
Tip: If the portion size is large with these, ask your server if you can have a small order. Chips are easy to overeat.
Side Salad (without dressing)
190 CAL | 7P | 7F | 26C
Safe Sauces:
Hot BBQ (small) 50 CAL | 1P | 2.5F | 7C
Medium (small) 50 CAL | 0P | 4.5F | 3C
Sweet BBQ (small) 70 CAL | 0P | 0F | 15C
Restaurants are all about serving customers, so don't feel guilty about getting creative with your meals or being specific about your dietary needs. Having a meal made for you doesn't have to wreak havoc on your goals.