Chapter 2
Tracking Macros for Optimal Performance
The specific combination of fats, proteins and carbs can be tailored to achieve your fitness goals with accuracy and confidence. Unlike counting calories, which only requires you to hit a general daily number in any macro proportion, counting macros ensures that you are squeezing the most body-productive, metabolism-boosting, goodness out of every bite.
Counting calories means you can get away with eating mostly nutrient-deficient meals - think ice cream and potato chips. You'll still meet your daily calories, but there is no distinction between nutritious food  and food that is lacking. When counting macros it is much harder to get away with eating only junk food and still meeting your macro targets.
In essence, macros don't make you count your calories, they make your calories count for you.
You can adjust your macros based on your personal goals and lifestyle. Whether you want to boost your metabolism, lose inches off your waistline or put some muscle on those bones, our expert and experienced coaches can create a custom plan that works for your body and your goals.
Optimal Performance
If you take a peek at our Instagram, Facebook, transformations or follow #TeamWAG, you'll quickly see that everyone in our community has different goals, motivations and journeys.
This means that "optimal performance" is individual. So, if optimal performance is individualized, shouldn't your nutrition be individualized too?
To put it very simply, everybody is different:
Your gender, age, experiences and DNA put you in your own special group.
Your daily energy expenditure based on work, exercise and home life is unique.
When and what you prefer to eat separates you from the next person, as well as your emotional relationship with food.
Your goals are your own. Even if they are similar to someone else, you need to approach your goals from a totally unique-to-you angle.
There are so many moving parts to take into account. That is why having a coach to manipulate your macros with all of those variables in mind can make all the difference in your progress.
Let's look at a few examples:
Katrin Davidsdottir, 2015 & 2016 Champion of the CrossFit Games needs a different nutrition program to sustain her training than Jessica Lucero 58kg USA Weightlifter.
Two men who are about the same height and weight are going to need different nutrient amounts depending on their body composition if one is 20% body fat and the other is 10%.
The macronutrient targets for one individual can also change during the "off season" and "competition season," or from one day to another depending on training schedule and goals.
What you view as "optimal performance" will change as different parts of your life take the front seat. There may be times when optimizing athletic performance is your main goal. Later, optimizing nutrition for breastfeeding may be  most important. Your nutrition might even change to keep you feeling strong and empowered if you're getting through a breakup! We all know how that can derail things…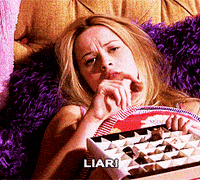 These are just a few examples of when a nutrition program needs to be tailored to your individual needs to be successful. A WAG coach will work with you to get to know exactly what will work and make adjustments along the way to get you closer to your "optimal performance", no matter what that looks like for you. Are you ready to meet your new coach? 
How to Eat to Feel Full
Hunger is a natural and important body signal, especially right before a meal. That being said, no one particularly likes being hungry and if you are in a caloric deficit it is important to get the most bang for your buck when it comes to the volume of food you're eating.
One of the most common mistakes we see when people decide to begin a fat-loss journey is choosing foods that leave them hungry and unsatisfied thus making them more likely to overindulge. Take a moment and think about the food choices you are making.
Eat food that will physically fill up your stomach without taking up all your macros (remember that discussion about soluble fiber?). Here are some awesome high-volume options:
Vegetables: Sweet peppers, cucumber, tomatoes, celery, onions, zucchini, greens, eggplant
Fruit: Berries, cantaloupe, honeydew, watermelon
Lean meat: Chicken, turkey, white fish, lean ground beef
Some examples of high calorie food that you should limit so you don't go over your macros are french fries, cookies, cake and even some protein bars (get your protein from 'whole' sources!). It is difficult to hit your macros if you're eating mostly calorie dense foods because they're usually much higher in carbs and fats and lower in protein. This will leave you trying to choke down egg whites with protein shakes all night long.
Here are a few examples of the difference eating for volume can make: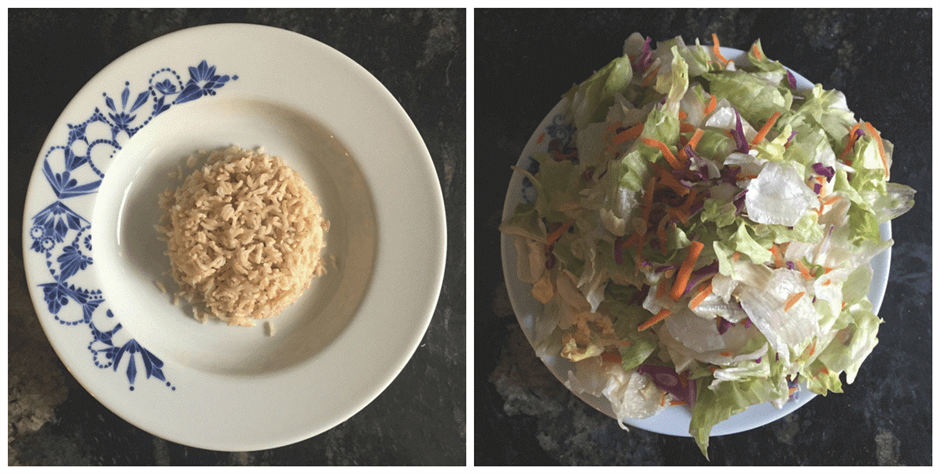 100 grams of brown rice vs. 510 grams of salad with the exact same macros. Both of these plates have 24 grams of carbs!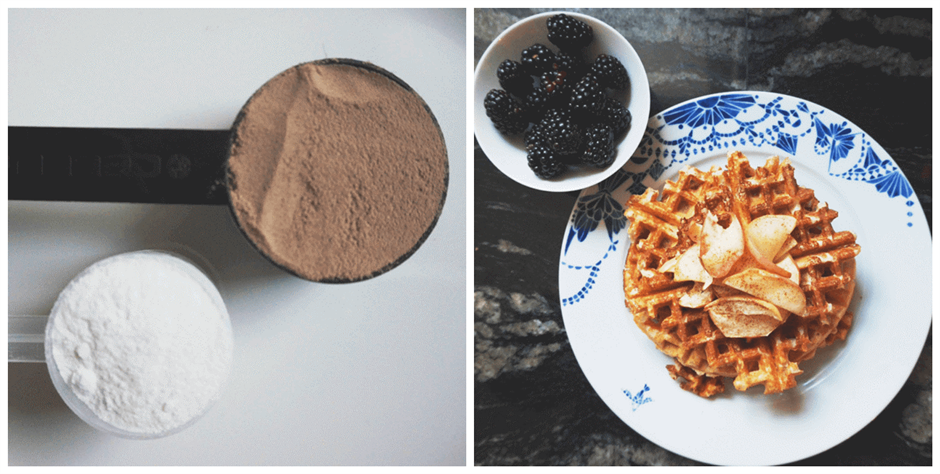 34 grams of whey protein and 25 grams of Vitargo. 38g Carbs, 2g Fat,31g Protein vs.  protein waffles with 150 grams of roasted apples and 100 grams of blackberries.37g Carbs,2g Fat,33g Protein. As you can see, both have listed very similar macros.
Eating high volume food will keep you feeling full, ensuring that you're getting all of the amazing micronutrients that whole foods have to offer us. If you're eating whole, healthy foods 90% of the time you have the ability to still enjoy those higher density foods 10% of the time while still hitting your macro targets.
The 3 Keys to Success: Consistency, Flexibility & Sustainability
Which diet is the best diet? Wouldn't life be so much easier if there was a simple, black and white answer to that question?
The best diet is the one that you will actually stick to, consistently. The one that doesn't break – but in fact can bend and fit your lifestyle no matter how much it changes.
Consistency (noun): The act of sticking with something and creating habits.
No matter what kind of diet it is, most diets will work...if you actually follow it. The catch is that most diets don't work forever because they are difficult to follow on a consistent basis. Whether it is a social gathering, a dinner at a friend's house, a restaurant business meeting or  a family vacation, a successful program will allow you to apply your knowledge to any circumstance.
At Working Against Gravity,  consistency is applied in so many different ways. "Optimal" consistency with your nutrition means hitting your macros very closely every week. Good consistency means continuing to track your macros while traveling even though you can't be as diligent as you would if you were at home. Maybe "consistency" means simply getting to the gym, eating enough protein or drinking enough water.  A WAG coach works with you to define what "consistency" means for your specific goals and lifestyle.
Consistency is important for a few big reasons:
Consistency is important for a few big reasons:
Imagine your nutrition journey as a science experiment. If you can control as many variables as possible (like your macro targets!) and track them consistently, you can find patterns and identify the things that do and don't work. It will be much easier to see how your nutrition is affecting your mood, energy, stress, body weight, hunger and more!
"You are what you repeatedly do," "you are a collection of your daily habits," "habit is what keeps you going." You've probably heard all of these before. By building consistent eating patterns you will begin to build habits that you can carry into the rest of your life.
If you have a very specific goal and time frame (a wedding, athletic performance etc.) consistency will ensure that you reach it. Inconsistency (crash dieting, overeating on weekends etc) will almost guarantee that you will not make the progress you're after.
Counting your macros allows you to monitor consistency and results in a clear, measurable way (perfect if you're the analytical type!).Working with a WAG coach on consistent eating strategies is like having a series of tough decisions around food made easier for you. This will free up energy and space so you can focus on the things that matter most.
Focusing on consistency and effort will increase confidence, make you proud of your work ethic and ultimately yield results. Enjoying the process will make any end result worth it.
If you need more inspiration on how to find consistency in your life, check out our blog article: Consistency Wins The Race!
Flexibility (noun): The ability to manipulate your diet to fit your specific goals, needs and circumstances.
When it comes down to it, the best diet is one that you can stick to no matter what life throws at you, not just when things are going perfectly. Sure, we can all commit to a diet in the first two weeks when motivation is high, we have tons of time to meal prep, get to the gym and life's stressors are generally low. But when that big work or school deadline is approaching, your kid is getting sick, now you're sick, now you can't go to work, the gym...those are times it's important for your diet to bend with you. After all:
A diet that does not bend will eventually break.
This is where flexibility comes into play. Here are some of the other (more fun) common situations when you may want a diet that will work with you, not against you.
A wedding (whether it's yours or one you're attending)
A holiday (always full of festive meals)
A vacation (who doesn't want to look fantastic on the beach?)
WAG teaches you to eat in a way that can be transferable to any situation. Your coach will help you find your own guiding principles to make sure no matter what is happening, you stay on track. When we are inflexible in our diet we can get stuck in an "all-or-nothing" mindset or limit our experiences because we are so focused on staying within a rigid and often restrictive structure.
Just like specific macro targets, flexibility itself is individualized based on your goals, time frame, lifestyle or specific circumstances. That is when clear goal setting and communication with your coach becomes so important.
Here are some examples of scenarios that may require less flexibility:
Making weight for a weight-specific sport.
Training for a serious competition and need to be properly fueled.
Have a body composition goal you need to reach in a shorter time frame.
Here are a few more examples of scenarios that may allow for more flexibility:
Reaching for a bodyweight goal with no time frame in which to do it.
Going on a family vacation and would like to leave the food scale at home.
If you are new to counting macros or feeling overwhelmed and want to focus on one target at a time.
What type of time frame does your goal require? Your WAG coach can help you determine that. Ready to get started?
Sustainability (noun): The act of carrying a habit change through the rest of your life.
Counting macros is the down and dirty, specific numbers. As you study and learn you can slowly put the numbers away and start applying the practical lessons they teach into your everyday life. The numbers (your macros) are always there to come back to when your goals change, you need a refresher or to really dial your nutrition back in.
Our goal isn't necessarily to count everything that goes into your mouth for the rest of your life. That may be what you want to do, but it also may not. The ultimate goal is to learn what your body needs to feel its best.  To be able to sustain good habits through the ebbs, flows and ever-changing goals of life. People focus on how to fix things when they are go wrong. Instead,think about what you are doing when things are going right so that you always have those tools when life happens – and life always happens.
Diet Consistency, Flexibility and Sustainability: The Big Picture
When is it important to be extra consistent with your nutrition...or more flexible? Here are a few ways to think about it:
In your sport: If you are cutting for a weight-specific competition, you need 0% flexibility and 100% consistency in hitting your macro targets and giving your body what it needs to perform well and hit that goal weight. Otherwise you may not be allowed to compete, and it won't be an 'optimal performance.'
In your personal life: You have a special event coming up but it's still six months away. You want to be looking your very best for it...but you also have a foodie friend coming into town this weekend. Maybe you're 80% consistent with your food and 20% flexible that day. You still commit to planning your meals, tracking and logging everything you eat but decide to estimate your macros while you're at dinner. You know it may not be perfect, but it's important to you to be present with company. Because that aligns with your goals, that is totally cool!
On vacation: You're going on your first family vacation in 3 years. You have some solid tracking and measuring strategies under your belt and have been consistent with your nutrition in the lead up. You and your coach create a looser tracking plan for the week. Now you can feel confident that you are working towards your goals even while on vacation. This might look like 30% consistency 70% flexibility.
Deciding which category (extra consistent or more flexible) your current situation falls into, helps avoid guilt, stress and erratic eating habits. Accept that being 50% flexible with your diet means you can happily expect to achieve 50% results. When your expectations line up with reality, your self confidence and likelihood of following through with your nutrition plan more strictly later on is higher. It also means you're not moving backwards, you're just slowing down.  
A WAG coach guides you through the goal setting process, ensuring that your expectations align with the effort you're willing to put in and that you're happy and fulfilled. Learning to track your macros with the right expectations is part of what makes working with WAG sustainable throughout your life.
Enter your email address below and we'll send it to you!