Chapter 1
Calories vs. Macros: The Big Picture
Reading this WAG Guide to Nutrition might feel like when you started learning more about healthy eating or exercise. Overwhelming and tricky at the get-go but stick with it... it will be worth it in the end!
Give this guide a good read through without stopping. You'll get the general picture and then can come back to it again with fresh eyes, ready to dive in and apply it to your goals and your life.
What Are Calories?
Before we talk about macronutrients, aka "macros", we have to first talk about calories. A calorie is the energy it takes your body to raise 1 gram of water by 1 degree Celsius. For those of you new to the world of nutrition, it's easier to think of a calorie as a measurement of the energy we need to fuel our bodies.
Chances are that you, like so many of us, have "counted calories" before. This calorie number you set for yourself could have come from a Google search, a book you grabbed at the library, a nutritionist or a one-size-fits-all program. But, no matter what "counting calories" gave you a limited number of calories to consume each day. Your daily caloric benchmark was set and you did your best to reach it without coming up short or going over. While you may have reached your goal at first, it may not have lead to sustainable, feel-good-all-over results.
Here's why:
The simple calories in, calories out equation tells us that if you eat less calories than you burn you will drop weight. It's true, but there's more to our bodies than energy in and energy out. By eating the right kinds of calories (yep, there are different kinds!) you will not only get amazing results but you'll also learn more about your nutrition, body, and mindset than you thought possible.
Calories are a great place to start, but looking beyond just calories is the key to reaching your individual goals. Building muscle, having energy throughout the entire day, feeling fueled and strong for workouts, and finally getting rid of any anxiety or guilt around food are just a few of the many amazing things our members are accomplishing every single day.
At Working Against Gravity we know that there is more than one piece to the nutrition puzzle, which is why we specifically pair new members with a coach that is:
Familiar with their lifestyle and understands their needs.
Has experience helping people achieve similar goals to theirs.
Is most likely to bond with them one-on-one so they actually start taking action.
From there, the coach creates an individualized macronutrient plan for the member. They teach them how to stick to it and help them adjust the plan when life calls for it. Ready to meet your coach and begin your transformation today?
What Are Macros?
Essentially, macros are what calories are made of. The three macronutrients are carbohydrates, proteins and fats and they each serve a different and important role in your body (more on that in a second). Just so we're on the same page...
There are 4 calories in every gram of carbohydrate, 4 calories in every gram of protein and 9 calories in every gram of fat.
| | | |
| --- | --- | --- |
| 1g Carb = 4 Calories | 1g Protein = 4 Calories | 1g Fat = 9 Calories |
Like we said above, each macronutrient plays a specific role in your body. We need to look beyond calories so we don't miss out on some of the things that are beneficial for our overall health, wellness and performance.
Let's dive into the three big players: Protein, Carbohydrates and Fats.
Protein
Why Do We Love It?
Protein is found in every part of your body including your organs, tissues, muscles and even your hormones. Here are a few cool things to know about protein:
Protein has the highest thermic effect of food, which is a fancy way of saying that it uses the most energy to digest.
Protein supports lean muscle retention when your goal is to lose body fat and promotes muscle growth when you're trying to get stronger. (Yes, you can have both at the same time!)
Protein is made up of amino acids, which are essential for the building of muscle in the gym and the repairing of muscle on recovery days. The creation of protein from these amino acid building blocks is referred to as protein synthesis.
Protein keeps your body healthy, strong and in a constant state of repair and renewal so you can bounce back from any tough physical challenge thrown your way.
Where Can I Find It?
There are plenty of other high-protein foods you would be surprised to find at your local grocery store:
Meats (steak, grass-fed beef, pork, game meat, poultry, eggs)
Seafood (salmon, tuna, white fish, scallops, shrimp)
Bone broth
Legumes (black beans, lentils, peas)
Dairy (Greek yogurt or kefir)
Tofu
Beans (black, kidney, pinto, navy)
Veggie/soy burgers
Protein powder (whey and casein)
Not all protein is created equal. Identifying which sources are lean enough to easily work into your macros every day and which should probably be eaten in moderation can be confusing. Check out this list of protein sources categorized from very lean to very fatty.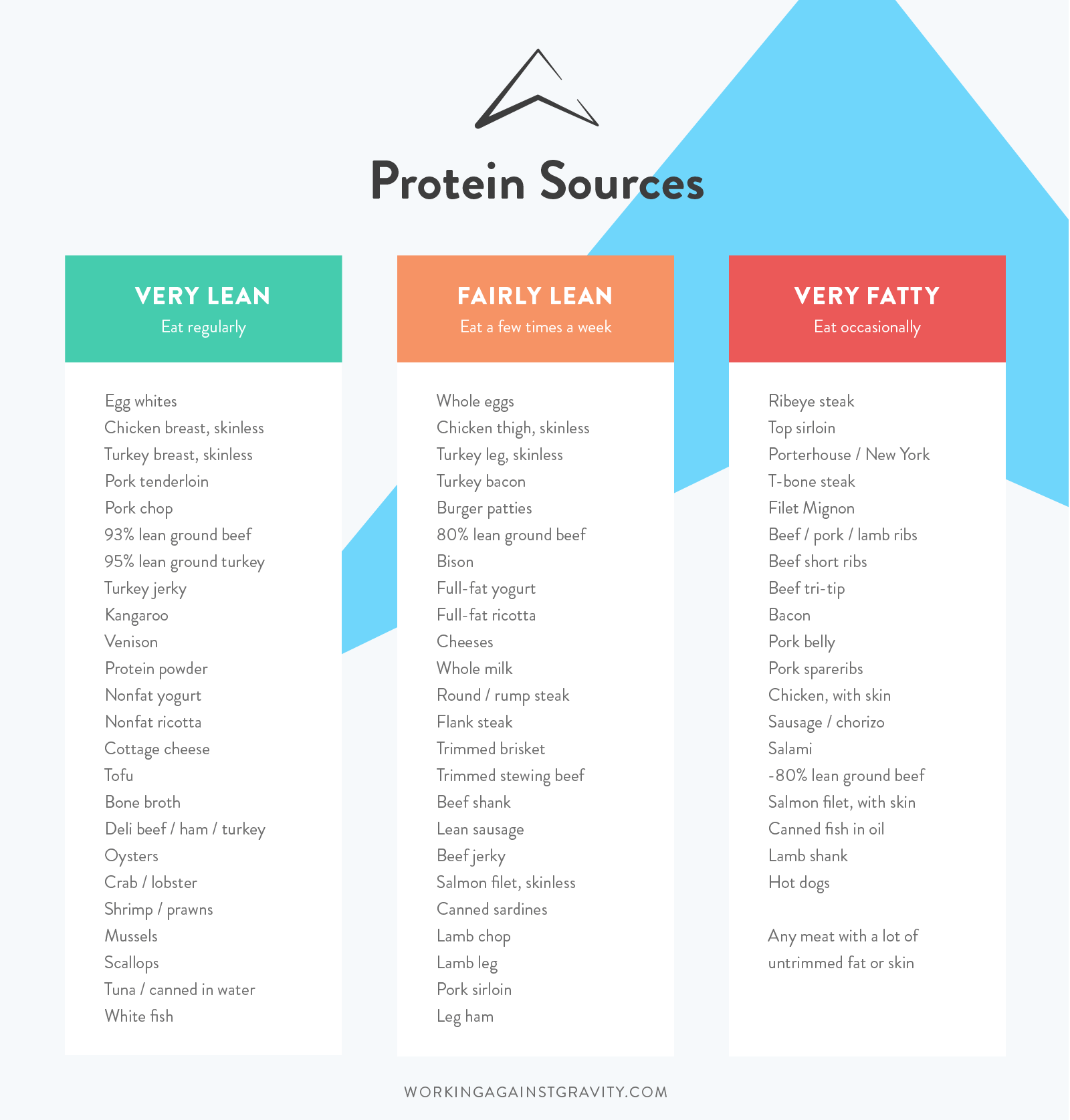 Protein Isn't Exclusive to Meat:
Meat isn't the only place you will find protein. Tons of delicious, high quality protein comes from plant-based proteins. We wrote this blog article all about plant-based protein sources.
Relying less on animal based proteins and more on vegetables will provide the added benefit of a higher volume diet with more micronutrients (aka vitamins and minerals).
These high-protein veggies will give you between 4-6 grams of protein per 200 grams:
Broccoli
Mushrooms
Corn
Spinach
Kale
Brussels sprouts
Artichoke
Cauliflower
Beet greens
Green beans
Potatoes
Arugula
Asparagus
Protein can also be found in dairy products like milk, yogurt and cheese! Just like vegetables, dairy products are full of some really important micronutrients like calcium, vitamin D, phosphorus, potassium, magnesium, vitamins A, B12 and riboflavin. Some dairy products (like yogurt!) are also full of probiotics which support good gut health.
Protein Rich Recipes
Check out some of our favorite blog articles for some recipe inspiration:
If you're a meat eater:
If you love veggies and other protein sources:
Why not try some protein for dessert?
A Quick Note on Protein Powders
The two most common protein powders you'll come across are whey protein and casein protein. They have the highest protein digestibility and your body utilizes them quickly for protein synthesis. They are digested differently in your body:
Whey protein is perfect for after a workout because it is quick-digesting.
Casein protein is slower digesting and is more beneficial before a longer fasting period (like right before bed).
Protein supplements are fabulous if they are used in the right circumstances. They can be a great way to quickly and conveniently hit your protein target, but they should not be relied on for all of your protein. If you're finding that you're hungry between meals it could be because you're drinking your protein instead of eating it. There is something to be said for chewing and swallowing your food!
Carbohydrates
Why Do We Love Them?
Carbohydrates, aka carbs, are your body's preferred source of energy. They are the gas in your tank and the fuel to your fire. Carbs are stored in your muscles as glycogen. Eating carbs in the right proportion will keep your brain and muscles feeling strong and fresh! There are a few major things we love about carbs:
When you're training, carbs are the macronutrient that is most readily available for your body.
Carbohydrates replenish your depleted glycogen stores after a hard workout. This supports better performance and recovery for athletes involved in high-intensity training.
Where Can I Find Them?
When most people hear carbs they think pasta, bagels, bread and cookies. The truth is carbs are found in many more places than that.
Here are just a few examples:
Vegetables
Greens
Brussels sprouts
Broccoli and cauliflower
Onion
White potato
Sweet potato
Squash
Carrots
Sweet peppers
Fruits
Bananas
Apples
Pears
Oranges and other citrus fruits
Pineapple
Mango
Blueberries
Raspberries
Blackberries
Whole Grains
Other
Rice (white, brown or wild)
Oats
Let's Talk About Dietary Fiber
Dietary fiber is a complex form of carbohydrates. There are two types of fiber soluble fiber and insoluble fiber. They are differntiated by their structure and the role they play in your body.
Soluble fiber creates sticky, jelly-like substances in your body. It is soluble in water (it combines with water)and helps to slow the digestion and absorption of your food, particularly carbohydrates.That's important for regulating blood sugar levels and keeping you from experiencing that no-good carb crash. Soluble fiber helps lower blood cholesterol levels too, which is great for your heart!
Lastly, we really love soluble fiber, because when you're in a caloric deficit, it keeps you feeling full and ensures you're getting the most out of your food.
Some good sources of soluble fiber are:
Oatmeal
Barley
Beans
Nuts
Apples
Blueberries.
Insoluble fiber does not combine with water. That means it helps bulk up stool volume, speeds up the digestion of your food and aids in a healthy digestive system. Insoluble fibers are found in the cell walls of plants so vegetables are a great bet when trying to up your insoluble fiber intake. Insoluble fiber is also found in whole grains.
Both play a vital role in gut health, disease prevention and weight maintenance so finding a balance between the two is crucial. A general guideline for fiber intake is around 10-15 grams per 1,000 calories. If you focus on consuming fiber through mostly whole foods you will naturally find a great balance. High-fiber foods also tend to be chock-full of micronutrients (think vitamins and minerals) so it is associated with a well balanced diet.
Some of our favorite high fiber foods are:
Apples
Lentils
Beans
Broccoli
Sprouts
Asparagus
Spinach
Pears
Whole grains (oats, pasta, bread)
Pumpkin (seeds)
Prunes
Sweet potatos
Avocado
Raspberries
Blackberries
Strawberries
Carrots
Corn
Peas
High fiber cereals or bars
If you get sick of eating the same veggies over and over again, check out these 8 Creative and Delicious Ways to Enjoy Vegetables.
Fat
Why Do We Love It?
As humans, we are evolutionarily hardwired consume high-fat foods first, so we know this one won't take much convincing. Fats give us the most caloric bang for our buck (remember, 9 calories per gram) and back in the "caveman days"– when we never knew when our next meal would be – this was really important (see The Hungry Brain by Stephan Guyenet for more on this). After the industrial revolution and Amazon Pantry, worrying about where your next meal will come from isn't so much of an issue anymore. Now the issue is that our evolution hasn't caught up quite yet. We have to be careful when it comes to our fat intake because it is delicious and can improve the texture of most foods. Guacamole? olive oil? mayonnaise anyone? This makes fat much more tempting and easy to overdo. Not to mention most fats are invisible in a cooked dish (oil, butter) so you probably eat more than you think without realizing it.
Just like proteins and carbs, fats play an imperative role in our ability to survive and thrive. Here are just a few of the amazing things fat does in your body:
Fats insulate your body, protect your vital organs and assist with brain functionality.
Fats facilitate the transportation and absorption of the fat soluble vitamins A, D, E and K.
The omega-3 fatty acids EPA and DHA support cardiovascular health, joint health and digestion.
Fats slow down the digestion of your food which helps with satiety and keeps you fuller, longer!
Where Can I Find Healthy Fat?
Nuts
Seeds
Fatty fish like salmon and mackerel
Oils (olive, avocado, sesame)
Ghee
Avocado
Egg yolks
Alcohol
Alcohol is not a macronutrient, but just like proteins, carbs and fats, alcohol has a specific caloric value for every gram consumed.
There are 7 calories in every gram of pure alcohol.
Alcohol has limited nutritional value and intake should reflect your personal goals. To drink or not to drink comes down to personal preference and we get it, sometimes relaxing and grabbing a drink with friends is in your goals and that is totally okay. Alcohol can bring people together and build connection, it helps people celebrate momentous occasions and allows some people to relax. It's all about finding a balance and creating congruence between your actions and your goals.
No matter what you decide, those calories need to be accounted for before you clink your glass. There are so many different things to consider when deciding if partaking in a drink aligns with your goals that you can read about here!
How to Calculate Macros in Alcohol
At Working Against Gravity we track a lot of data to get a well rounded picture of what your lifestyle and results look like. Fiber, body weight, body composition, mood, energy, stress, hunger, behavior and habits are just a few of the many things we keep tabs on. Since alcohol doesn't fall under any macros, but we still need to track its calories..., we can "pretend" calories from alcohol are either coming from carbs, fats or a combination of the two. We never take those calories from our protein allowance. Protein is just too important!
We can't trust the nutrition label of most alcoholic beverages because there is usually missing information. Let's look at an example.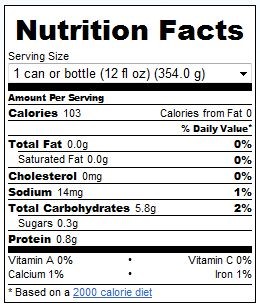 Remember that every gram of carbs has 4 calories, every gram of protein has 4 calories and every gram of fat has 9 calories. If this beer has 5.8 grams of carbohydrates and .8 grams of protein, that would add up to 26.4 calories for the entire beer. But, the nutrition label says there are 103 calories. Where did the other 76.6 calories come from?
To counteract this magic math, we do a bit of extra number crunching.
To track your drink as carbs: Divide the total calories by 4.
To track your drink as fats: Divide the total calories by 9.
Or, you can use a combination of the two. Still confused? Here are a few examples: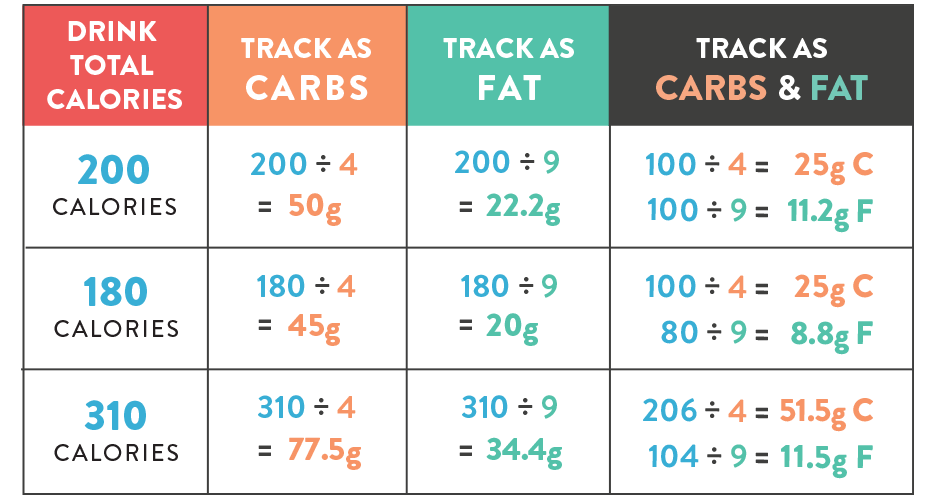 We also have this handy WAG Alcohol Calculator that does the math for you. This is especially helpful if you want to pull macros from a combination of carbs and fats.
We also have this cheat sheet if you're out for dinner, not certain on the size of your drink and need to eyeball it.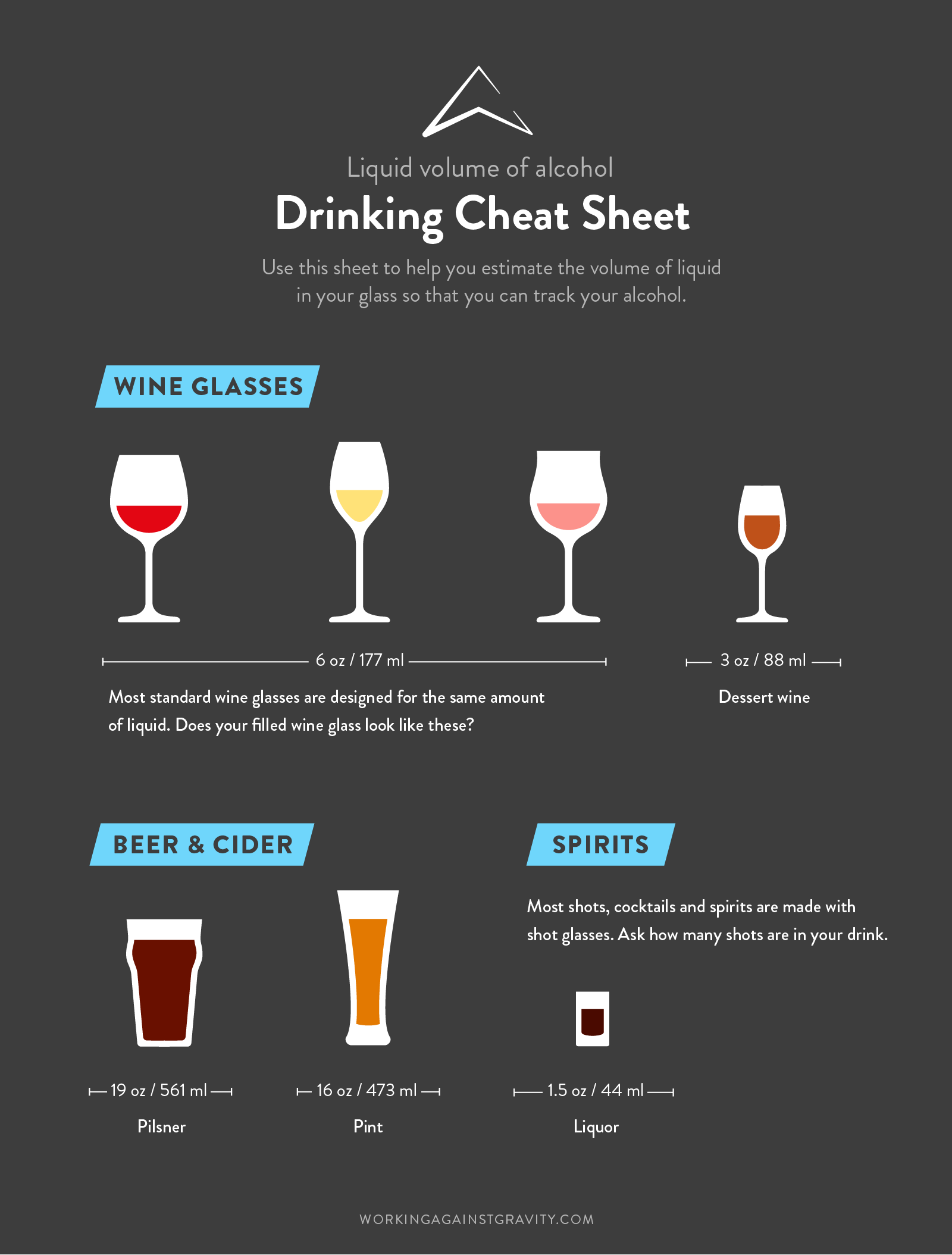 It's very important to remember that this is only accounting for the alcohol in your drink. Any mixers may have a macronutrient value that needs to be accounted for.
Want more tips on how to enjoy a drink while hitting your macros? This Cocktail Party Survival Guide will be your new best friend!
Learning about calories and macros is just the beginning. A WAG coach can determine exactly what YOUR program should look like. Join the team today!
What Are Micronutrients?
Before we continue, we want to make sure to mention some smaller nutrients that still play a big role in your nutrition. Micronutrients are just that: nutrients that are needed in small (or "micro") amounts in your body. Micronutrients are commonly referred to as vitamins and minerals. We could write another complete guide about all of the micronutrients, their roles in your body and what happens if you don't get enough of them but here are a few big takeaways:
Vitamins
Vitamins are "essential," which means that your body can't make them fast enough to meet your daily needs.
Vitamins are present in very small amounts in foods.
It is important to get enough vitamins in your diet because they are needed for healthy body functions like growth and reproduction.
Some vitamins you may have heard of are Vitamin C, D, E, A, K and the B Vitamins (1-6, 9 and 12). These vitamins all play specific roles in your body.
Minerals
Most minerals are also "essential" and need to be consumed through diet.
Minerals can be broken down even further in to "macrominerals" and "microminerals" depending on their daily requirements.
Minerals are present in very small amounts in foods.
Some minerals you may have heard of are calcium, phosphorus, potassium, magnesium, iron, zinc, fluoride and many more!
Vitamins and minerals can be found in most foods but whole foods like fruits, vegetables, nuts, seeds and whole grains are great places to start. For more information on micronutrients check out our blog article, IIFYMicros!
Enter your email address below and we'll send it to you!