Nutrition as a New Mom: Stomach Bugs and Setting up for Success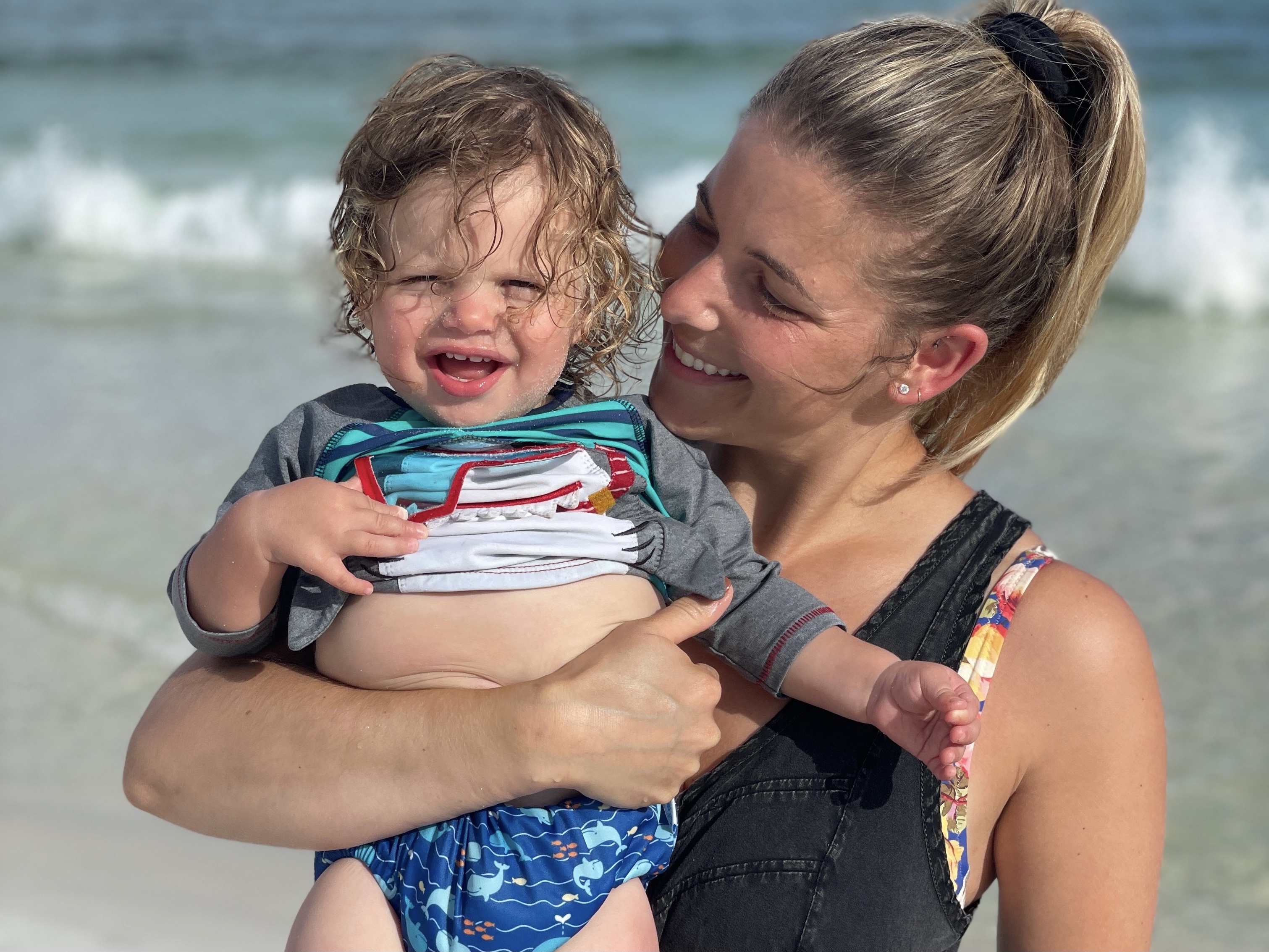 If you are loving these blog posts the thing that I would appreciate most is a comment below! Just tell me what you think, how you are doing or anything that has been coming up for you - it would make my day <3
Day 21/60 done.
Just over a third of the way there!
I am back from Florida and boy do I have a story for you.
So, last we spoke I was resisting the artichoke dip and doing my best to avoid overindulging while I was on a beach vacation. I have to say I could have been better but without this challenge I know I would have for sure done worse. I was bracing myself for the last 3 days when my stomach started to feel off.
I left dinner early (without dessert - which definitely means I wasn't feeling right) and ended up in bed around 8pm. Only I couldn't sleep because I was being woken up by stomach grumbles and nausea. I'll spare you the gory details and just say that the whole night was spent going back and forth from my bed to the bathroom.
The next morning I knew the best decision I could make was to spend the day in bed - thank goodness Michaels family was there to help support us with Shai. So I did what I am sure most people do - curled up in a ball and watched an entire season of The Circle between bathroom trips. It was both terrible and awesome at the same time.
I had gotten some kind of stomach bug and eating was at the bottom of my priority list. I spent the next 72 hours recovering; focusing on rest and drinking lots of water. This was quite possibly the worst way to make all the delicious food options unappealing. 
Thankfully we made it back to Austin in one piece. It was so nice to be back home, especially knowing that I have the next 2 weeks before I hit another obstacle attending my best friend's bridal shower. 
Vacation and a stomach bug put a wrench in this challenge but as soon as we got back home I was itching to hit the ground running. I was eager to set myself up for success for the time ahead. My priorities were:
Stock the fridge with groceries
Organize the fridge

This is more important than I think most people notice

Cook some protein in bulk

Ground beef, chicken breast and thighs, salmon

Prepare a few bases that could go with any meal

Spaghetti squash was all I ended up having time for
This is a photo of my fridge: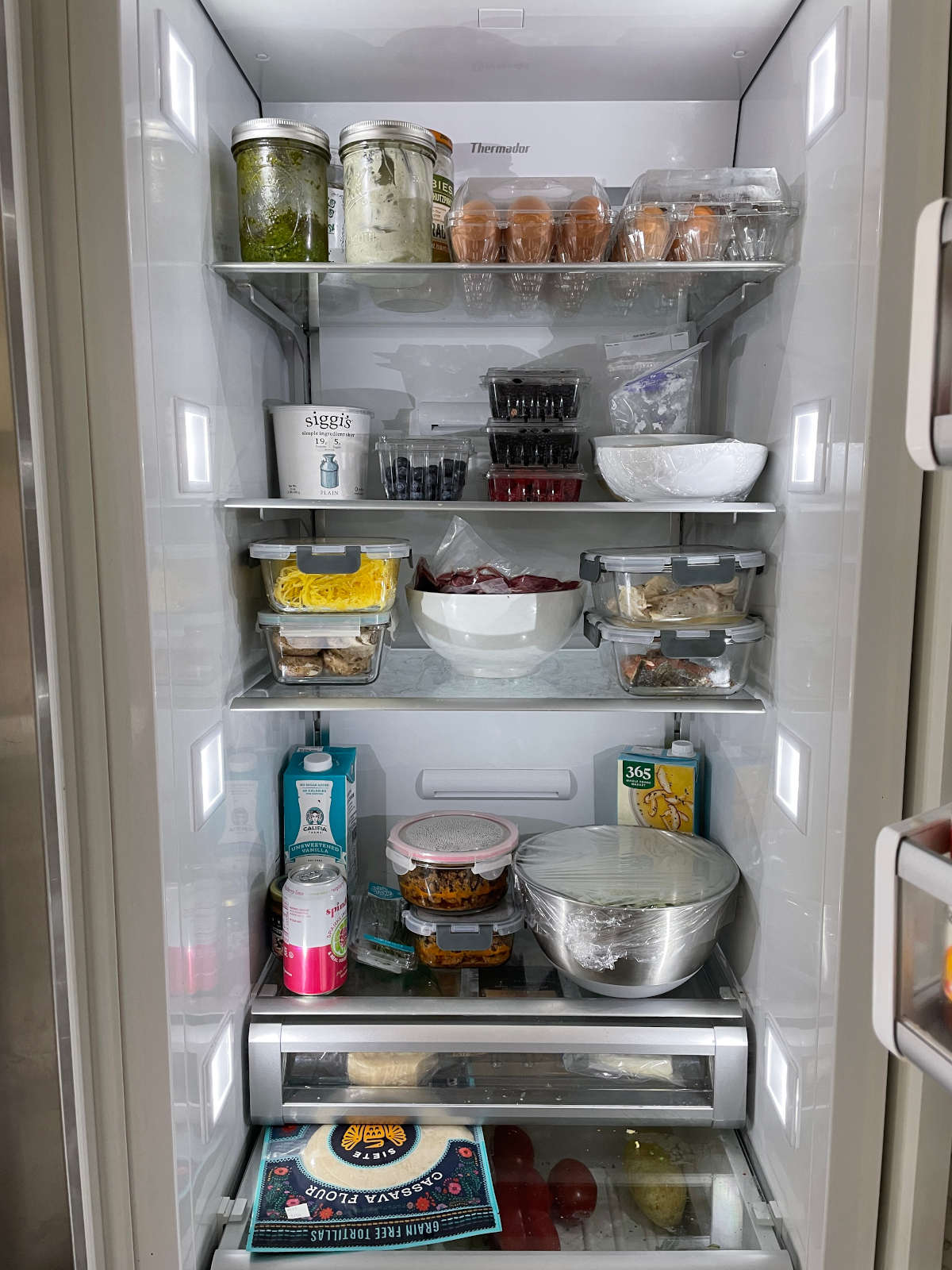 One thing that really helps me make better choices when I am at home is organizing my fridge. The goal is to organize it in a way where I can see everything inside and the healthiest options are most visible and readily available.
I think about putting taller items behind shorter items so nothing gets forgotten at the back, I use glass containers so I can see the contents more easily and I have anything that is more tempting tucked away in a drawer - for me this is cheese.
How do I do this with a 1-year-old crawling around?
It was interesting to say the least.
Luckily Shai loves to go to the grocery store and sit in the cart - another plus is that it gives us something to do together. Once we are home I tend to just let Shai crawl around while I do my best to unload, organize and cook with an eye on him in my periphery. 
It's a lot of opening and closing drawers, stopping to grab him and bring him back into view, and adorable moments like this one below where he went into the fridge, grabbed a peach, and went to town!
Now for some progress sharing: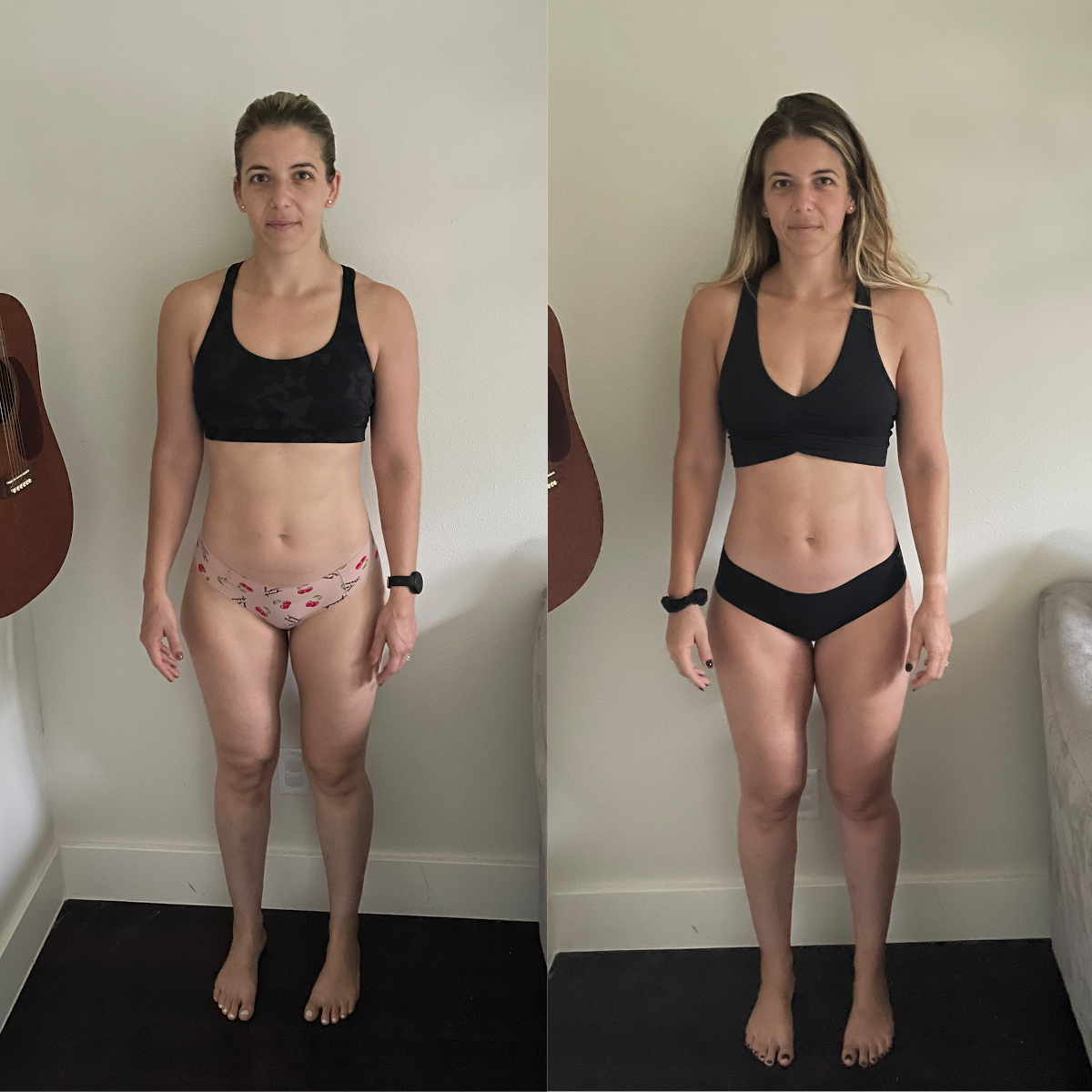 My starting weight was 155lbs and my weight in the second photo is 152lbs. Losing 3lbs in 3 weeks is pretty amazing! I am sure a part of that is my stomach bug but it cannot be completely exclusive from the new ways I am behaving. Although I am not nailing my macro targets and still having moments of "caving" in difficult scenarios I am really looking to the markers of progress outside of those easily measured.
I am making better choices overall

Less sugar, less frequent overeating

I feel better about the way I am treating myself
I continue to check in with my coach and you with these posts
I haven't had a "screw it I will start over tomorrow" moment - although I thought about it quite a bit
So when at first glance there isn't a whole lot of change happening in the photos I take a second and think about all the progress listed above. I wake up every morning and I genuinely see myself differently in the mirror - I feel more positive towards the way I look and feel to a significant degree even though the changes are not super drastic. 
Isn't that wild?!
I wish I could implant that realization into the minds of every single WAG client and person I know who may struggle with nutrition, body image, or discipline. The realization that - more than the way we look and the number on the scale, the way we treat ourselves day in and day out - our habits and behaviors - have a major impact on the way we view ourselves. 
I often forget this one myself.
Thanks for hanging in there with me and joining me along for this ride.
How are you doing? Is there anything you are committed to? Changes you are making in your life?
Post in the COMMENTS and let's chat. :)
Adee
Get a Taste of WAG
The WAG Crash Course is OPEN for enrollment. This 30-day course will teach you the ins and outs of macro tracking, building healthy lifestyle habits and sustaining results without restricting the foods you love. Get personalized macros from a WAG Coach, join the members-only Facebook Group and participate in quarterly Live Q&A sessions with WAG Coaches.
Posted by Adee Cazayoux
Adee is the founder and CEO of WAG. She has her bachelor's degree in Honors Psychology, a Master's in Teaching, and a Master's in Nutrition & Human Performance. She's also an athlete, having competed in the National Pro Grid League and winning the Bronze Medal in the 2016 Canadian National Weightlifting Championships.
Latest Posts: