How to Get Clients: 7 Proven Methods for Nutrition Coaches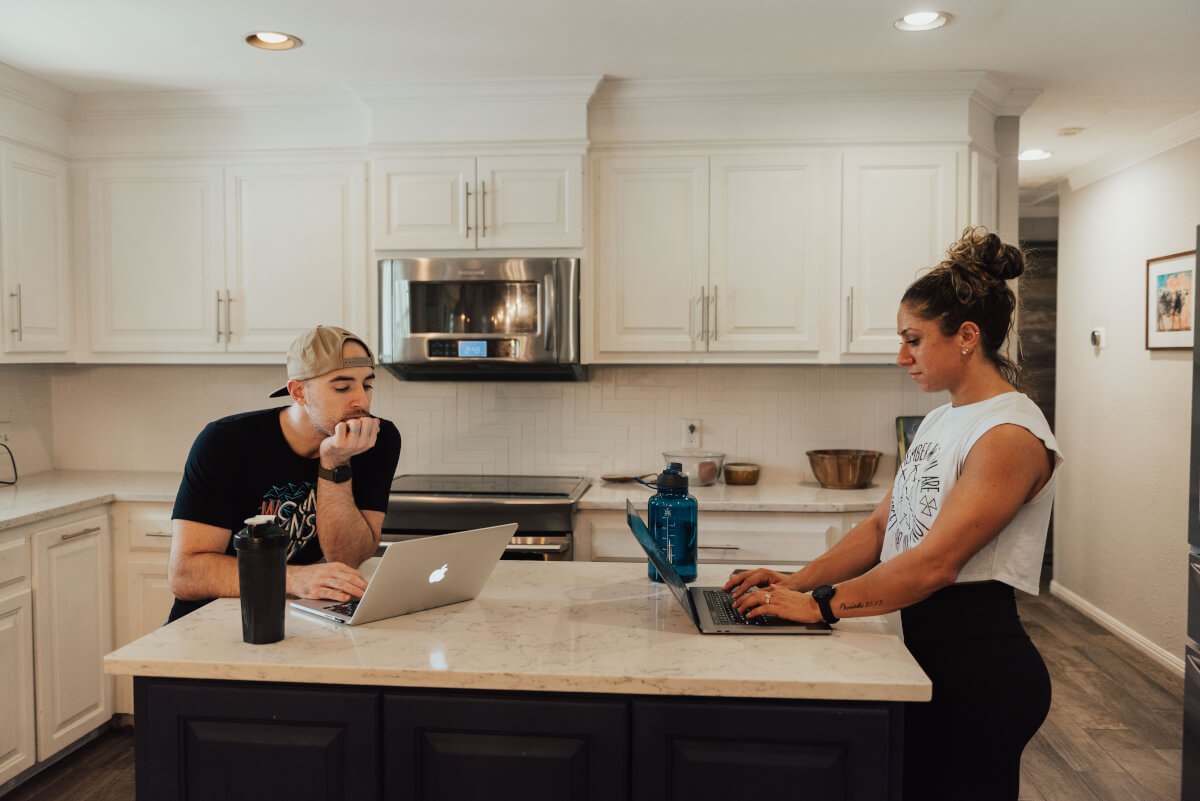 Wouldn't it be nice if you had a big list of proven methods nutrition coaches use to get clients? I mean, if someone created this list, all you'd have to do is make your way through the framework, put in the effort, and BOOM... You'd start really attracting the kind of people you want to work with.
Lucky for you, we have that inspiration right here along with additional resources to dig into each method and further your learning.
We have used these seven tried-and-true methods at Working Against Gravity to attract thousands of clients. This is also a peek into the strategies we teach hundreds of our Coach Certification grads and Seismic Business Program members to help them create thriving nutrition coaching businesses.
Let's dive in.
1. Niche down
Have you ever heard the phrase, "If you try to talk to everyone, you won't talk to anyone?" It is a common reminder in the marketing industry because it is true.
One of the best things you can do to attract your ideal clients is to identify who that person is and to speak directly to them. Ask yourself questions like:
What does my ideal client like to do (For exercise? For fun? To relax?)
What are their goals?
What do they struggle with?
How can I speak directly to their struggles and provide a solution?
It is common to think that casting a more general net means catching more fish. But, when it comes to marketing, the opposite is true.
When you speak directly to the group of people (aka, your nutrition niche!) you want to work with, you'll significantly increase the likelihood of attracting those kinds of people.
For more specific tips and tricks on niching down, check out this article.
2. Do it for the 'gram
Although an active social media presence isn't 100% necessary to build a successful nutrition coaching business, the reality of our 21st-century world is that most people head to Instagram and Facebook to find nutrition inspiration and support. This is where you can show up for future clients to connect, teach and become a go-to resource in the industry.
Luckily, "active" doesn't have to mean "perfectly curated". In fact, studies show that more and more people are connecting to and following along with the authentic, not the perfectly polished. A relatable voice and story also help the viewer feel better about themselves and more likely to connect with your message [1].
For support nailing down and developing your voice, check out this article.
3. Do it for free
Okay, so we've talked you into showing up. The next question on your mind is probably, "but what should I post?"
Although sharing about your personal life can help potential clients see the "real person" behind the business (and connect with you!), educating on social media is an important step to build trust with potential clients and present yourself as a go-to resource.
Write a quick caption about the benefits of protein with a picture of your healthy dinner. Create a simple infographic, or take it a step further and build out a downloadable PDF.
Giving away top-notch education and content for free will have your potential clients thinking, "Wow if this is what their FREE content looks like, I wonder what kind of results PAYING for their services would get me!"
Ask yourself (or, poll your followers - heyyyyyy Insta stories!) what kind of questions you had when you started your nutrition journey or when you looked for a nutrition coach. Then, answer those questions with your knowledge bombs to target the kinds of people who are asking those same questions now.
Learn more of WAG's favorite social media strategies right here.
4. Cross-promote with non-competitors
Do you coach or train at a gym with people who fit in your niche? Chat with the owner about hosting a nutrition night or nutrition challenge and share a bit more about what you do with those who ask during class. Just make sure you've created clear boundaries and expectations with any location owners before promoting yourself in their space.
Start to brainstorm other resources at your fingertips. If you have a friend with a podcast or blog, ask if you can record together or write a guest post. Just make sure you're creating a two-way exchange of benefits and make it worth their while, too. This could look like trading a few months of nutrition coaching for a feature or testimonial or sharing their work on your communication channels.
Here are a few more of our tips for finding and keeping clients as a nutrition coach.
5. Practice what you preach
You can share information about nutrition and health all day long, but if you're not showing up and doing the work yourself, your messaging will seem disingenuous and potential clients may lose trust in you.
Show people what it really looks like to live the picture of health or the results you're promising them if they join your program.
Nail down your coaching values with this article.
6. Utilize testimonials & serve your current clients
We live in a world where you can see what other people are up to at the click of a button or swipe of a screen. This means that when you serve your current clients and they begin to share their experience working with you it will naturally attract other, similar clients.
Your current clients are the walking, talking billboards for what your nutrition program can do. Utilize them! With permission, share their story and ask for a direct quote about what working with you has been like.
If you're just getting started and you're wondering "but what if I don't have anyone to ask yet?" this is another time (along with cross-promoting) when you could consider giving away your services for free in exchange for a testimonial about your program. This would help you build confidence as a coach and get some practice under your belt as well!
Check out some WAG client testimonials here.
7. Be willing to learn
This one is twofold.
First, survey current clients to find out what is working and what isn't. At WAG, we are constantly checking in with our clients and coaches to ensure that we're creating the best experience we can.
Getting feedback can feel tough at first and it is hard not to take things personally. But, remember that you can only grow to be a better coach and business owner if you are getting honest feedback from your clients. Otherwise, you won't know what you can work on and improve.
Second, try connecting and collaborating with other people in the industry to ask questions. Join Facebook groups hosted by companies you trust and make sure you're taking advantage of all of the learning opportunities around you.
You could even hire a mentor to guide you through the beginning steps of your journey. There is nothing wrong with asking for help! In fact, it is one of the best ways you can learn a lot, really quickly!
Want a few of our favorite tips for finding a mentor? Check out this article.
We get it; finding your voice in an oversaturated nutrition-coaching world can feel like a big task. Seismic Business Program provides you with the necessary tools and guidance to take your business from brand new to thriving.
After graduating from the Coach Certification, we allow our students to use our coaching software, join exclusive Facebook Groups and participate in challenges and courses. These resources further their coaching knowledge and help build confidence as business owners.
Bailey, E.R., Matz, S.C., Youyou, W., & Iyengar, S.S. (2020). Authentic self-expression on social media is associated with greater subjective well-being. Nature Communications, 11(4889). Retrieved from https://www.nature.com/articles/s41467-020-18539-w
Ali is a born and bred Vermonter who fell in love with nutrition and fitness in her early 20's and never looked back. She is both a coach and the Marketing Director for WAG and has a BA in English Literature and a Master's in Nutrition and Human Performance.
Get a WAG Coach
Love what you learned but still want more guidance and support? Get matched with an experienced coach who will get to know you, your lifestyle, and your preferences to give personalized feedback and suggestions.
With two membership options to choose from, you'll get a customized nutrition plan, weekly check-ins, unlimited messaging, our personalized coaching platform, and the ability to add monthly video calls and custom meal plans.
We'll help you optimize performance, reach your body composition goals and sustain your results.
CHOOSE YOUR MEMBERSHIP
Latest Posts: